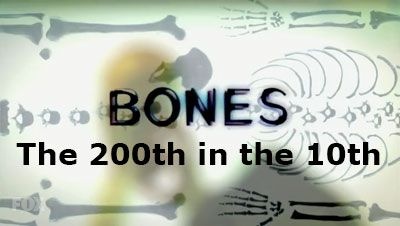 Image Credit: Fox via Wikipedia

"The 200th in the 10th" is episode ten of season ten of Bones, the forensic drama television series loosely based on the novels and life of anthropologist Kathy Reichs.This episode is a strange one with nothing to do with the regular series,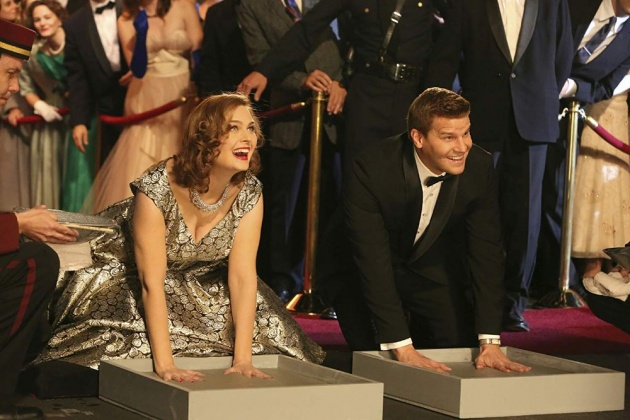 Image Credit: IMDb
The 200th Episode of Bones
This is the 200th episode of the series and it's a bit of an odd one.
It opens with a black and white newsreel entitled Bones Takes Hollywood by Storm. The voiceover says that the premiere of Bones, the most highly anticipated film of 1954, is opening at Grauman's Chinese Theatre, and that the two stars, Emily Deschanel and David Boreanaz (who, of course, play Brennan and Booth respectively), are celebrating their 10th film in ten years. First, they leave their signatures and handprints in the concrete before entering the theatre.
The Film is the Story
The film starts to play - in colour - opening with the 20th Century Fox logo. Booth is driving an open-topped car along a coastal road and Brennan is in another car following him. Booth stops his car outside a large house and gets out; when Brennan arrives she does the same. Leaving in her car a newspaper whose front page has a picture of Booth and the headline 'Suspected Jewel Thief Arrives in New York and Vanishes.'
Breaking Into a House
Booth climbs up the outside of a house, but notices Brennan watching below. He enters through a window, and a maid, Camille, thinks she hears something. Brennan enters as well. Booth finds a large wall safe and open it; oddly, there's smoke drifting out of it when he does. Booth then leaves. Brennan is about to follow but the maid screams. Brennan announces herself as being LAPD. Inside the safe is a rather charred corpse. Which is where the smoke came from.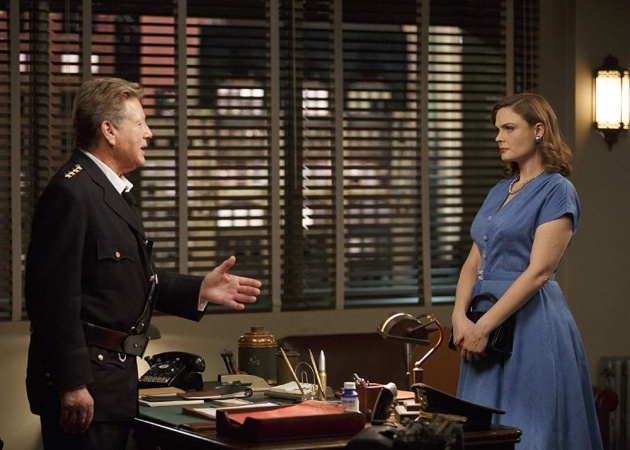 Image Credit: IMDb
Back at the Precinct
When Brennan arrives back at the precinct, a cub photographer, Wendell Bray, attempts to take her picture. Angela, who appears to work in the secretary pool, tells Brennan to go in as she's expected. The police chief is Max, Brennan's father. He says he's got to take Brennan's badge and gun, because she let a murderer escape. Brennan does not believe Booth killed Eva Braga, the owner of the house. Max tells Brennan that if she wants to remain with the LAPD, there's a stenographer's desk open for her.
Interpol Arrives
An Inspector Aldo Clemens from Interpol has arrived, and he's an expert in Booth. Brennan wants to examine the scene and the body, because the body wasn't even warm. However, she's suspended.
Working with the Jewel Thief
Booth enters his hotel room to find Brennan waiting. Brennan tells Booth that she doesn't believe he killed Braga, as that's not his style, and style is everything for him. Booth says that all the jewels were gone when he opened the safe. Brennan has a proposition; she wants to prove she's a detective, and the only way Booth can prove he is innocent is by working with her.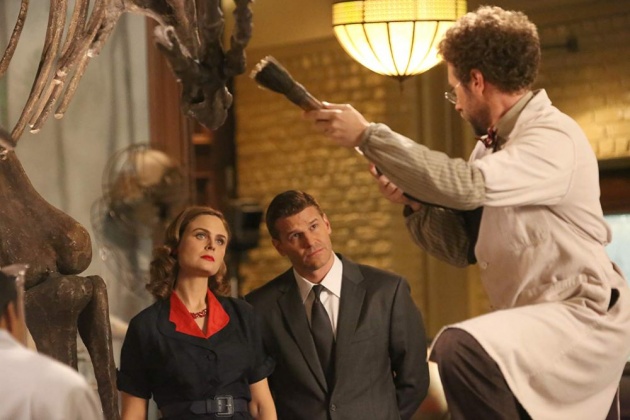 Image Credit: IMDb
Seeking Help from a Palaeontologist
The first step is the Natural History Museum and a Professor Hodgins. Brennan says that Hodgins is a brilliant palaeontologist, and could help prove who the body belongs to and how and when they died. Brennan displays a rather above average knowledge of palaeontology, impressing Hodgins as she does. Brennan says that he, and his assistant, Clark, could help them catch a murderer. Brennan has some fragments from the crime scene, which help, but Hodgins wants the entire body. Brennan says that this isn't a problem; Booth is a thief, so he can steal it.
The Fence
There's a fence, Vaziri, who purchased some of Eva's jewels, but he says this was all legal and above board. She sold the jewels to Vaziri herself. So why was she killed?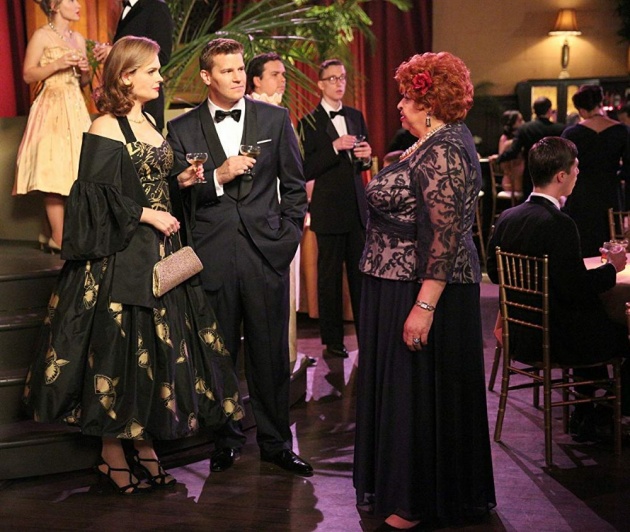 Image Credit: IMDb
The Penniless Playboy
The trail leads to penniless playboy, James Aubrey III, and his current girlfriend, socialite Daisy Wick, as well as the club owned by Caroline Julian at which Jessica Warren and her husband Rodolfo Fuentes are performing. Angela's father plays street musician and veteran Sarge, and there's even a cameo by Christopher Pelant. Many familiar faces in unfamiliar roles; if anything, this is similar to season four's "The End in the Beginning". All done as if it's an old film. Rather weird.
Bones - The 200th in the 10th Trailer
Video Credit: Karla Deschanel Boreanaz via YouTube
More Blogs from this Television Series:
Want to earn from blogging on bitLanders? CLICK HERE to sign up and get a $1 reward.