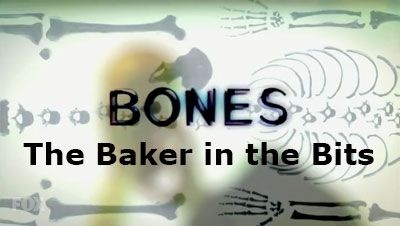 Image Credit: Fox via Wikipedia

"The Baker in the Bits" is episode thirteen of season ten of Bones, the forensic drama television series loosely based on the novels and life of anthropologist Kathy Reichs. In this episode, the body of an ex-con who was being chased is found blown to pieces by an explosion.
Escaping an Attacker to Get Blown to Pieces
A man is running at night clutching his arm - the forearm is bloody. He is being pursued by another man, and climbs over a fence. Continuing on, he climbs over a second fence, one at which his pursuer stops, and tumbles down a hill, knocking down a sign reading 'Blasting Zone.' The man being chased continues and stops by a mine entrance as his pursuer takes out a knife. The chased man says 'Screw you man. Nobody going to get me now' then another voice says 'Clear!' and an explosion erupts from the mine, sending bits of person all over the place.
Booth is Looking for a Photo
Brennan and Booth are at home and Booth is rummaging through the kitchen bin. He's looking for a picture of Christine and Brennan that she gave him whilst he was in prison; Booth was cleaning out his wallet the previous night, placed the picture on the counter. Brennan says that they can always print out another one, but Booth a bit abruptly says he wants this one as it means a lot. Then, realising what he sounds like, Booth explains more. That picture got him through some tough times in prison. Booth then gets a call and Brennan looks through the bin, easily finding the photo. Because of her archaeological training.
Something's Up with Mr Vaziri
At the Jeffersonian, Mr. Vaziri arrives a bit late; Cam had expected him to come over the previous night. Arastoo says that he spent a lot of time on the phone with his family. Cam wants to know if everything is alright. Clearly something isn't. Brennan then calls Mr. Vaziri over to the platform; as his discussion with Cam isn't work related, it can wait. Arastoo says that it isn't a short conversation anyway.
Some Skin with a Tattoo On It
Hodgins says it's against OSHA regulations to detonate at night (and it looked like a really sloppy detonation as well, given there were flames all over the place). The remains also show signs of predation. Brennan brings over something rather flat and Cam hopes it isn't the skull. The short answer is yes, and Brennan wants Mr. Vaziri to reconstruct it. He says it will take a long time to do so, so Brennan suggests that he starts immediately. Cam has also found a piece of skin with a tattoo on it.
Next Time, the Dead Man Might Pay More Attention?
Aubrey suggests to Booth that the dead man should have paid more attention to where he was going; Booth says he didn't have time to read the scene. Aubrey thinks that next time the man might pay more attention. He's dead, which would appear to make having a next time more difficult, but Aubrey suggests reincarnation.
A Prison Tattoo ID's the Victim
The ink used in the tattoo shows it to be a prison tattoo, and the National Prisoner Tattoo Database identifies the dead man as being a Connor Freeman. He was recently paroled after serving five years for attempted murder. Cam notices a sharp cut that looks as if someone tried cutting out the tattoo; that would explain why Freeman was holding his forearm when he ran.
Revenge of a Prison Gang?
The tattoo is that of a prison gang and Brennan suggests that this gang membership came back to haunt Freeman. Booth, rather defensively, says Freeman may have simply joined the gang to survive, and that Brennan shouldn't judge. Which she actually isn't doing, as that's not her thing.
The Dead Man Was Planning a New Future
Aubrey goes to Freeman's place and is let in by the superintendent. He surprises a woman, Sabrina Clevenger, who was living with the dead man. She's pretty defensive about him, and says that all Freeman was doing was planning a new future and spending many hours at the place he worked, a bakery.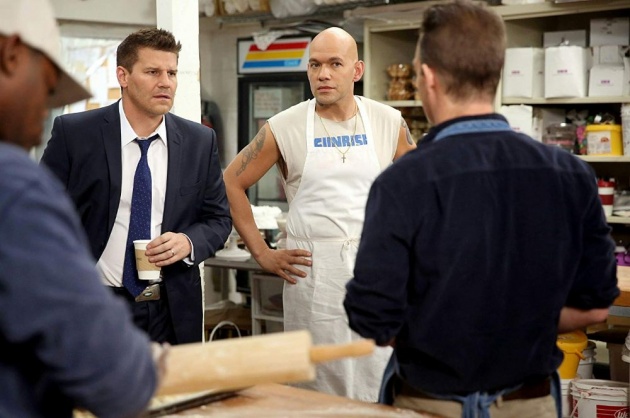 Image Credit: IMDb
A Bakery that Only Employs Ex-Cons
Brennan and Booth go to Sunrise Bakery, where, it seems, all the people who work there are ex-cons, with the exception of the owner. The other employees suggest that the brother of the woman who got shot during the robbery that Freeman was the getaway driver for is a suspect, as he'd been following Freeman. The brother blames Freeman for his sister not being able to walk, even though Freeman never shot her and even the shooter testified that Freeman had no idea as to what was happening. The brother had been following Freeman around with a camera, waiting for him to mess up so he could go back to jail.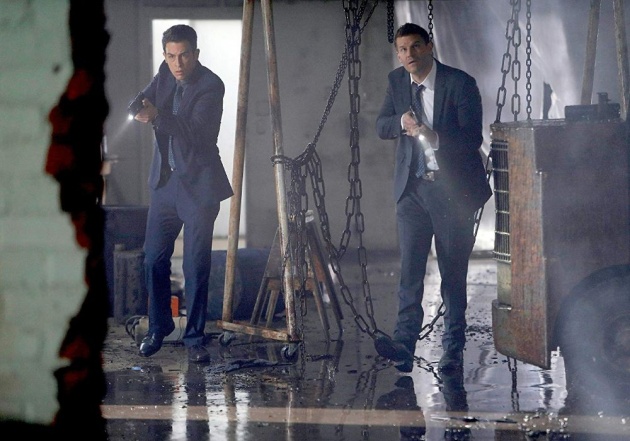 Image Credit: IMDb
Bound and Drugged, But Managed to Escape
Freeman was bound and heavily drugged, yet had managed to escape his captor. Motives and suspects crop up, then things take a turn for the rather disturbed.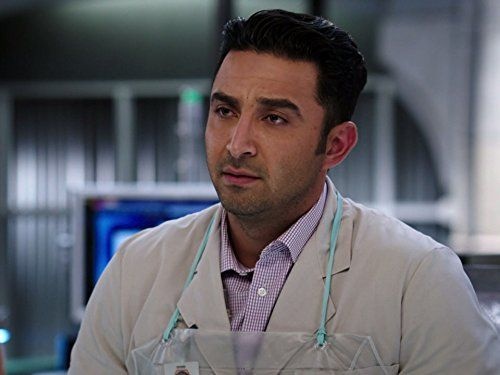 Image Credit: IMDb
Personal Matters for Mr Vaziri
Mr. Vaziri tells Cam that his brother in Iran, the only member of the family to remain behind, is sick. Cancer of the brain stem, and he doesn't have much time left. The government also wouldn't let him leave. Cam says that Arastoo can't go back, as he's a wanted man; he says technically not, because he fled before the edict was issued. Still, Arastoo returning to Iran is very dangerous, and he's not really willing to discuss it with Cam, because it's his brother and he's the only one who can go back.
Bones - The Baker in the Bits Trailer
Video Credit: ME GUSTA CHANNEL via YouTube
More Blogs from this Television Series:
Want to earn from blogging on bitLanders? CLICK HERE to sign up and get a $1 reward.