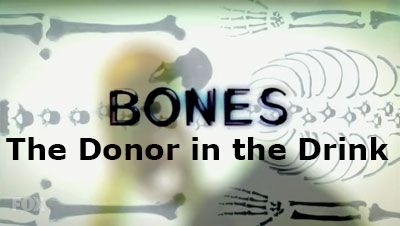 Image Credit: Fox via Wikipedia

"The Donor in the Drink" is episode three of season eleven of Bones, the forensic drama television series loosely based on the novels and life of anthropologist Kathy Reichs. In this episode, the body of a dead inventor turns up in a fish pond.
Having Your Dead Skin Nibbled on by Human Remains
The episode opens at night and one women is leading another to a pond - which has a sign saying 'Keep Out'. The more enthusiastic one of the pair says that they are going to get a fish pedicure, and that they are going to get it for free. Her less enthusiastic friend, after sticking her feet into the water, says that one of the fish has got her entire foot in its mouth, and that it really hurts. The mouth part is right, only it's not the mouth of a fish, but of human remains.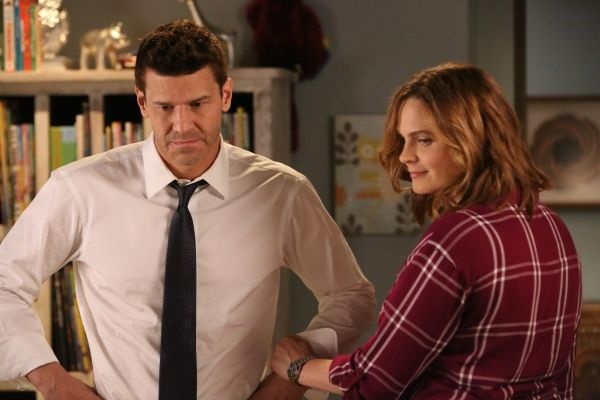 Image Credit: IMDb
Booth and Brennan's First Day Back at the FBI and the Jeffersonian
Booth is on the phone at home complaining to a delivery company about a package that hasn't arrived. The package contains Booth's brother's ashes. He is not happy. Christine wants to read to Hank and Brennan explains that Booth is looking for Jared's ashes. Going into a bit more detail than Booth would. Then Brennan gets a message about a body being found at a fish farm in West Virginia. It is the first day back at work for both Booth and Brennan after the events of the previous two episodes, "The Loyalty in the Lie" and "The Brother in the Basement".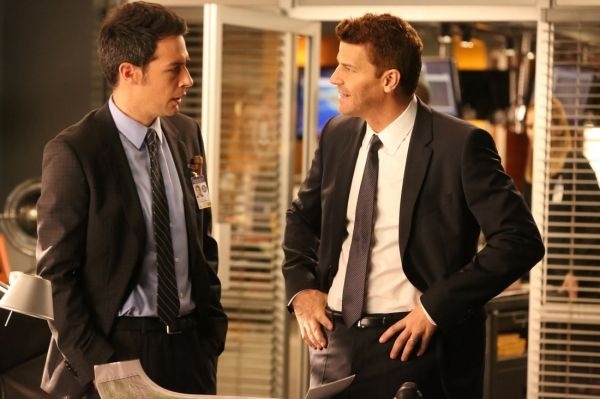 Image Credit: IMDb
Aubrey Has Booth's Office
Booth arrives back at the FBI to find out that he no longer has his office, Aubrey does. Aubrey has extensively redecorated, including a love me wall. Aubrey does point out that Booth had retired, but HR is apparently going to find him something amazing. Aubrey says that a fish farm is a rather unique place for a body dump, and that not everyone knows that they are carnivorous.
Brennan Has Really Missed Body Goo
At the Jeffersonian, Wendell Bray asks Brennan if being at the Jeffersonian is like riding a bike. She doesn't really get it. They have a plastic bag containing the remains and Cam asks Brennan if she wants to slice it open. Which she does. As goo and remains come out of the bag, Brennan remarks that's she's really missed this. Brennan also asks how Arastoo is doing with his job search. Cam tells her that she doesn't know, because she and Arastoo are taking a break currently. Brennan hopes that her return is not a factor in this. Which is a bit awkward as it is.
Hodgins Will Get the Body Parts from the Fish
The victim is a male in his 40s but a large part of the mandible is missing. Hodgins then wheels in a tank containing fish, announcing that rainbow trout are carnivorous and how they are great for farming. The fish were feeding on the remains, and the missing mandible fragments may be inside them, so Hodgins is going to get the pieces out, one way or another. Although, given Hodgins, killing the fish is probably not the first option on his list.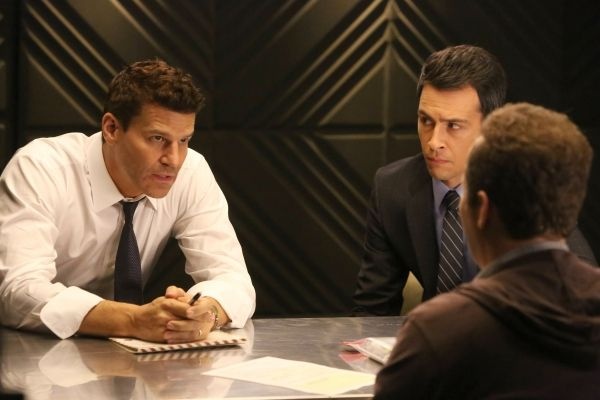 Image Credit: IMDb
A Dead, Mostly-Unsuccessful, Inventor
The remains are a bit odd, because the fish appear to have completely eaten some organs but not others. Something neither Brennan nor Cam has seen. There are cuts to the flesh and bones and the tip of a blade embedded in a rib. Angela is having problems narrowing down the victim, due to the missing part of the mandible, but Cam has something that will help - a handlebar moustache. Which helps ID the victim as a Lloyd Nesbit, who was reported missing by his assistant. Nesbit was an inventor, but only had one invention that really took off, the Flexi-Box, an unbreakable mail box - and that was back in the 90s. The assistant hadn't had a pay rise from Nesbit in years and had registered a patent for a jewellery polish the same day he reported Nesbit missing. An odd coincidence.
Surgically Removed Body Parts
The victim appears to have been stabbed after he was dead, but Hodgins identified the blade as being that of a scalpel. The wounds are surgical incisions - the victim's liver and kidneys weren't eaten, but surgically removed. More body parts turn up to be missing later.
Image Credit: IMDb
The Organs Were Sold on the Dark Web
Booth tells Brennan that the illegal organ trade is a booming business. Brennan says that the organ trade should be legalised, which would help save lives and get rid of the criminal aspects. The morality of this comes up a few times. Brennan points out that there are already legalised sales of blood, sperm, eggs - and faeces. Booth regrets asking about that one. According to Angela, the organs were sold on the Dark Web, and could have gone for around half a million dollars. Tracking down the seller is difficult, but Aubrey lures her out. The seller believes she is helping people and one of the people who bought an organ is unwilling to cooperate. They need to find out how the victim died, and why. Finding out what happened to the organs might help with that.
Personal Matters
Angela has taken up photography and Hodgins is very enthusiastic about it. Both Angela and Wendell invite Cam out, given that she is now single. Booth is a little off, probably due to what happened to Jared, even if he is having trouble admitting this.
Bones - The Donor in the Drink Trailer
Video Credit: manual de herois via YouTube

More Blogs from this Television Series:
Want to earn from blogging on bitLanders? CLICK HERE to sign up and get a $1 reward.