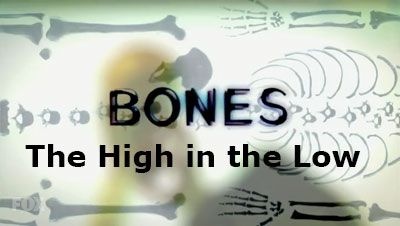 Image Credit: Fox via Wikipedia

"The High in the Low" is episode twenty of season nine of Bones, the forensic drama television series loosely based on the novels and life of anthropologist Kathy Reichs. In this episode, a user and proponent of medical marijuana is found dead in the woods.
Take Me Back to Jail!
Men with dogs and torches are chasing a fugitive through some woods at night. The fugitive is wearing an orange prison uniform and falls down a slope. At the bottom, he crawls into a rotting tree trunk to hide but, when he discovers human remains in the trunk, starts screaming that he wants to go back to jail.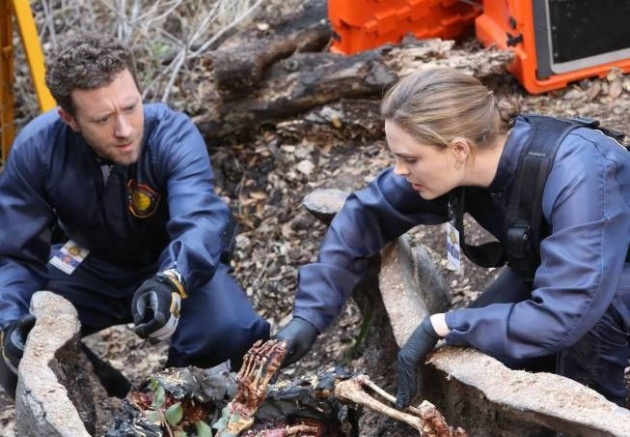 Image Credit: IMDb
Shooting Practice at the Range
Brennan and Booth are shooting at the range. Booth is practising for his competency test and Brennan asks if he's going to practise for the metal portion of the test, as she feels that he can do better than his usual 90th percentile result. Booth doesn't see the point and Brennan says that he's set in his ways - to which Booth replies that he has never been set in his ways and never will be. Which is pretty much a confirmation that he is. Booth then gets a call about a body at Great Falls National Park. The body in the tree trunk has been folded in half and has been there for some time. There are many, many different types of bugs infesting the remains, and termites have been snacking on the bones.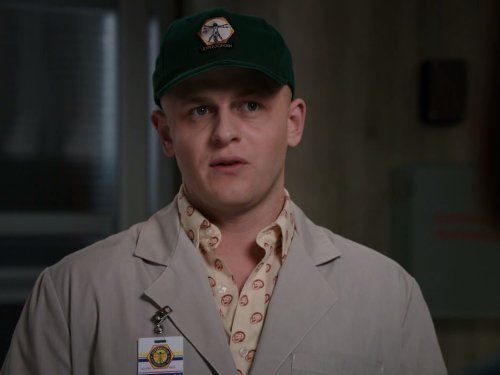 Image Credit: IMDb
Wendell is Back but Undergoing Chemo
The body, according to Hodgins, has been in the trunk for about four months. Wendell Bray arrives at the lab, the first time since his cancer was diagnosed in "Big in the Philippines". He's undergoing chemo and has a bald head as a result. According to Wendell, the female victim looked to have suffered from lupus. Cam suggests it might have been a mercy killing then decides that was a bit tactless.
A Spontaneous Killing
Booth is talking to Sweets about the test (this crops up a number of times) because Sweets had a hand in designing the mental portion. Sweets cannot help with that, so they get back to the murder. Sweets believes that it was a spontaneous killing.
THEO - A New Holographic Toy
Angela has a new holographic device called THEO (they did have a holographic device earlier on that hasn't been seen in some time; perhaps it was too unrealistic) which she uses to reconstruct the dead woman's face. This leads to a missing persons report; her sister had reported her missing four months ago.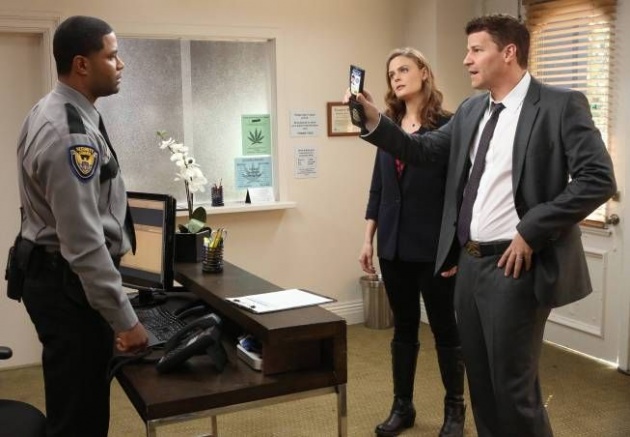 Image Credit: IMDb
Medical Marijuana
The sister says that Abby was self-medicating and using cannabis. Booth says that's illegal and drug dealers can be dangerous, but this was prescribed by a doctor and was legal; Abby had a medical marijuana card. The cannabis had helped Abby with the pain so much she was able to take up her art again, and was working at a medical dispensary too.
The Morality of Cannabis Use
Booth has some issues with this, as he is a federal agent and marijuana is still illegal at a federal level. Brennan says that it has had medicinal uses for thousands of years. When it turns out that Wendell has a card to help with the pain caused by his chemo, this causes quite a few instances where the morality versus illegality of cannabis use is essentially discussed.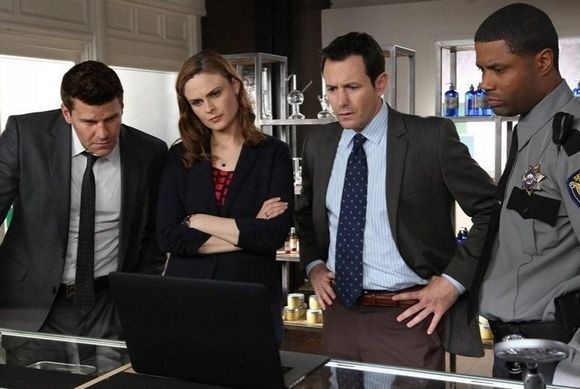 Image Credit: IMDb
Odd Behaviour from the Victim Prior to Her Murder
The dispensary where Abby worked has extensive CCTV footage, to protect everyone, and it seems that Abby got into an altercation with a university student the day before she was murdered. He had faked a medical card, so she refused to serve him. He did not take it that well and had to be ejected. The security guard from the dispensary seemed to have fixated on Abby, but he said he had misinterpreted some signals and had backed off, especially when Abby's behaviour had changed. Abby had begun acting secretive and had bought camping equipment. The murder weapon also is hard to pin down.
Bones - The High in the Low Trailer
Video Credit: Virgil Mann via YouTube
More Blogs from this Television Series:
Want to earn from blogging on bitLanders? CLICK HERE to sign up and get a $1 reward.