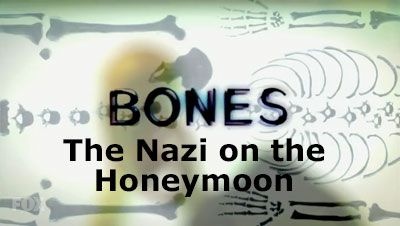 Image Credit: Fox via Wikipedia

"The Nazi on the Honeymoon" is episode seven of season nine of Bones, the forensic drama television series loosely based on the novels and life of anthropologist Kathy Reichs. In this episode, Brennan discovers the bones of a Nazi war criminal whilst on her honeymoon.
Booth and Brennan, Married at Last
In the previous episode, "The Woman in White", Booth and Brennan finally got married, despite a dead body cropping up and Booth accidentally burning down the church where they were going to get married.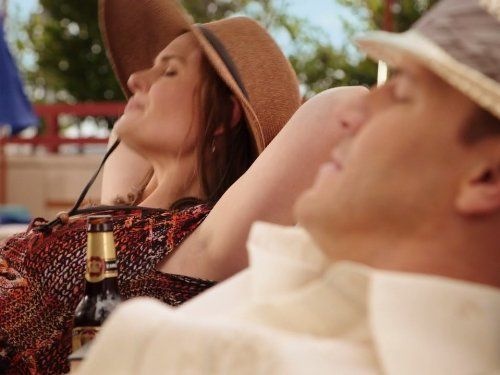 Image Credit: IMDb
Brennan is Unable to Relax
This episode opens in Buenos Aires, where Booth and Brennan are on their honeymoon. They are sitting on loungers; Booth is enjoying relaxing but Brennan doesn't see how he can get such enjoyment from doing nothing. Relaxing makes Brennan tense. Last time she was in Argentina she was working. Brennan says she saw something amazing that time, so takes Booth there.
Seeing Something Amazing - The Morgue!
There being the morgue, where the remains of the disappeared, those who were tortured and executed by their own government during Argentina's Dirty War are identified. Brennan doesn't seem to be making friends with the new coroner, Dr. Leticia Perez. As they are leaving, Booth sees some new remains.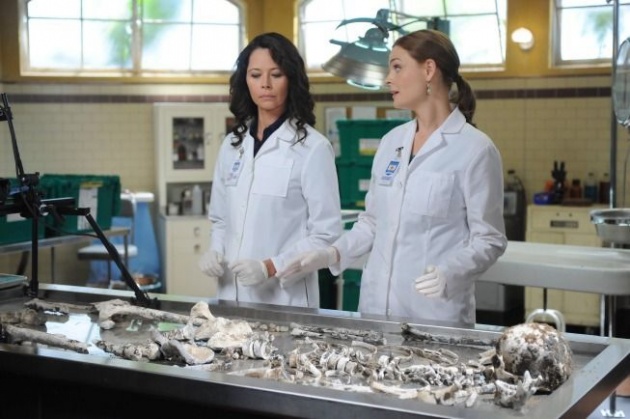 Image Credit: IMDb

Some Bones Far More Recent than the Others
Dr. Perez says she excavated the remains from a mass grave, under a layer of bones that were 30 years old, but Brennan says they couldn't be found in same pit as the victim was killed recently. Dr. Perez, after taking another look at the remains, agrees.
Agent Andy is the Most Popular Character in Argentina
Brennan wants to help no matter what - she apparently has a standing invitation from the government to help. Inspector Valenza agrees that she can help, despite what doctor and Booth want. The inspector recognises Booth as being the inspiration for Agent Andy - Brennan's books are very popular in Argentina and everyone seems to know who Booth is. Agent Andy seems to be the favourite character in Brennan's books in Argentina (this irks Brennan a little and she suggests killing Agent Andy off). When Brennan calls the Jeffersonian from Argentina and Angela sees her in the morgue, the latter calls for help and Cam and Hodgins arrive. Neither seem to really think that Brennan should be in a morgue. Angela and Hodgins are looking after Christine.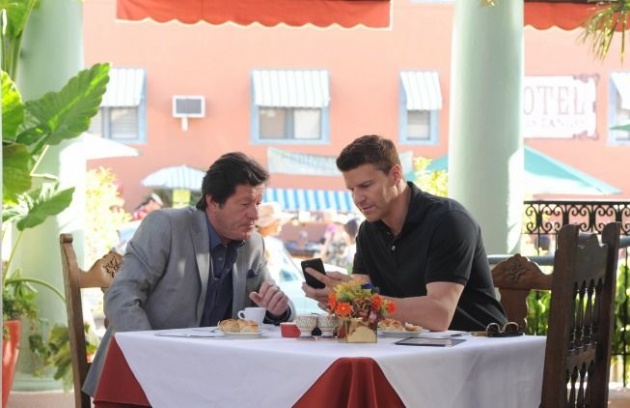 Image Credit: IMDb
Checking Up on Local Law Enforcement
The victim was a 90 year old Caucasian male. Samples are sent to the Jeffersonian for them to analyse, where Clark is filling in for Brennan. Booth is concerned that Valenza might be corrupt, given where they are, and has Sweets check into him, but nothing pops up.
How the Man Died...?
Booth and Valenza go to the dead man's house, to find he has a much, much younger wife. Leading Booth to make a comment about knowing how the man died. The widow of Miguel, the dead man, says he rescued her from the streets and, with him gone, she has no money. Which would suggest that she doesn't have a motive.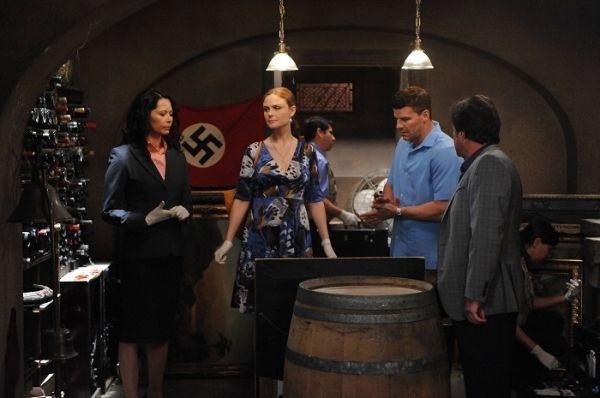 Image Credit: IMDb
A Dead SS War Criminal; So Many Suspects
As can be guessed from the episode's title, the dead man was not what he seemed. He certainly wasn't called Miguel. Examination of the remains shows signs of exposure to Zyklon B, which was used by the Nazis in death camps during World War II. Brennan suggests that perhaps he was a prisoner, but the evidence - a cellar filled with Nazi memorabilia and loot - suggests otherwise. Miguel was an SS war criminal and there are therefore many, many suspects.
Brennan is Still Lacking Tact
There is some ongoing friction between Dr. Perez and Brennan, with the latter showing her usual tact for dealing with people. Clark helps out by reassuring Dr. Perez when Brennan is not around. The actual murderer comes as quite a surprise.
All in all, not what most people would consider suitable activities on their honeymoon.
Bones - The Nazi on the Honeymoon Trailer
Video Credit: TV Series Promo via YouTube
More Blogs from this Television Series:
Want to earn from blogging on bitLanders? CLICK HERE to sign up and get a $1 reward.