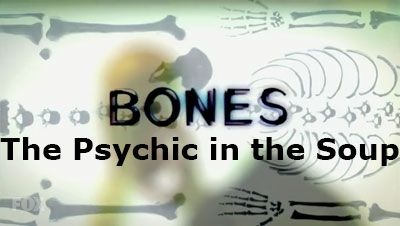 Image Credit: Fox via Wikipedia

"The Psychic in the Soup" is episode eleven of season ten of Bones, the forensic drama television series loosely based on the novels and life of anthropologist Kathy Reichs. In this episode a psychic turns up dead in a tree stump that was being chopped down.
God is an Imaginary Friend
Booth and Brennan are at home at Christine is telling Booth that Buddy wants some more cake. Imaginary cake, for Buddy is an imaginary friend, and Christine is having a tea party with him. Booth isn't entirely happy about an imaginary friend but Brennan says that Buddy is warm and affectionate. And that Booth's praying to God is no different to giving an imaginary friend a piece of cake. Booth says he doesn't have a tea party with God; Brennan uses Holy Communion as proof that he does. Then Booth's phone chirps a reminder. It's Sweets' birthday, and Booth had promised to buy Sweets some doughnuts from a bakery in Georgetown on his birthday.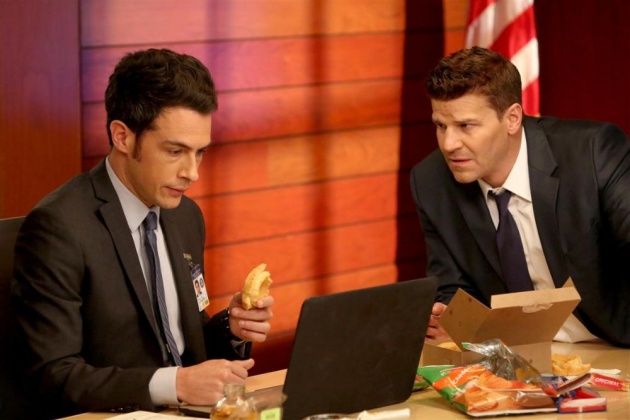 Image Credit: spoilersguide
Chainsaw-Damaged Human Remains
At the FBI, Aubrey tells Booth about the man they have in custody, an Alex Dunway. Whom Aubrey is calling Leatherface (after the villain of The Texas Chainsaw Massacre). Dunway was ranting and raving like a crazy person and a shrink has been calming him down. Aubrey has a picture of some human remains that were damaged by a chainsaw. Hence Leatherface.
Just Cutting Down a Dead Tree
Dunway is covered in blood and says that he didn't kill anyone. Aubrey points out that Dunway was running around with a chainsaw and is covered in blood. According to Dunway, he's a park ranger - the tree is in Roosevelt National Park - and he was cutting down a dead tree, when blood started spraying everywhere. This has clearly disconcerted Dunway more than a little (and is reminiscent of an episode of Tales from the Crypt).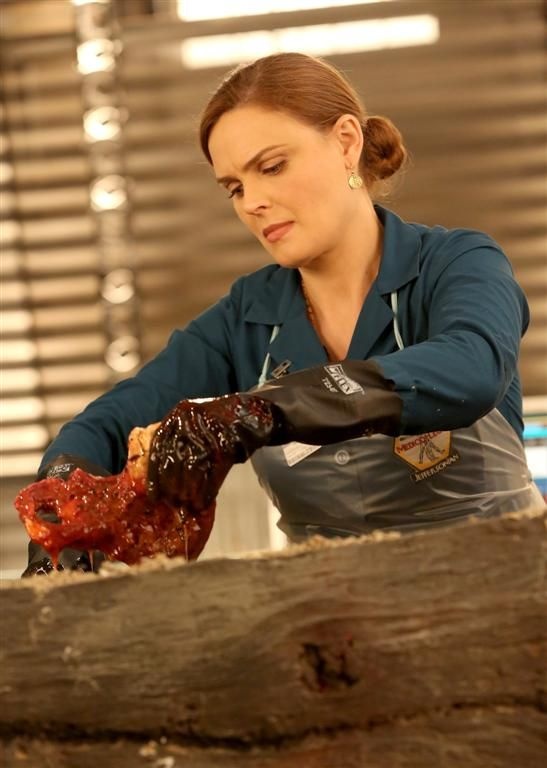 Image Credit: spoilersguide
Sweets' Birthday Crops Up Again
The tree has been brought into the Jeffersonian and cut open. Inside is a mess of blood, viscera, bodily fluids, decomp fluids and rainwater. Hodgins asks Brennan if she's okay and Cam says that it's because Brennan is about to stick her hands into body soup. Brennan replies that she is suffering an imbalance of serotonin levels which has affected her neurotransmitters. Because it's Sweets' birthday. Which causes both Cam and Hodgins to pause. Sweets would have been 30.
Who Climbs into a Tree Alone?
Hodgins suggests that perhaps the victim, a female in her early 30s, fell into the tree. Cam wants to know what sort of person climbs into a tree alone. The answer is Hodgins; it's where you find the good bugs. So the question is what sort of person other than a fairly monomaniacal bug man would do so. The likely answer is that it's a body dump, but a hollow tree is an odd place for one.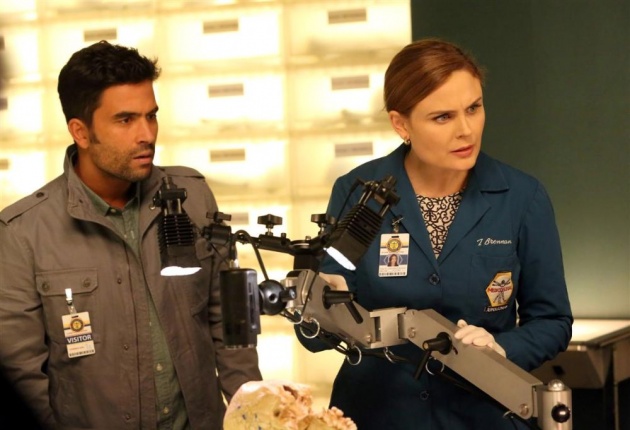 Image Credit: spoilersguide
Piecing Together the Skull - It's Just a Jigsaw Puzzle
The victim has been in the tree for about a month and Dr. Fuentes says that it's going to be difficult to do an ID with the skull cut in half by a chainsaw. There are hundreds of pieces, some microscopic, so you can guess what's coming from Brennan. She says that her three year old daughter can solve a 100 piece jigsaw in under an hour, and Brennan expects no less from Fuentes.
An ID Prior to Skull Reassembly
Angela is able to get an ID before the skull is reassembled, and this gives the ID as a Justine Simmons, who was reported missing two weeks ago by her father. Which is about two weeks after her death. Her father, Pastor Desmond Simmons, says that he and his daughter were not as close as he would like, and the last time he spoke to Justine was six weeks ago. The pastor has a very bad limp, and this happened in an accident in which Justine was driving.
The Psychic's Father Did Not Approve of What She Did
Pastor Simmons says that his daughter had started coming to church again so he was hoping she had started to turn her life around. Not from drugs or alcohol, as the Aubrey suggests, but from being a psychic. Aubrey, who seems to know the Bible, quotes Leviticus 26 on this matter.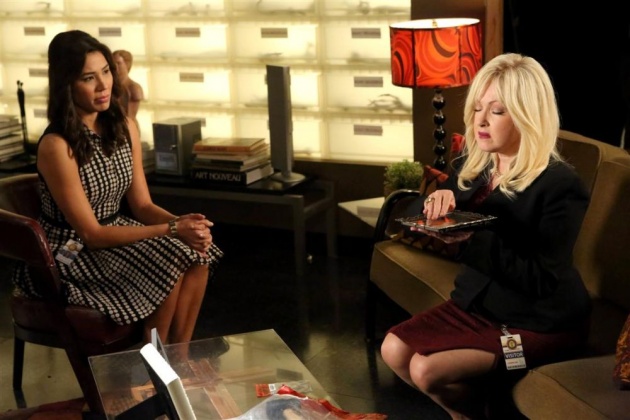 Image Credit: spoilersguide
Avalon Turns Up
With it involving a psychic, it should come as no surprise for Avalon to turn up. After calling Angela at the lab, Avalon arrives at Justine's apartment as Booth and Brennan are searching it. There's evidence of blood at the place and Avalon says that there was violence there. Brennan tells Avalon that she would be impressed if Avalon could give her a name. Which she does; Anthony Taylor. However, that's from a flyer for another psychic that Avalon has found. Avalon says that Taylor is a charlatan.
The Psychic Had Dodgy Methods
Taylor is going to be brought into the FBI for questioning, as he worked with Justine, and Avalon wants to help - by showing Aubrey how Taylor is a fake. Taylor admits he worked with Justine, and was angry with her for stealing his methods. Taylor also claims that Justine went a step further, digging deep into the background of her clients so that she could blackmail them. The picture painted of Justine isn't a terribly nice one, and she appears to have made more than a few people angry, with lies, blackmail and affairs.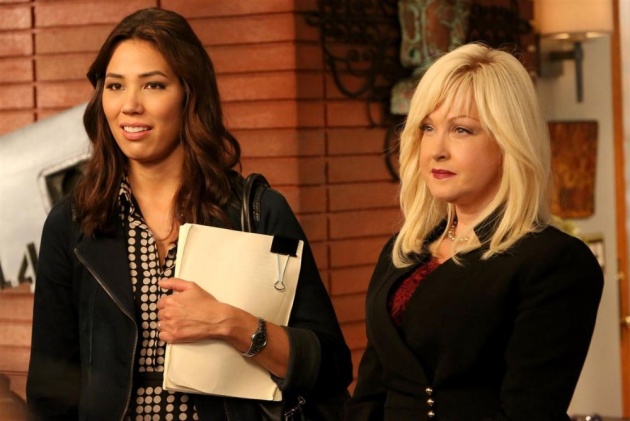 Image Credit: spoilersguide
Avalon Has a Message
Dr. Fuentes is hiding something and, when it comes out, Cam is not pleased. Brennan is rather more understanding. Avalon's reason for being in this one is Sweets. And the episode appears to be designed to make it look as if she knows what she's doing.
Bones - The Psychic in the Soup Trailer
Video Credit: ME GUSTA CHANNEL via YouTube
More Blogs from this Television Series:
Want to earn from blogging on bitLanders? CLICK HERE to sign up and get a $1 reward.