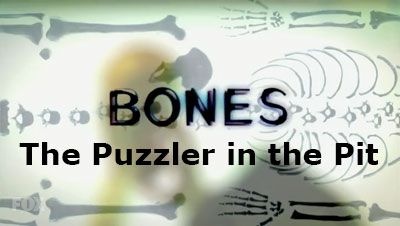 Image Credit: Fox via Wikipedia

"The Puzzler in the Pit" is episode eight of season ten of Bones, the forensic drama television series loosely based on the novels and life of anthropologist Kathy Reichs. In this episode, the body of a crossword designer is found in a fracking pit soaked in hydrochloric acid.
Daisy is Back at the Jeffersonian
A very pregnant Daisy (it was revealed in "The Conspiracy in the Corpse" that she was pregnant with Sweets' child) is at the Jeffersonian. She says that the baby's due date is at least two weeks away (as it turns out she is really wrong about that) and that, when Cam says she can take more time off, Lance would want her to get back to work. Daisy has also apparently become a bit... New Age in the process. They are waiting for some remains and Daisy takes them to the platform when they arrive.
The Remains Were Found at a Fracking Site
Booth and Brennan are at home talking about the case; it seems some protesters at a fracking site found the remains in the pit. There's pressure on the Bureau to solve the case quickly and Brennan says she won't be rushed. Unlike the fracking company, she's going to ensure the science is correct; she references a study linking fracking to increased seismic activity. Brennan is also sorting out a lot of stuff for Daisy's baby that used to belong to Christine. Well, except for the toys that Booth wants to keep. They both get calls; Cam for Brennan to go to the lab and Booth to the office.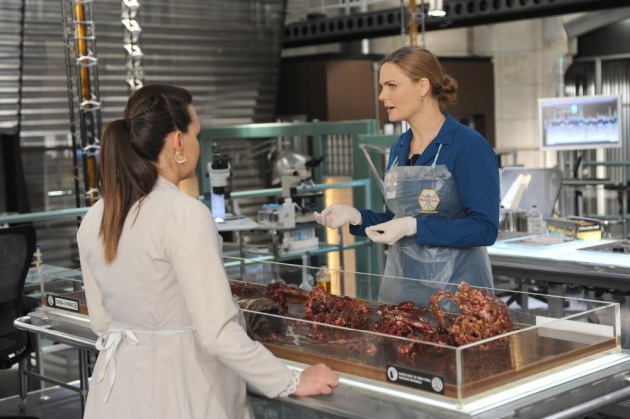 Image Credit: spoilersguide
Hydrochloric Acid is Eating Away at the Remains
At the lab, the bones are proving to be unusually porous, making cause of death hard to pin down. There's also a cast with the body and signs of previous injuries. Cam arrives with some photos from the crime scene, and the body then had 20% more tissue on it; the difference is enough that they don't look like the same remains. Hodgins has done a litmus test on the water the body was in and found that it had been spiked with hydrochloric acid. The remains are being eaten away and Cam tells no-one to touch them until they know what's going on. Hodgins goes away and returns with a tub of white powder which he sprinkles all over the bones. The powder is baking soda, which should neutralise the acid. The acid has also compromised the tissue.
Daisy is Very New Age Currently
Daisy's New Age thinking keeps cropping up. She talks about the infant's spirit communicating with hers, which leads Brennan to suggest that Daisy doesn't understand infants. Angela is also concerned that Daisy might be having a nervous breakdown, and isn't happy about what Daisy's doula is suggesting. Brennan suggests that she keep telling Daisy that she's being ignorant; Angela suggests that she do it more naturally. That doesn't work.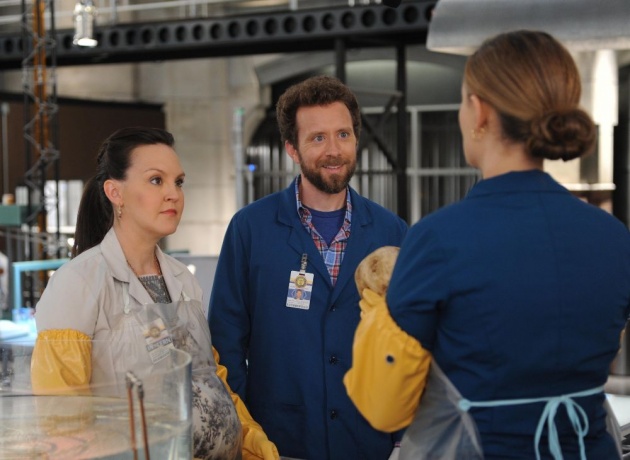 Image Credit: spoilersguide
The Victim Had a Very Rare Medical Procedure Done
The skull has been repaired with a plastic polymer, and Brennan says that this is a rare procedure with only two documented cases in the U.S. Rare means easier to track down.
Checking Out 46 Potential Suspects
Only three of the CCTV cameras at the fracking site were operational. The foreman had been accused of beating up protesters in the past, so perhaps the lack of camera coverage is deliberate. The foreman does have an airtight alibi, so it's suggested that, if the victim was a protester, he may have used someone else. So Booth gives Aubrey a bunch of people to check out. Aubrey complains that there must be 50 people; Booth says he's lucked out as there are only 46.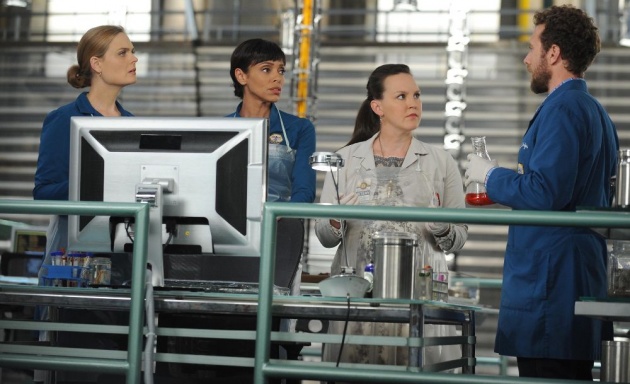 Image Credit: spoilersguide
A Dead, Successful, Crossword Designer
The skull injury allows the victim to be identified as a Laurence Brooks; Cam knows who he is. She calls him the puzzle master, a crossword designer whose puzzles are syndicated in hundreds of papers and who had written many books. Brooks had become something of a recluse. Cam says that she loved his puzzles, even though they were impossible; Angela suggests that as a motive for murder. Brooks' wife hadn't reported him missing; she just assumed he was creating puzzles. The wife says that Brooks' assistant is ambitious but he never let her create puzzles on her own. He had promised to make her co-editor though.
Threatening Crossword Clues
The cast has writing on it. Some of it is in Brooks' handwriting, which Cam recognises (she's a super fan) but the others aren't. All are crossword clues and the ones that Brooks didn't write all have a threatening tone.
Writing a Book on Brooks
The assistant plays back a threatening phone call that Brooks got, accusing him of being a thief and a hack, and says a weird person starting showing up at the same time. This person is identified as a man with degrees in computer science and cryptography, who went off the rails a bit when his parents died. This gets told in a confusing conversation when Booth uses a Yiddish word and Brennan assumes they are looking for someone who speaks Yiddish. This man was writing a book on Brooks.
The Designer Had a Secret
The threatening message came from another puzzler, a less successful one, that used to be Brooks' roommate at college. Then another motive turns up involving money. Which is a good reason to kill someone. Cause of death hasn't been identified though. It turns out that Brooks had a secret related to his head injury.
Bones - The Puzzler in the Pit Trailer
Video Credit: Brandon Quiroz via YouTube
More Blogs from this Television Series:
Want to earn from blogging on bitLanders? CLICK HERE to sign up and get a $1 reward.