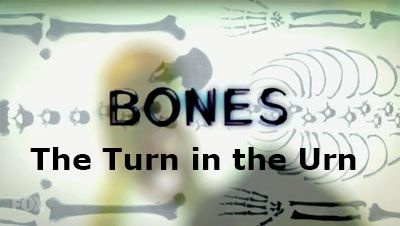 Image Credit: Fox via Wikipedia

"The Turn in the Urn" is episode nineteen of season nine of Bones, the forensic drama television series loosely based on the novels and life of anthropologist Kathy Reichs. In this episode, a funeral for a dead man turns into a murder case when the dead man arrives at the funeral still breathing.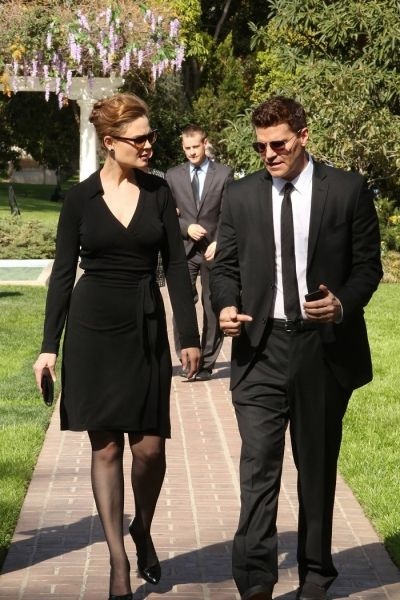 Image Credit: IMDb
Going to a Funeral
Brennan and Booth are getting ready to go to a funeral. Brennan is dressed in black but would prefer to wear white (as is done at funerals in some cultures). Booth is more concerned that he is going to be missing a big game of the Flyers'. Brennan says that the dead man funded digs all over the world, and wants to pay her respects.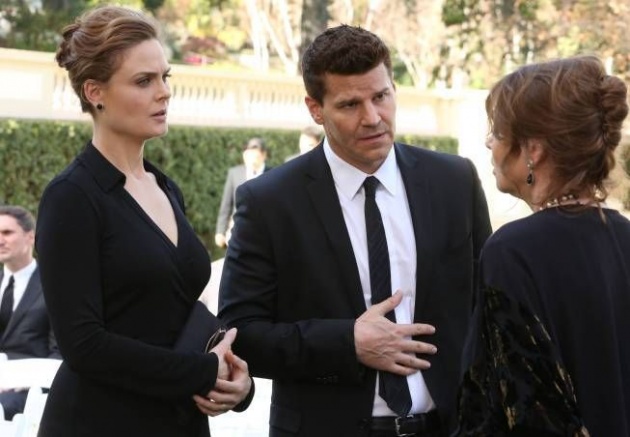 Image Credit: IMDb
A Funeral for a Man Who Isn't Dead
The dead man, Todd Mirga, ran a hedge fund and was rich. Booth does not like rich people (although he states that it's entitled people that he doesn't like). Todd's mother, Drina, of Romany descent, does not start things off well by calling Brennan another one of her son's whores, who poisoned her son's mind against his mother. Then Todd himself objects to the funeral and tells everyone to leave. Not that Todd became a zombie or anything; it's because he isn't dead and has only just arrived. There is, however, an urn full of cremated ashes, so clearly someone is dead.
There's Still a Dead Body
According to Todd, he was in drug rehab in Costa Rica and only just arrived in the country. Given his job, he wanted to keep the matter quiet. The dead man was found in the safe room of Todd's house, apparently dead of a drug overdose. He had also been dead for three weeks, which had bloated the body enough that, given the location, it was assumed to be Todd. The death was ruled accidental.
Finn Has More Money than Anyone in His Family, Ever
Finn is back, having spent some time in Boston, as he's become a lot wealthier than anyone in his family has ever been, thanks to the success of Opi and Thurston's Hot Sauce, created in "The Maiden in the Mushrooms". Finn clearly doesn't know how to deal with that amount of money, and has already bought Michelle an expensive bracelet and himself a (newish) truck.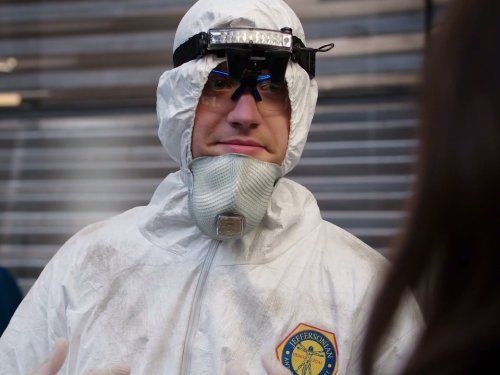 Image Credit: IMDb
Multiple Deceased in a Single Urn - How Exciting!
The contents of the urn are poured out and Brennan says that they have all they need to find out what happened. Cam clearly doesn't agree and Hodgins remarks that it's going to be difficult for Angela to do a facial reconstruction. The preliminary investigation of the remains in the urn reveals that there are actually ashes from two people. Then three. It seems that Todd's mother economised with the crematorium. Brennan thinks that it's going to be exciting figuring things out.
Evidence Linking the Murder to Inner Mongolia
Angela, using the crime scene photos, is able to undo the bloating and ID the victim as a Daniel Barr. According to Todd, Daniel was his personal concierge - he arranged things for him. The evidence from the crime scene shows soil from Inner Mongolia. As Finn says, it seems a bit farfetched to assume that Daniel was killed in Inner Mongolia and shipped back. Daniel had a clean record, which Booth finds surprising, but the same cannot be said for Todd's mother. Who he had filed a restraining order against and who keeps insisting that Brennan was one of Todd's whores.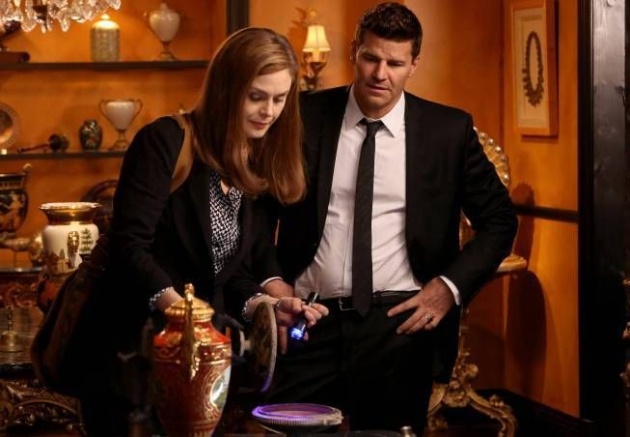 Image Credit: IMDb
Many Suspects and a Very Old, Very Valuable, Artefact
Further evidence is narwhal tusk, very old narwhal tusk. This leads to something that Brennan calls the Slaughterer's Chalice, a several thousand year old (fictional) artefact that hasn't been seen for centuries. A very valuable artefact too. There are a number of suspects, especially as there's a lot of money involved, but none are sticking out.
Bones - The Turn in the Urn Trailer
Video Credit: Maren Dalle Mura via YouTube
More Blogs from this Television Series:
Want to earn from blogging on bitLanders? CLICK HERE to sign up and get a $1 reward.