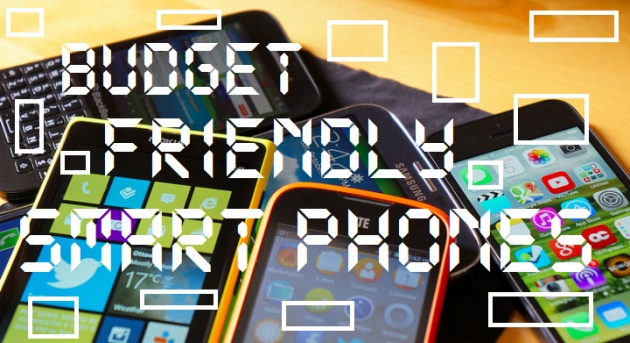 Image Source: Smartphones via techinasia / Edited by Me
Hello Everyone! NellShaOza again! As what they advised me from the very first time of my blog making, Make a blog that you have interest with and Have fun blogging. So after the movie blog (which turn out a little bit disappointing because of the 3/5 stars I've got, but still I hope you would visit it. Click here, here, here) Well just visit my entire blog hehe thanks ~ So as always, Sit back, relax and enjoy exploring budget smart phones!
FIRST TRENDING PHONE
When is the first time you had you're first cellular phone? Elementary Days? High School Days? Senior Days? College Days? or only this year? Well, before everything lets take a small leap from the past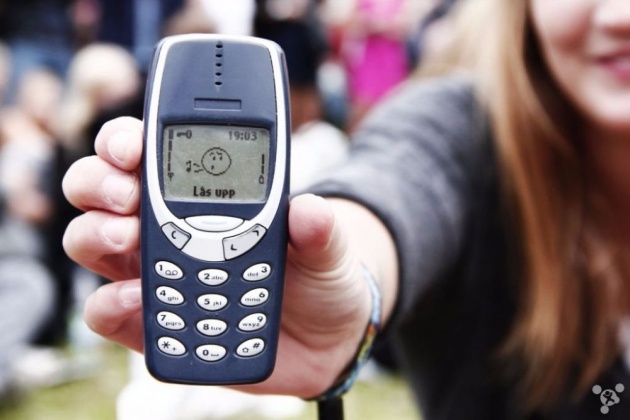 Image Source: Isha Jalan via scoopwhoop
Do you remember when keypad phones are still on the line? Well according to my father, Keypad phones especially Nokia 3310 is the Iphone 7 plus of 20's.
The Nokia 3310 is a GSM mobile phone announced on September 1, 2000, and released in the fourth quarter of the year, replacing the popular Nokia 3210. It sold very well, being one of the most successful phones with 126 million units sold worldwide. The phone is still widely acclaimed and has gained a cult status due to its durability. It is one of Nokia's most iconic devices.

Several variants of the 3310 have been released, including the Nokia 3315, 3320, 3330, 3350, 3360, 3390 and 3395.

-Nokia 3310 via Wikipedia
That time, Nokia 3310 is the most stylish, on the trend phone and of course one of the expensive which cost 5,000 php to 6,000 php (100 dollars to 120 dollars) I think in this day, the present, that kind of price is considered as an affordable phone and budget friendl
Remember Nokia's famous games that hooked up everyone? (Snakes, Space Impact and etc) Even I, used to play games with Nokia phone and happily-contented in using it even though it is not colored yet. but to this day, Games from the past is no longer alive and kicking. using Smart phones you can play a lot of online games, android games and apple games, that will surely satisfied you.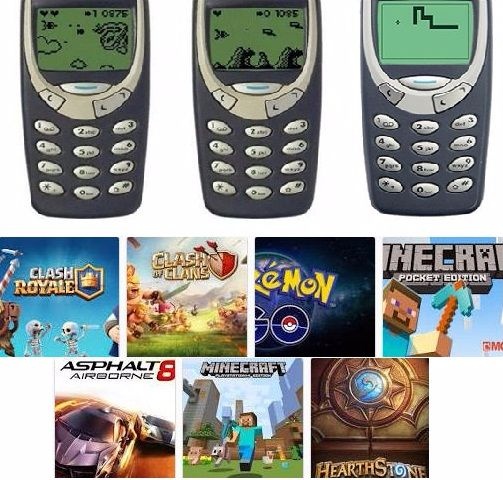 Image Source: Nokia Games and Android Games via Google and jabulanisblog
Let me add this, they also said that if you have a Nokia 3310 that time, you are considered as rich and luxurious. but because it is 2017, The price of a nokia cannot uplift with these budget friend smart phones. As what it is called, SMART PHONES. Smart and brilliant phones that can do any task easily and effectively for our better living.
Video Source: Smart phones Documentary via Vision Production
A 10 minutes Documentary About The influence of the smartphones on our daily life. Made by VISION Productions.
We cannot denied it anymore, Smart Phones is what we have right now, it is the form of living that we have and currently living on. Rich or Poor, Smart Phones is required and to tell you the truth, One must have this if you want to be connected to people this Generation. So if you are on a tight budget and your phone died a couple of days or you decide to sell it and buy a cheap one. Well I think I can help you there.
For people who doesn't have enough budget to afford expensive and gorgeous Smart phones, I'm here to help you in choosing The Budget Friendly Smart Phones in Philippines today. (Take Note that this is not an accurate base of budget friendly list, It's my opinion and it's up to you if you'll apply it in your choices)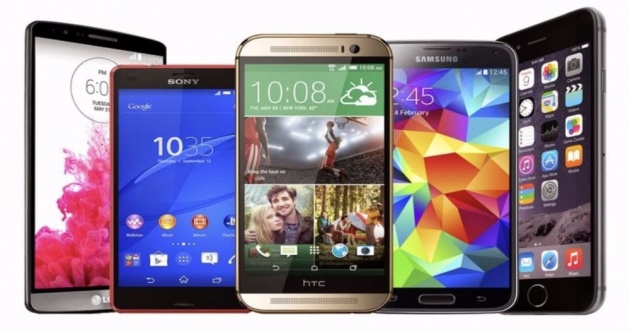 Image Source: Budget Friendly Phones via cnnct.co.za
This friendly budget phones are phones that is not famous and widely use in the world (unlike Samsung and Iphone) You can have it for 2-5 years depending on how you're going to use it. just keep in mind that it is Budget Friendly and low cost but has a great specs which you can use in many ways.
MY TOP 3
My top 3 phones that I've notice to have the most helpful specs, the most stylish model and of course the most affordable phones specifically at the price range of 3500 php to 4500 php (70 dollars to 90 dollars)
It's all in it's owner's will
TOP 3 - SKK HYPER BLADE X
I made this as my Top 5 because of it's essential specs within its price. One of my favorite cheap phones with a premium looks. Take a look ~
SKK Philippines has launched the SKK Hyper X Blade sporting entry-level specs and sleek design from P3599 price in pesos to P3299 (71.50 dollars to 65.54 dollars) . - Manila Shaker

Image Source: Budget Phones via Gizmango
Display: 5.0 inch, HD, 720 x 1280 pixels (294 ppi), IPS, 2.5D Arc Glass
Processor: 1.3GHz Quad Core Processor
Internal Storage: 16GB
RAM: 1GB
Camera – Rear: 13MP, autofocus
Camera – Front: 5.0MP
Battery: 2700 mAh capacity, Non-Removable
Android Version: 5.1 Lollipop
Dual Sim: Yes (Micro SIM, Dual Standby)
LTE: No, 3G HSPA+

- Gizguide
I saw this phone personally in SKK outlet here in our place. It is handy and has a resemblance with iphone 6 and iphone 6s. I recommend this phone for people who want an Iphone look a like phone. I already got a phone a year ago which has an resemblance with iphone and I got it for 3,500 php (70 dollars) and when I saw this phone I instantly questioned myself why I didn't see this phone earlier!! It has a very smooth complexion and I think it is good for people who need a smart phone in very low cost with a very stylish way.
Image Source: Skk Hyper X Blade via bulakenyotech
Let me mention the camera itself. for 3,600 php (around 70 dollars) it is a good deal! You can take a clear shot in bright places and a decent shot in dark places. (don't compare it with iphones) I've seen other people used this and they upload it in social media/internet, all I can say is that it is really good for it's price
You can go to any SKK stores nationwide to have one, or visit some online stores ~
TOP 2 - FIREFLY AURII FUSION
I've seen this before and when the time I touches it, I plan to save money just to buy it (Unluckily, My uncle bought me a phone from US and its stopped me from buying it)
I can say that, Firefly Aurii Fusion body is essential and nice to handle. If you love texting and messaging, this phone is for you. You can take it everywhere and anytime without the worried of the phone being damage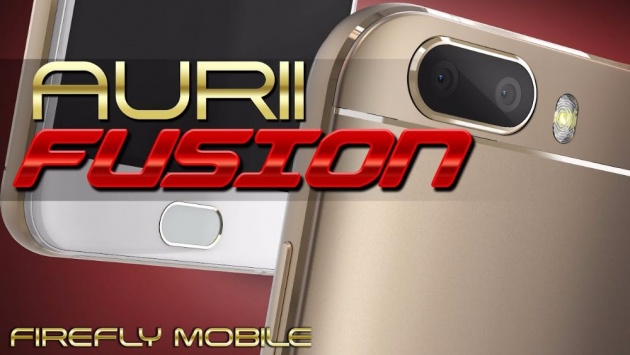 Image Source: Aurii Fusion via Firefly Channel Youtube
5-inch HD IPS display
2.5D Corning Gorilla Glass 3
1.3GHz Quad Core
Mediatek MT6580 quad-core CPU
Mali-400MP2 GPU
1GB RAM
16GB storage
microSD up to 128GB
13MP Sony sensor + 5MP AF dual-rear cameras w/ LED Flash
5MP BSI front camera
Dual-SIM
3G HSPA+
WiFi
Bluetooth 4.0
GPS, A-GPS
Fingerprint scanner
Android 7.0 Nougat
2,500mAh Battery
-Yugatech
Good thing about this phone is that it has Fingerprint scanner (Security purposes) and also it's android is 7.0 Nougat which is more essential in handling apps. The price is cheap for its specs. The Brand Firefly is somehow relevant in durability. They have a height fall test in some of their Unit, so I believe that this one is durable in some cause (Just don't drop it too much)

Image Source: Firefly Aurii Fusion via Yugatech
The 13 mp Sony sensor cam is also an interesting subject to look for. But I think it is not that clear compare to iphones but when I tested it before, The Camera is reasonable and can take a shot with clear pictures. I've seen it myself but I can't accurately state it's camera ability because the lightning in Malls are good in almost any camera.
TOP 1 - CHERRY MOBILE FLARE S4
I've never seen Cherry Mobile Flare S4 in actual but My Friends and Uncle told me that this phone is strong enough to last for years. The specs are simple but effective and the phone's built is somehow premium. If you want to be stylish but you do not have enough budget, You can go for this phone. The Phone's Price is 3999 php (80 dollars)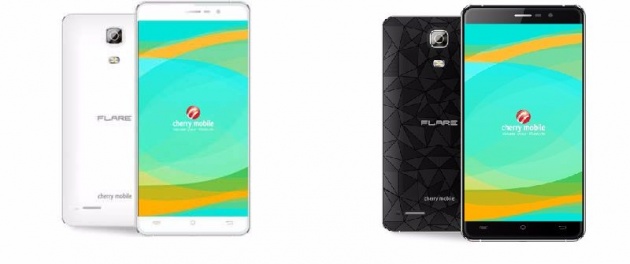 Image Source: White,and Black (Links)
5.0 inch HD IPS screen, 720 x 1280 pixels resolution, 294 PPI.
1.3 GHz cortex – A53 Octa core processor.
2.5 D scratch resistant Dragon trail Glass.
2 GB RAM.
Mali-T720 GPU.
13.0 megapixel primary camera.
5.0 megapixel secondary camera.
16 GB internal storage.
Connectivity via Bluetooth 4.0, Wi-Fi and Wi-Fi hotspot.
Android 5.1 lollipop Operating System.
2200 mAh battery.
It's a powerful device in which you can put anything essential to your needs, you can play hardcore games (like what my friends said) though I'm not sure about the camera but It's a risk I'm willing to take. Octa core processor for only 4000 php? It's nice deal right? Lollipop is a nice Operating System too ~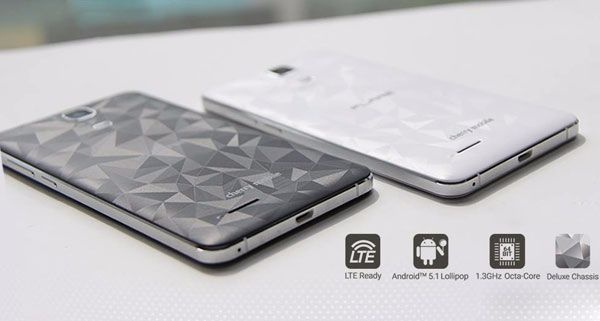 Image Source: Pinoy Techno Guide
The Glassy-Classy pattern at the back of the phone makes it more elegant and unique in its style. You can choose whether to have White or Black one. (But me I preferred the black one because the patterns is visible and makes sense)
IT'S EASY TO HAVE..
a Smart Phones which you can bring anywhere and you are comfortable with. If you like smaller phones then go with it, if you want the bigger one then go. Just choose the most android/IOS phones that will suits your need.
IT'S LESS GUILT TO HAVE..
Cheaper but Great phones. Expensive but surely high quality phones. If you don't mind about the brand and looking for a cheaper one, There are a few stores that might have what you looking for.
IT'S FUN TO HAVE
a Smart Phone. Capture the memories, connect with everyone, learn everything and share something. Just Be GOOD and use it properly. ~
Video Source: Smart phones award via Marques Brownlee Channel Youtube
Hope you all appreciate my simple blog for today
Until next time again everyone!
THANK YOU
and
BE SMART
Best Regards,
August 2017