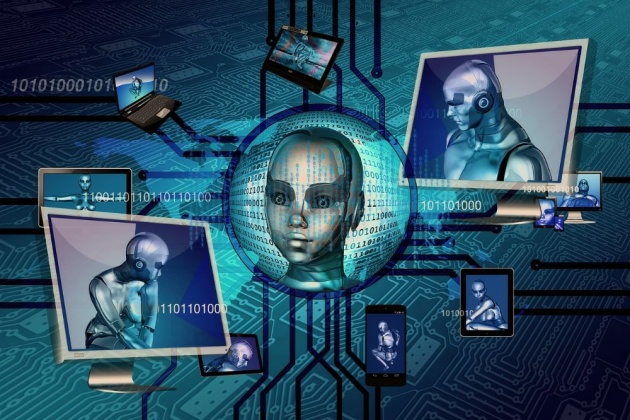 Image Credit Geralt via Pixabay
Choosing your Career
In order to choose a career you need to know your interests, strengths, values, personality, and skills. It is important to do an objective study of these aspects before you explore career opportunities.
The second part of choosing a career is to know your options. An exhaustive research in the area of your career interests should be able to help you decide on a job that fits you best. You also need to look for a field in which there is sufficient potential for growth and choose your career accordingly.
Thirdly, compare your options, weigh them in the light of your interests, skills and personal commitments before you decide on your career.
"Without big data analytics, companies are blind and deaf, wandering out onto the web like deer on a freeway." – Geoffrey Moore, author of Crossing the Chasm
Careers in Artificial Intelligence
In recent years, careers in artificial intelligence (AI) have grown exponentially to meet the demands of industries which are being digitally transformed. AI enhanced navigation apps, streaming services, smartphone personal assistants, ride-sharing, home personal assistants, chat bots, and smart home devices have taken over our lives and this means just one thing - a huge demand for AI professionals.
"Information is the oil of the 21st century, and analytics is the combustion engine" – Peter Sondergaard, Senior Vice President at Gartner
The growing Field of Artificial Intelligence
While there are a number of jobs in artificial intelligence, there's a significant shortage of top tech talent with the necessary skills. According to a career consultant site the requirements for AI professionals has doubled. However according to the same source the number of qualified professionals available for these jobs has leveled off. The demand for AI professionals is growing higher while the supply is coming down.
Artificial Intelligence market is projected to grow from USD 21.46 Billion in 2018 to USD 190.61 Billion by 2025. The global artificial intelligence market size is expected to reach $169,411.8 million in 2025, trained AI professionals are in high demand. Are you ready?
Please join me in this Querlo chat below which will help you do your research and decide on which are the jobs you can prepare for or which skills sets to add to you repertoire to make yourself ready for a career in AI.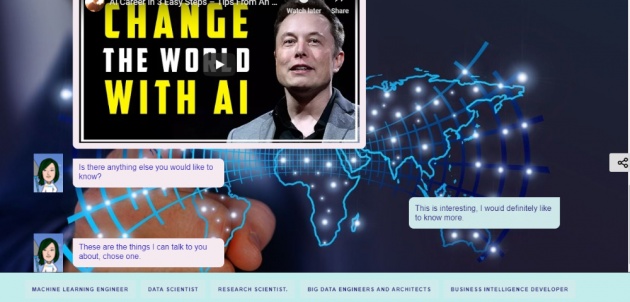 Image credit Screen shot from Querlo chat on Careers In AI via Bitlanders
Querlo chat on Careers in AI by Sofs via Bitlanders
"The world is one big data problem." – Andrew McAfee,
Final Thoughts
While it is important to choose a career where there is potential for growth, it is imperative to know which are the emerging fields and choose a career in that area to ensure a steady career growth. Most industries today are facing a level of saturation in growth and the availability of jobs are getting fewer and fewer by the day.
Careers in AI are opening up according to a study by Pysa, the top 20 AI companies are spending more than $650 million to hire AI talent and that there are more than 10,000 positions available at top employers across the US alone. Career planning is an important aspect of choosing a career. The good news is if you are already in a related field you can update your skills and poise yourself for growth and adventure in the field of AI.
This blog post is written in support of the announcement made by Micky about the Bitlanders AI-Themed Blogging. This blog also incorporates the C Blog (Double bonus reward topics). This article is the fifth in this series on Artificial Intelligence.
All images used in this blog have been duly credited, no copyright Infringement Intended.
Video Credits for those used in the C- blog
Oscar Alsing via Youtube
My other blogs in this series Include
ARTIFICIAL INTELLIGENCE - MAKING LIFE EASY AT HOME
ARTIFICIAL INTELLIGENCE IN HEALTHCARE - C- BLOGGING
THE ARTIFICIAL INTELLIGENCE REVOLUTION - DRIVERLESS CARS
BIO-METRIC ACCESS AND SECURITY IN THE WORLD OF AI
AI ENHANCED WEARABLES _WEARABLE TECHNOLOGY DEVICES
Thank you for reading and interacting with me on this blog. I hope that information I have shared on Building A Career in AI has been helpful to you.
- ♥♥♥♥♥Sofs♥♥♥♥♥-
Would you like to share your thoughts and earn through Bitlanders? Follow this link and claim your first $1 reward on sign up.