When you are the smartest guy in the room, you are in the wrong room! Today, I was in the right room! This morning, Roya Mahboob and I met with Christoper Fabian, the adviser on innovation to the Executive Director at UNICEF.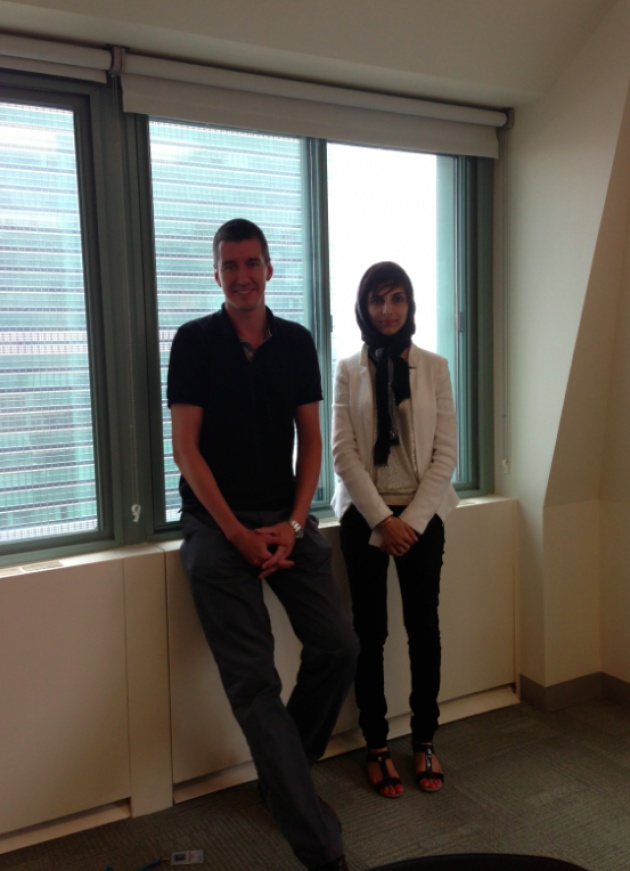 Both Roya and Chris were named in the Time 100 Most Influential Pioneers list. Time defined Chris Fabian and his colleague Erika Kochi, development geeks. Jack Dorsey, Twitter's Co-Founder, wrote in his Time 100 review: "Erica and Chris are using technology and accessible, intuitive interfaces to quickly transform the face of humanitarian aid and international development. The world will benefit from their continued efforts."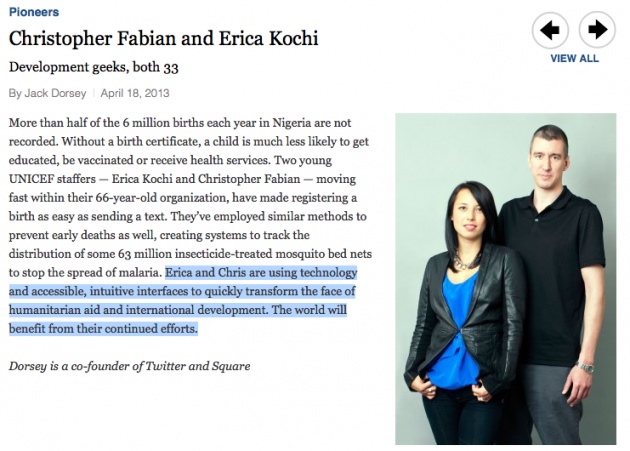 The meeting touched several angles of Chris Fabian and Roya Mahboob's work. We found great parallels for the concepts of Innovation Labs and Building Local Talent. Chris handed us a hard copy of the Innovation Labs, A Do-It-Yourself Guide, and we agreed to touch base later in June.
When I got back to my office, I had a series of calls associated with the Examer's expansion in South America with Brazil, a call for a Container Leasing project to support Women's Annex with San Francisco, and a call about data and demographics management with Colorado. I hung up the phone and started browsing the notes of the meeting with Chris Fabian, and two things kept popping in my mind:


I was in a room with two very smart and inspirational people. It's intimidating to write this blog...


Build Local Talent, or even better #buildlocaltalent. I love this ash tag!


The very first line of the guide (page 2) says: "Innovation Labs create global interoperability."
On page 10, there is an interesting question: Who are the partners of a Lab? and a nice graphic with an interesting answer: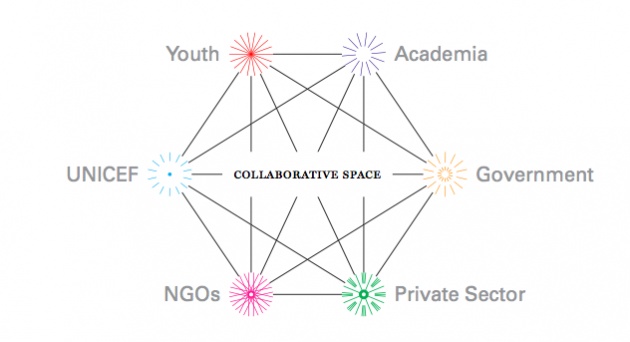 The concepts of Global Interoperability and Collaborative Space connect to the one that brought Afghanistan's network of Internet classrooms or labs: 8 classrooms in the high schools of Herat, West Afghanistan, one Women's Center in Herat, and one in Kabul. This is a network of 35,000 students browsing the web through our classrooms and 5,000 female students registered on the Examer Vocational and Educational Software.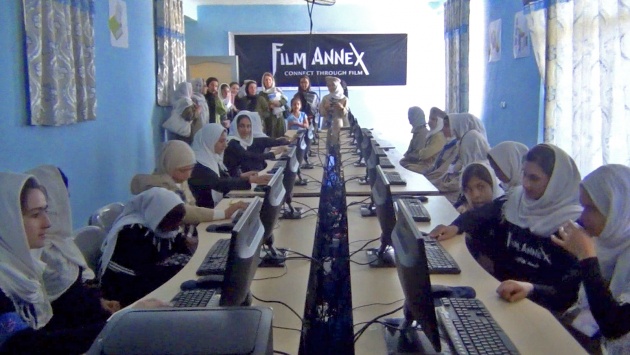 One more aspect about this great inspirational meeting was the concept of the Innovation lab as the moderator and point of contact between local educational institutions or groups of people interested in creating solutions. The students and the scholars are empowered to propose the solutions, and design the curriculum and road map. They elevate the conversation, like with our vision to empower the students of Herat to write film treatment and support their vision with a network of high-schools equipped with 3D printing, stop motion filming, film editing, social media, professional blogging, data and demographic management. Fundamental to the concept of Sustainable Education and Business are also the direct relationships with international businesses like Film Annex and other companies interested in Building Local Talent and paying for their valuable work and achievements.
NO POLITICS, JUST INTERNET, and... Building Local Talent.