Hello friends, Nice to meet you here.

Today I would like to discuss the Bitlanders in the form of C blog. This is my first C blog to tell you about Bitlanders. Hopefully, you will love it and learn a lot too.

So friends, first of all, I would like to tell you what is C blogging?

What is C blogging?

C blogging is the latest technology of blogging by Bitlanders. You can write now conversational blogs on Bitlanders by adding Querlo chat surveys in it. C blogging is very helpful and easy to learn. C blogging is very useful because through it you can communicate with your viewers easily and can also understand what they want to learn. You can also write C blogs on Bitlanders and you just have to create quality chats for adding in your blog.
The future of blogging - The bitLanders C-blogging


bitLanders, the worldwide blogging platform, introduces the future of blogging "The bitLanders C-blogging", Conversational AI blogging by Querlo powered by IBM Watson and Microsoft Azure with the purpose to provide bloggers the possibility to communicate and establish a conversational relationship with their readers.

Thanks to the world's most prompt technology - Artificial Intelligence, powered by Querlo's conversational AI technology.

Querlo integrates the DeepQA Artificial Intelligence functionality of IBM Watson and Microsoft – a collaboration which sets Querlo apart from other solutions in the market.

Information credits: New topics for "The bitLanders C-blogging"! blog post

Dear friends, now I would like to move towards my blog post. I created this C blog to tell you a bit about Bitlanders and its exciting features.

What is Bitlanders?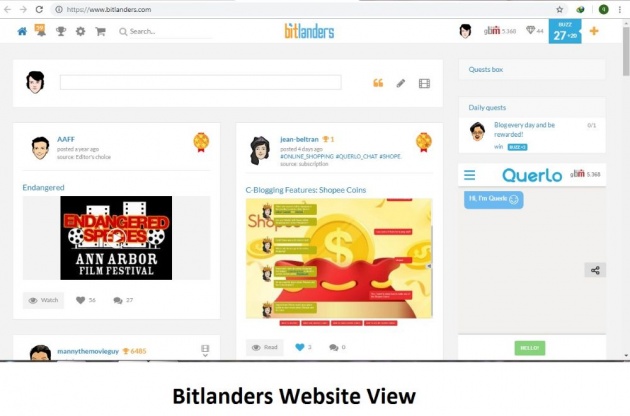 Image Credits: Screen Shot taken from www.Bitlanders.com

Bitlanders is an online social media platform which pays its users rewards against the quality content. We can earn through blogging on Bitlanders. We have to submit quality blogs and articles to the editorial team for review. We can withdraw our rewards from Bitlanders through PayPal.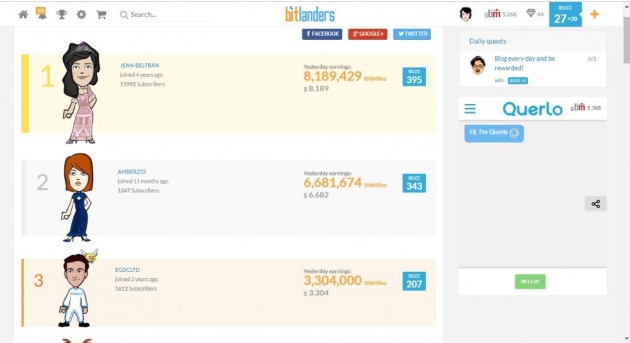 Image Credits: Screen Shot taken from the Bitlanders LeaderBoard

Dear friends, Now I would like to present my Querlo chat with you about Bitlanders. Use this Querlo chat and learn more about Bitlanders and don't forget to tell me about it in the comments section.
Image Credits: Screen Shot taken from Querlo Chat
Querlo Chat Survey:
Querlo Chat Credits: www.querlo.com
Dear friends, I'm sure that you will love my article and will find it helpful and beneficial for you. It will definitely increase your knowledge about Bitlanders.
Want to read more! You may read my previous articles here;
https://www.bitlanders.com/blogs/disadvantages-of-mobile-phones/7355630
https://www.bitlanders.com/blogs/advantages-of-mobile-phones/7323417
https://www.bitlanders.com/blogs/top-leading-smart-phones-companies-in-pakistan/7153884
https://www.bitlanders.com/blogs/hindi-movie-review-raja-1995/6866294
Video Credits: YouTube.com

Thanks for spending your precious time in reading my blog post.

Wish you the best of luck!

Regards
Qamar Qazi