Greetings! It's me again. Today's blog is all about the app which I always use in searching for flights and even booking! I hereby present to you the Cebu Pacific Mobile Application!
Being in the Philippines and as it is very well known that in the country, the airline which offers classic and epic seat sales is Cebu Pacific Air, I had made it a point as well to download and install their mobile app.
Video credits: Cebu Pacific Air via YouTube
It had evolved throughout the years too from just being a simple booking app into a much more complex with more features and eventually that of which almost all function that can be done on the web can also be performed using the mobile app.
So, as an avid user, I hereby created a Querlo Chat that illustrates and showcases the features and functionalities of this mobile software. It is, of course, available for Android and iOS operating systems. I for one have the iOS app and it is quite fast!
Logging into the account was swift although I have always had this issue where my account is always logged out of the app after an update. Anyway, it was okay as I can always log back in.
As mentioned, there are so many features available and I will go through each menu options together with what the app really displays right on the screen. I hope you'll go through it as well and I know that after learning these things, you'll also start using the app if you are in the Philippines.
Cebu Pacific is really our go-to airline when traveling because they offer seat sales and that most of the time, we are able to grab one just like our very affordable trip to Japan this coming June where we had booked Cebu to Narita round trip for two with 20 kilograms of baggage for only Php 5,000! We booked that last year and it's always fly day! But first, we have to prepare our Visa of course!
But this Querlo Chat is not about the Japan trip but more on the Cebu Pacific mobile app. My favorite feature though aside from being able to book a flight is the option to check in and view my boarding passes inside the app. In this way, I won't necessarily need to print my ticket. I can just show my mobile phone and that's it!
Enough of this talk. Let's now participate in this Cebu Pacific Mobile App Querlo Chat!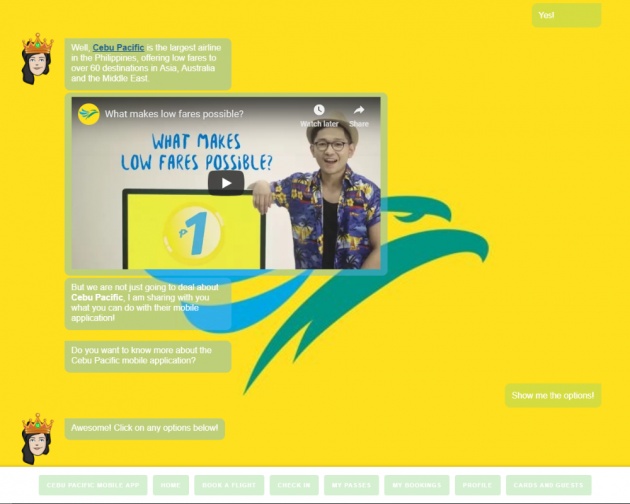 Image credits: screenshot of the Querlo Chat Cebu Pacific Mobile App
This blog is published in support of bitLanders' C-blogging. Learn more about it in the quoted box below:
The future of blogging - The bitLanders C-blogging


bitLanders, the worldwide blogging platform, introduces the future of blogging "The bitLanders C-blogging", Conversational AI blogging by Querlo powered by IBM Watson and Microsoft Azure with the purpose to provide bloggers the possibility to communicate and establish a conversational relationship with their readers.

Thanks to the world's most prompt technology - Artificial Intelligence, powered by Querlo's conversational AI technology.

Querlo integrates the DeepQA Artificial Intelligence functionality of IBM Watson and Microsoft – a collaboration which sets Querlo apart from other solutions in the market.

Information from: "The bitLanders C-blogging" New Double Bonus Reward topics

Thank you for reading and for participating in this Querlo Chat!
---------------------------
About the author:
Jean Beltran-Figues is a photography enthusiast.
A traveler who wants to promote her beloved country, the Philippines.