As I have mentioned before, one of the means for me to kill boredom as a work from home person is by trying out different places to work at, I don't just stay at home all the day, all week, all month. There are certain days that I would somehow prefer to work from a different environment, may it be in coffee shops or cafes. But lately, what I am interested was with co-working spaces.
This co-working space business is making a name in Cebu City and I have tried a couple of spaces already, one was the Workplace Cafe, I tried both their Ramos and Banawa branches. Another one which I have just tried a few weeks ago was the Headquarters Cebu.
Both of them offers fast internet connection, a good and comfortable space with tables and power outlets positioned in different areas of the space but although they offer the same type of service, the two have differences too.
That's what I am going to tackle in this C-Blogging topic today. I have made a Querlo chat differentiating the two in terms on their location, pricing and rates, their amenities, the food and drinks provided and most especially, the cleanliness of the working space.
Continue with participating on the Querlo Chat below to know more about the two co-working spaces and learn which one is best for you.
Participate in this Workplace Cafe vs Headquarters Cebu co-working space battle:

How do you find it? Which co-working space is better and which do you think excels more? Do you feel like having just one complimentary drink better than an unlimited supply? How about the other amenities such as napping stations and meeting rooms?
I hope that this C-blog had helped you in many different ways most especially if you are someone who is based in Cebu City.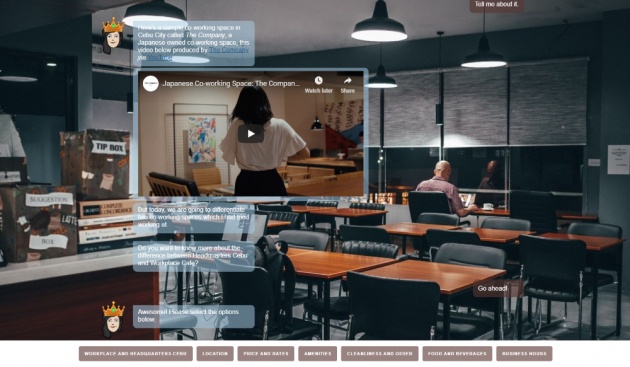 Image credits: screenshot of the Headquarters Cebu vs Workplace Cafe Querlo Chat
This blog is published in support of bitLanders' C-blogging. Learn more about it in the quoted box below:
The future of blogging - The bitLanders C-blogging



bitLanders, the worldwide blogging platform, introduces the future of blogging "The bitLanders C-blogging", Conversational AI blogging by Querlo powered by IBM Watson and Microsoft Azure with the purpose to provide bloggers the possibility to communicate and establish a conversational relationship with their readers.

Thanks to the world's most prompt technology - Artificial Intelligence, powered by Querlo's conversational AI technology.

Querlo integrates the DeepQA Artificial Intelligence functionality of IBM Watson and Microsoft – a collaboration which sets Querlo apart from other solutions in the market.

Information from: "The bitLanders C-blogging" New Double Bonus Reward topics

Thank you for reading and participating in this Querlo Chat!
---------------------------
About the author:
Jean Beltran-Figues is a photography enthusiast.
A traveler who wants to promote her beloved country, the Philippines.