Have you ever felt like making a video out of your mobile device or maybe even in your desktop computer yet, there's an issue, you don't have any software or application that allows you to save the app without their watermark taken out of the picture? We all know that video editing is now a hit most especially with the vlogging industry.
And if you think you don't need one because you are just on Instagram and Facebook, then think again, stories are now a trend too and you can pump up your stories through videos instead of just using photos. But because stories have limitations in terms of the length, it is much better to edit your videos before posting them into your Insta-stories.
I for one is a fan of making Insta-stories which will then be cross-posted to Facebook. This allows me to post once and then the same video is sent over to Facebook. I wonder if you are making use of that feature? I had blogged about this before and I hope you had learned something about why Insta-stories are part of the emerging means of pumping up your business strategies.
But for the meantime, let me share with you this one video editing application that I had been using ever since to create my Insta-stories. This is perfect because, it is very easy to use, light as a mobile application and fast too! Exporting your video takes only a few seconds and that most importantly, there's no watermark at all in the exported video making it look like you had made the film in a professional way. Plus, the app has its own presets in video editing that you can just tap and use and automatically, it creates the videos by its own. Stress-free and very easy peasy!
So, to learn to use this app for Instagram and Facebook stories, I highly recommend you go through the tutorial inside this Querlo Chat - Quik instead: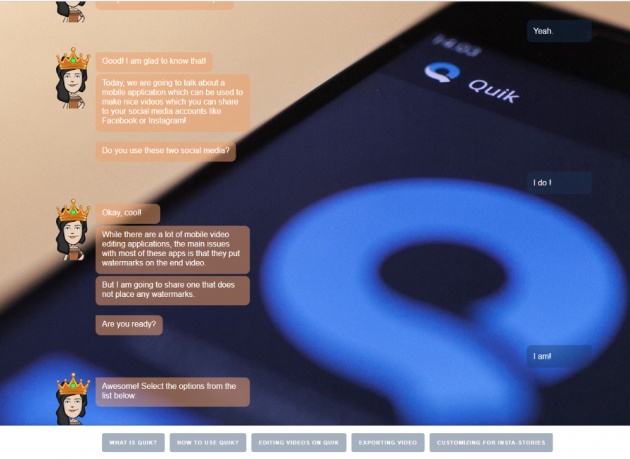 Image credits: screenshot of the Querlo chat -Quik
Now that you have an idea on how to use GoPro Quik, you now have an unlimited means of pumping up your Instagram and Facebook stories. Start today and publish your micro vlogs, your gateway to becoming an official vlogger today!
This blog is published in support to bitLanders' C-blogging. Learn more about it in the quoted box below:
The future of blogging - The bitLanders C-blogging


bitLanders, the worldwide blogging platform, introduces the future of blogging "The bitLanders C-blogging", Conversational AI blogging by Querlo powered by IBM Watson and Microsoft Azure with the purpose to provide bloggers the possibility to communicate and establish a conversational relationship with their readers.

Thanks to the world's most prompt technology - Artificial Intelligence, powered by Querlo's conversational AI technology.

Querlo integrates the DeepQA Artificial Intelligence functionality of IBM Watson and Microsoft – a collaboration which sets Querlo apart from other solutions in the market.

Information from: New topics for "The bitLanders C-blogging"!
Thank you for reading and participating in this Querlo Chat!
---------------------------
About the author:
Jean Beltran-Figues is a photography enthusiast.
A traveler who wants to promote her beloved country, the Philippines.