The convenience of shopping from the comfort of your home has its own positive and negative aspects. It is true that swiping and scanning on the mobile device for items that you wanted to buy is very efficient but also has the tendency to give you a disappointment. Either the item was not what you expected it to be or perhaps the seller sends a wrong item. There are several advantages too such as not getting stuck in traffic and there's an unlimited option to choose from. Not to mention about Cash on Delivery means of delaying the payment until you receive the item.
But, with online shopping sites popping here and there and more and more sellers are much comfortable with online posting rather than really opening up an actual shop, many buyers are also embracing this type of purchasing. In the past few years, specifically in the Philippines, online shopping has rather made its way to every person's mobile devices due to their mobile application which makes shopping faster and easier. Online shopping has become a game changer in terms of buying and selling.
I bet you who's reading this blog also has your own favorite online shopping site. One of these to point out is Shopee. This has emerged and became superior in the country for the past few years. In just a short span of time, more consumers had found Shopee to be better than the other shopping sites, perhaps because of their free shipping advantage.
So, since I just received my Shopee order today for my niece's birthday, I thought I should instead blog something about this site. I checked my profile history and found most of my purchases were of food such as nuts, tea, and a few garments. Obviously, I am not buying any electronics online, I would rather go after an actual store than risking my money with a digital item which I am not sure if this works once it arrives. My first purchase, by the way, was made in August 2017.
Within the span of time that I have been a Shopee user, I noticed a lot of things had also changed and more features had been added as well into the app. Today, let me share with you one cool feature: Shopee Coins.
To learn more, participate in this Querlo Chat about Shopee Coins: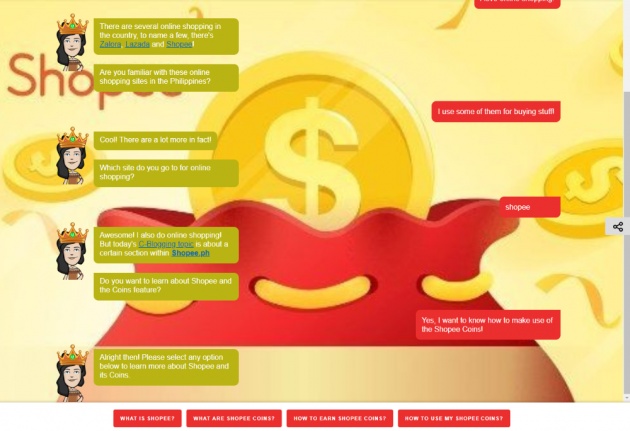 Image credits: screenshot of the Querlo chat - Shopee Coins
This blog is published in support to bitLanders' C-blogging. Learn more about it in the quoted box below:
The future of blogging - The bitLanders C-blogging

bitLanders, the worldwide blogging platform, introduces the future of blogging "The bitLanders C-blogging", Conversational AI blogging by Querlo powered by IBM Watson and Microsoft Azure with the purpose to provide bloggers the possibility to communicate and establish a conversational relationship with their readers.

Thanks to the world's most prompt technology - Artificial Intelligence, powered by Querlo's conversational AI technology.

Querlo integrates the DeepQA Artificial Intelligence functionality of IBM Watson and Microsoft – a collaboration which sets Querlo apart from other solutions in the market.

Information from: New topics for "The bitLanders C-blogging"!

Thank you for reading and participating in this Querlo Chat!
---------------------------
About the author:
Jean Beltran-Figues is a photography enthusiast.
A traveler who wants to promote her beloved country, the Philippines.