There's an emerging industry in Cebu City, one which combines the coffee shop and the internet cafe business. I have blogged about this before, their main branch which was in Ramos Street and right after publishing the entry, I found out they had a new branch opening in a closer location specifically in Banawa, a few minutes drive from our place. It has opened a couple of months ago and I thought I should go check it out one of these days. However, the past few months didn't give me the opportunity to really stop by.
Finally today, I got to visit it when a power outage announcement was posted in our subdivision. It's a Wednesday, James and I have a Bible Study tonight and thought I should just get out of the house before the power outage, stay inside Workplace Cafe and work from there so I can be productive too.
It's my first time and so I had to document this experience most especially that it is a full day stay. But, I thought why not make a Querlo Chat blog about the space instead of the normal blog format.
So within this Querlo Chat, we'll find the information about the Workplace Cafe including the things about the business, their business hours, their rates and pricing as well as their amenities.
Now, kindly follow through the Querlo Chat below to learn about this nice co-working space in Cebu City and perhaps you might want to also check on it in the future when you visit Cebu.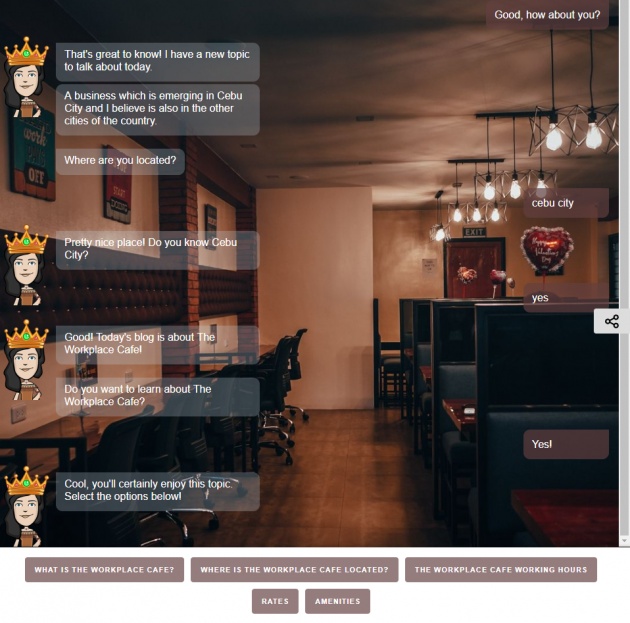 Image credits: screenshot of the Workplace Cafe Querlo Chat
This blog is published in support to bitLanders' C-blogging. Learn more about it in the quoted box below:
The future of blogging - The bitLanders C-blogging


bitLanders, the worldwide blogging platform, introduces the future of blogging "The bitLanders C-blogging", Conversational AI blogging by Querlo powered by IBM Watson and Microsoft Azure with the purpose to provide bloggers the possibility to communicate and establish a conversational relationship with their readers.

Thanks to the world's most prompt technology - Artificial Intelligence, powered by Querlo's conversational AI technology.

Querlo integrates the DeepQA Artificial Intelligence functionality of IBM Watson and Microsoft – a collaboration which sets Querlo apart from other solutions in the market.

Information from: New topics for "The bitLanders C-blogging"!


Thank you for reading and participating in this Querlo Chat!
---------------------------
About the author:
Jean Beltran-Figues is a photography enthusiast.
A traveler who wants to promote her beloved country, the Philippines.