Shout out to all sports-minded people here! I am going to share a new Querlo C-Blogging topic today and this is about sports which I learned to like and love but let me get it straight, I am not really playing this sports, it's just that I love watching it.
Volleyball is a sport that has evolved throughout the years. I don't even want to deal with the history and all, I will instead be dealing with this league, collegiate tournament in the Philippines.
UAAP stands for University Athletic Association of the Philippines. I have been following this league for years, I watched it on Television before, it was the only reason why I bought a new TV when streaming online was not a really good idea because of their bad streaming option. However, when they started giving the option to stream on YouTube, I ditched my television and just stick with streaming online.
UAAP Women's Volleyball is one of the most anticipated sports in this league. I guess it is because the sport has produced certain personalities in the country too. Speaking of Alyssa Valdez who is a product of the UAAP Women's Volleyball. She has represented the country in various international tournaments and even had become one of the sensational volleyball athletes in the country. Not to mention that she has also carried the National Flag during one of the international leagues.
Previously, she also has been invited as an import player in Thailand and Taiwan. She now currently plays in the local semi-professional leagues in the country.
But going back to the UAAP Women's Volleyball league, it is indeed one that I have been anticipating to watch. In fact, I want to also watch it live if given a chance. But I will surely watch every single game either live or replay over the internet.
The details about this tournament specifically the Women's Volleyball part will be included in the Querlo blog : UAAP Women's Volleyball Season 81 below so better participate on it.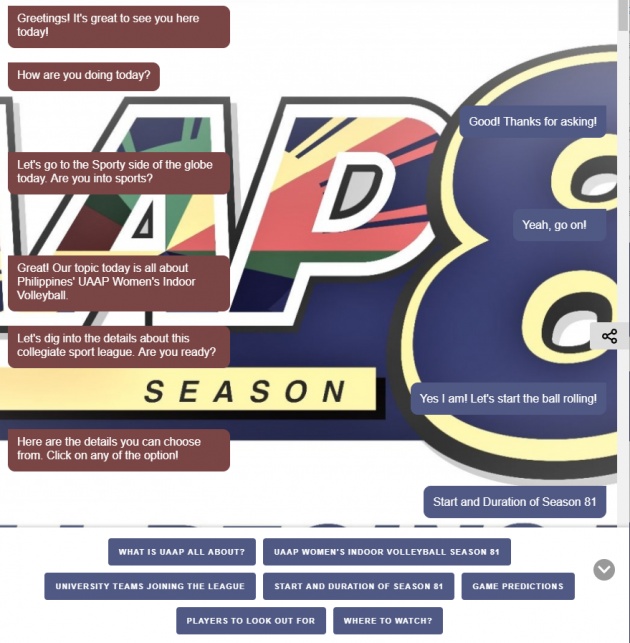 Just in case you are curious which team I am rooting for, it is Ateneo Lady Eagles. Obviously, I am a fan of Alyssa Valdez who came from the Ateneo Lady Eagles team and though she is not a part of the collegiate team anymore, I am still rooting for them. But although I like that team, I still watch out for the other university players.
This blog is published in support to bitLanders' C-blogging. Learn more about it in the quoted box below:
The future of blogging - The bitLanders C-blogging

bitLanders, the worldwide blogging platform, introduces the future of blogging "The bitLanders C-blogging", Conversational AI blogging by Querlo powered by IBM Watson and Microsoft Azure with the purpose to provide bloggers the possibility to communicate and establish a conversational relationship with their readers.

Thanks to the world's most prompt technology - Artificial Intelligence, powered by Querlo's conversational AI technology.

Querlo integrates the DeepQA Artificial Intelligence functionality of IBM Watson and Microsoft – a collaboration which sets Querlo apart from other solutions in the market.

Information from: New topics for "The bitLanders C-blogging"!

Thank you for reading and participating in this Querlo Chat!
---------------------------
About the author:
Jean Beltran-Figues is a photography enthusiast.
A traveler who wants to promote her beloved country, the Philippines.