Serving Size / Yield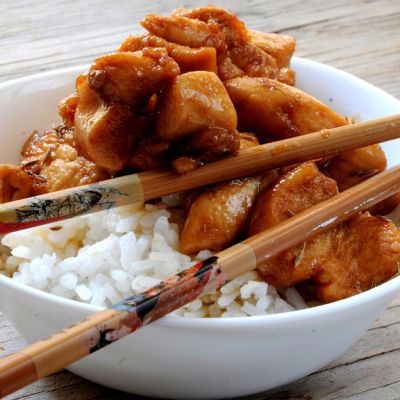 Ingredients
1 cup Water
½ cup Orange Juice
¼ cup Lemon Juice, fresh squeezed
⅓ cup Rice Vinegar
2½ Tbsp Soy Sauce
1 Tbsp Grated Orange Zest
1 cup Packed Brown Sugar
½ tsp Minced Fresh Ginger
½ tsp Minced Garlic
2 Tbsp Chopped Green Onions
¼ tsp Red Pepper Flakes
3 Tbsp Cornstarch
2 Tbsp Water
2 lbs Boneless Skinless Chicken Breasts, cut into ½" pieces
1 cup All Purpose Flour
¼ tsp Salt
¼ tsp Pepper
3 Tbsp Olive Oil
Directions
Start by combining the water, orange juice, lemon juice, rice vinegar and soy sauce in a saucepan on medium high heat.
Add in orange zest, brown sugar, ginger, garlic, red pepper and chopped onion.
Stir.
Mix 3 tablespoons of cornstarch with 2 tablespoons of cold water until blended in a small bowl and add it to the sauce.
Bring the sauce to a boil.
Remove from heat, and let cool 10-15 minutes.
Now, place the chicken pieces into a resealable plastic bag.
When the sauce has cooled, pour 3/4 cup of sauce into bag.
Save the remaining sauce.
Seal bag and refrigerate for at least 2 hours.
Take another resealable plastic bag and mix the flour, salt and pepper.
Add marinated chicken pieces and shake to coat.
In a large skillet, Heat the oil over medium heat.
Place chicken in skillet and fry.
Remove the chicken to paper towels and cover with aluminum foil.
Wipe out the skillet and add the remaining sauce.
Bring to a boil over medium high heat.
In a small bowl, mix together cornstarch and 2 tablespoons water, then stir into sauce.
Reduce heat to medium low, then stir in chicken pieces and simmer about 5 minutes.
Stir occasionally.
Serve over rice.