Last week was really a nice time to be an employee, either you go spend those first three days working or take a three-day leave and just enjoy the entire week out of the office while still getting paid for the two other days because it was the Holy Week! My husband and I didn't really file any leave because we know it would still gonna be a long weekend anyway! What we did during those days were really enjoyable, pleasurable and whatever adjective I could state for that, in summary, it was fun! Firstly, the Vita Isola Leisure Farm resort had given us a great opening salvo for the long weekend. Being in a resort with no other guests than you and your family is special because it feels like you own the place! The weather was perfect, the skies were blue and the birds were chirping, the leaves of the coconut trees were waving here and there, dancing to the tune of the sea waves splashing into the rocky cliff! It was just an awesome experience plus good food!
Today, let's proceed with the following days' adventure, I should say that way because it was an unexpected terrain of rocky, bumpy, sometimes concrete but most of the time unfinished road towards the beautiful rice terraces of Cadapdapan in Candijay and lastly, that Saturday we had enjoyed each other's company again together with the salty waters of Bugnaw CE public beach! Finally, we all got our own dose of Vitamin Sea. Let me share both experiences! Hold on to your seats as we go into that long weekend ride!
Video credits: Jean Beltran via bitLanders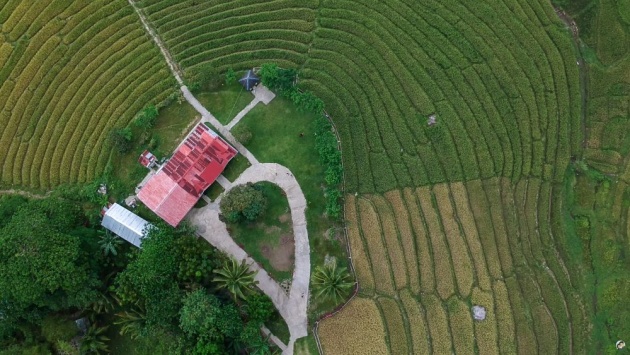 Image credits: Jean Beltran via bitLanders
Cadapdapan Rice Terraces
On our way home to Guindulman from Vita Isola, I had mentioned to them that we should go to the Cadapdapan Rice Terraces or even navigate towards the waterfalls of Can-Umantad, although my brother who's our vehicle driver didn't really confirm the second day adventure, I was surprised that just right after lunchtime we were already ready to our second destination of this long weekend.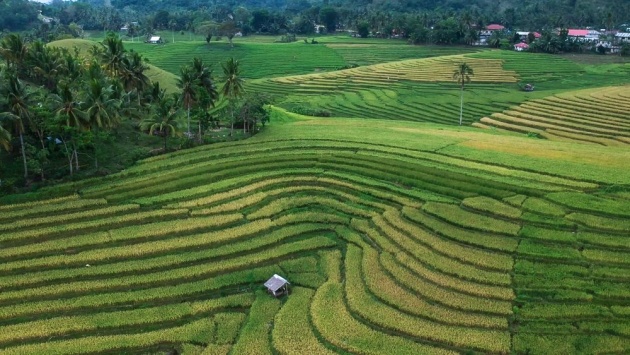 Image credits: Jean Beltran via bitLanders
Research online states that the road here isn't polished, it is still bumpy so we had to take our old and trusty four-wheel vehicle instead. Candijay is just a neighboring town, so going there didn't take a lot of time. It was just less than an hour drive going towards the Cadapdapan Rice Terraces.
Indeed the road was rough, but the side view was great! There were already rice terraces visible from the road then we stopped by their outpost, this is where the environmental fee of Php 10 each person is paid and the local government staffs would show the map where the Cadapdapan Rice Terraces and the Can Umantad Waterfalls.
In just a few minutes from the outpost, we stopped by the entrance towards the exact location. As we walked by the paths between the paddy fields, we already can see its beauty.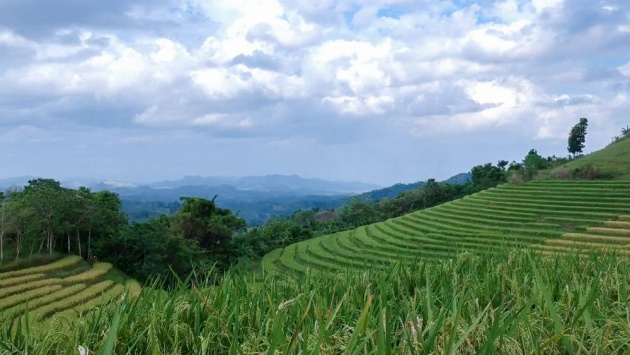 Image credits: Jean Beltran via bitLanders
Bohol is normally a province which has landscapes which produce rice but here in Candijay, the rice fields cover the mountains of Panadtaran, Canawa, Cambane, Abihilan, Lungsoda-an, Tambongan, Luan, Anoling and most especially the Cadapdapan which is why it is where the main viewpoint and most of the fields here is owned by a specific person with the name of Eleuterio.
Just like the rice terraces of Banaue, these ones in Candijay have been here for thousands of years already. They have been created by the ancestors and how they made it is a mystery just like that of Batad and the other parts of Banaue.
But unlike that time when we went to Batad, the plants were still young but this time when we were at Cadapdapan, the rice fields were really green some where even golden already and were ready for harvest!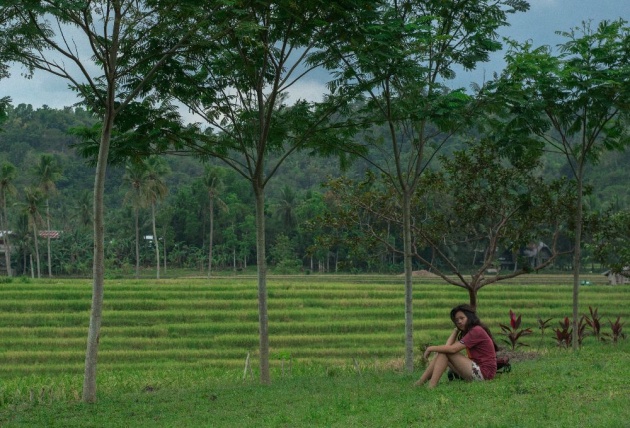 Image credits: Jean Beltran via bitLanders
On the way to the entrance, we could literally hear the waters of Can Umantad Waterfalls. I have not been there but my brother and his wife had gone there two years ago, they said its a high waterfall and the water current is strong, no wonder why we could hear its splashes. There's also a natural pool below where we were walking which was referred as the Eleuterio's Rice Terraces and Mountain Resort.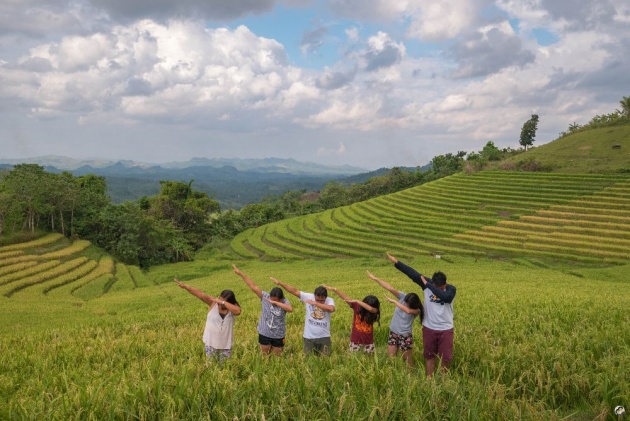 Image credits: Jean Beltran via bitLanders
We paid Php 20 each person for the entrance fee. Here, they serve meals for the guests, the prices range from Php 30-200. The view was really awesome, we had taken lots of photos and also flew the drone, this enabled us to see the neighboring rice terraces, indeed this covers a huge land area of the town. We took our last dab photo with the entire family and we were off back home!
Bugnaw CE Public Beach
It was a bad choice that I didn't call East Coast few weeks or even months before because a week prior, they said they were already full and they won't allow day trippers if they are full, they want to prioritize their guests. Upon checking on other private beach resorts, they were also full so we ended up looking for a public one instead where we can swim. Anda is a haven for all those beach lovers out there, anyone who would like to have a taste of white sand beach in Bohol can definitely find one in Anda.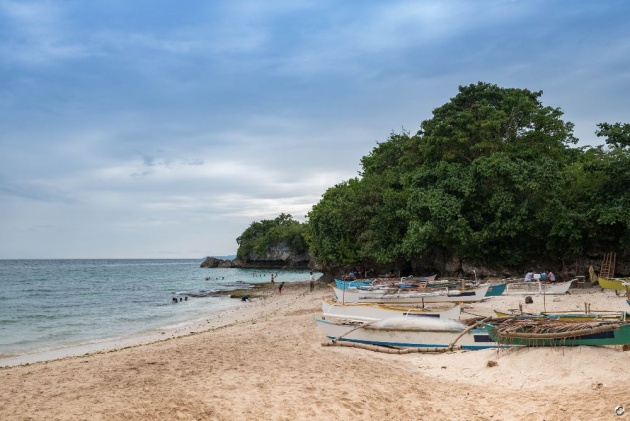 Image credits: Jean Beltran via bitLanders
Bugnaw CE public beach is just one of these public beaches which I had a good memory of way back years ago. When I was a child, we would go here and when James first came to Bohol, I brought him here too! I had nice memories of the beach. So by Saturday, we went to Bugnaw CE Public Beach!
But, when we came, there was a huge change, then what was white sand before is now a little bit off-white in color. Then the shoreline seemed to be shorter, there were parts which showed traces of landslides, there were even boats which had been destroyed too! It was unfortunate to see it, the local vendors said they were damaged by the recent typhoon Basyang.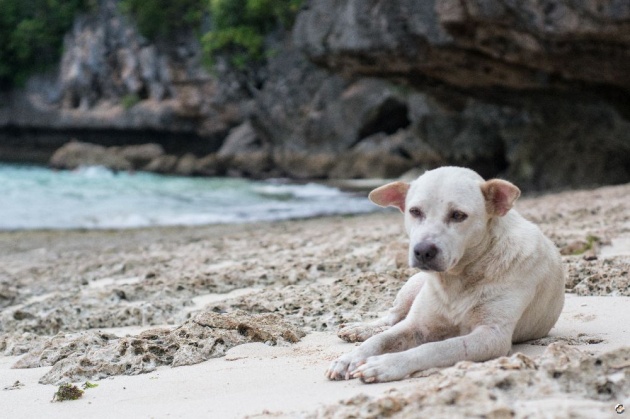 Image credits: Jean Beltran via bitLanders
Anyways, we had to enjoy the place rather than be discouraged by what we saw. We grilled our fish and I was already hungry at that time, I ate my salad just to have something in my system. Exactly lunchtime, we went and dig into our plates, we had chicken, grilled fish, fruits, cake, sweets, I wish we had steamed banana and homemade salted fish, that made my mouth watery now. So after lunch, just as how we normally do when we were little, we went to the waters and swim!
There were floaters made from old tire interiors, we rented each for Php 30 small size ones and Php 50 for the bigger ones. I guess we were in the waters for more than two hours, we just flow with the waves while riding the floaters. It's nice to reminisce childhood and contemplate too while looking at the skies and the rock formation. A lot of things had changed in the past years and I know there will be more to come, change is inevitable but what's important is to always look back and learn from all of those things. I also praise God that although different things had happened in the past, unfortunate ones and even the good ones, these happened all for a reason and we learned a lot from it.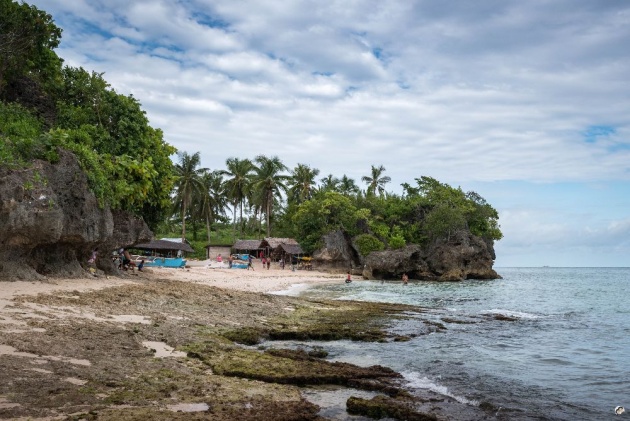 Image credits: Jean Beltran via bitLanders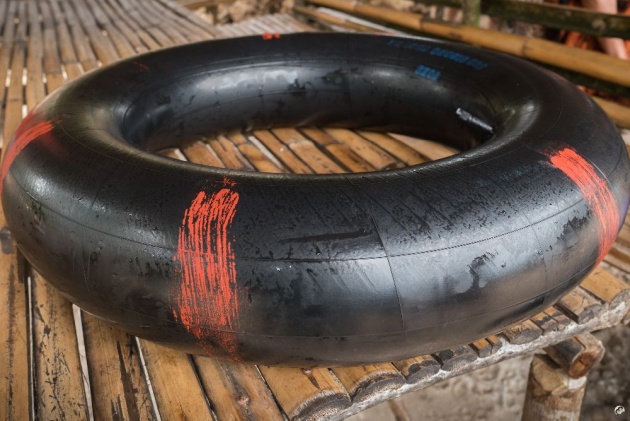 Image credits: Jean Beltran via bitLanders
We went out of the waters just to eat again. At almost four in the afternoon, we bid goodbye to Bugnaw CE. By the way, this beach is open to the public but there's an entrance fee of Php 10 only for the caretakers, there's a grilling station, cottages can be rented for all day use, there's a table near the beach which costs Php 150 while those which has nipa roof costs Php 300.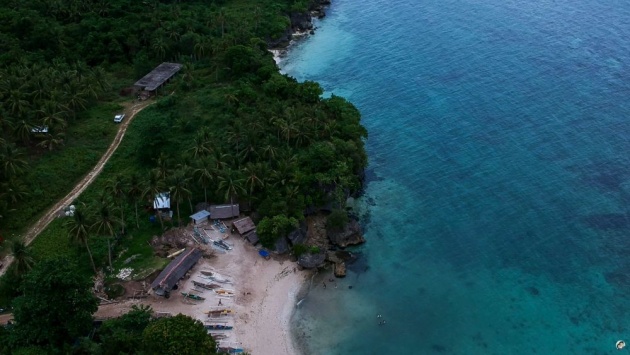 Image credits: Jean Beltran via bitLanders
Bugnaw CE Public Beach is actually a Bisaya term which we as Boholanos would refer to anything cold. We normally state "Bugnaw ce" which literally means "why is it so cold?" this is because the waters in this beach are colder than the usual resort. Perhaps this is due to the rocks surrounding it.
Video credits: Jean Beltran via bitLanders
I hope you enjoyed my travel stories. I obviously had a well spent long weekend with the family. I wish to do more of this getaway because my parents are getting older and we are not always at home, I want to spend quality time with them and treat them as long as I can.
How about you? How was your long weekend? I hope you had also spent it with family.
Blog entry written and published by Jean Beltran-Figues for bitLanders.com
For more travel blogs, go to my blog section