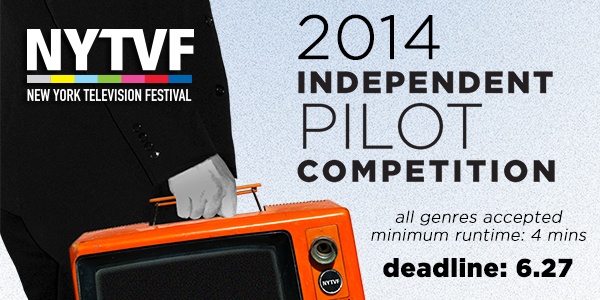 NYTVF's 10th Annual Independent Pilot Competition

Submit your original TV and web series pilots -- 4-22 minutes in ALL genres.



Awards:

Guaranteed development deals awarded in the following categories:

* Drama: $45k deal with Lionsgate and Channel 4

* Comedy: $7,5000 deal with Comedy Central

* Unscripted (game shows, talent shows): $5k deal with Fremantle Media

* Unscripted (comedy formats: game shows, panel, prank, hidden camera): deal with truTV

View all the awards and network deals here: http://www.nytvf.com/deals.html



All Official Selections receive an exclusive invitation to attend the October 2014 Festival, including the opportunity to showcase your work, pitch and meet with over 60 networks, studios, agencies, production companies, and more!

Check out all the Artist Benefits and network deals here: http://www.nytvf.com/benefits.html



FINAL DEADLINES APPROACHING!

Regular Deadline: June 13th

Procrastinator Deadline: June 27th

To submit or view the official rules and entry packet: http://www.nytvf.com/2014_ipc.html



Someone is guaranteed to walk away with these deals--why not you? Don't miss your chance to get into network development and participate as an Official Artist at the 10th Annual NYTVF. Join the NYTVF community at www.nytvf.com.