Out of the abundance of the heart, the hand writes
This quote had been my mantra for more than two years now. One of the reasons why I keep on writing 2 years ago up until now.
Hey guys! So here I am for my second sequel of Calligraphy 101 blog. Last time I mentioned who I am as a Calligrapher and what types of it I had learned and still exploring. You can read more about it here.
This time I am so excited to share with you guys my Top 3 Favorite Brush pen Brands. But before we proceed on that allow me to Introduce what is a Brush pen (FudePen) and what is it all about.


BRUSH PEN ( FUDEPEN )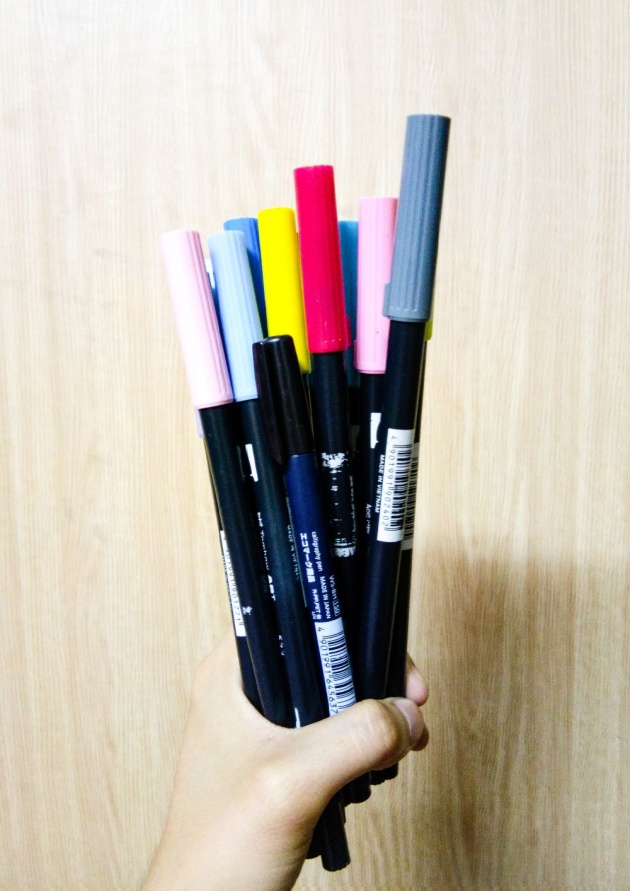 Photo Credits: Yannn via bitlanders.com
The fudepen (筆ペン), also known as "Brush Pen", is a cartridges-based writing instrument geared toward East-Asian calligraphy; in essence, an ink brush analogue to fountain pen. It consists of a pen nib that mimics the brush-like quality of the ink brush with either brush strands as in a normal ink brush or a soft felt tip similar to a marker; the nibs are fed by an ink reservoir. The ink used is unlike traditional calligraphy ink. It is designed to adhere well to modern paper, while traditional ink only adheres well to rice paper.

They are typically manufactured by Japanese companies such as Pentel,Sakura Color Products Corporation and Kuretake (art products).

Source: Wikipedia.org via google.com.ph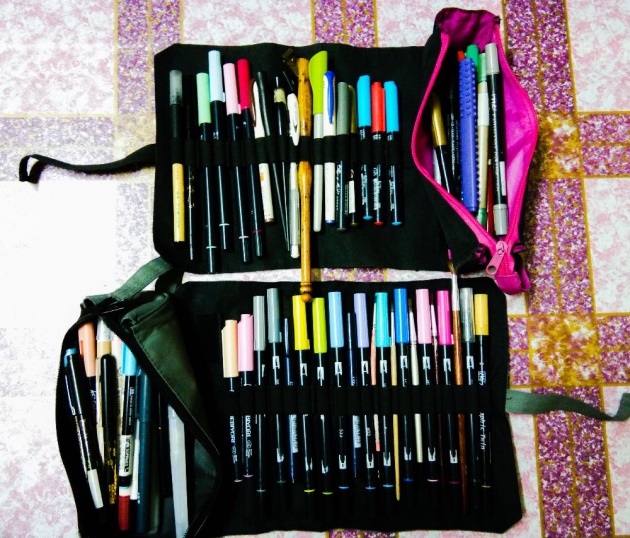 Photo credits: Yannn via bitlanders.com
Using Brush pen is the most convenient in forms of Calligraphy, the materials you used for this stye is available in mostly of our local bookstores nowadays like National Bookstores and Fully Booked. From different colors, to different brush tips, to different brand and to quality materials of brushes. Indeed the materials used for Brush Calligraphy is broad and you have so many choices to choose from. And not to mention that it is the easiest type of Calligraphy (this is based on my own perspective and experience) when you will compare it to Pointed Pen (Traditional or Modern) and Gothic Calligraphy. In Brush Calligraphy you can always use any script you want, you can even do Freehand or what they called "Handmade font". Here you will explore types of script and you can also add flourishes. You can explore so many things using Brush aside from its basic function of "Thick and Thin" method. Here you can add flourishes, shadow, Gradient or what they call "ombre" and even blending colors. For me, Brush Calligraphy is the perfect medium to unleash your inner creativities and hidden ideas. So enough for more stories, here are my top 3 favorite brands of Brush pens. Let's start with this.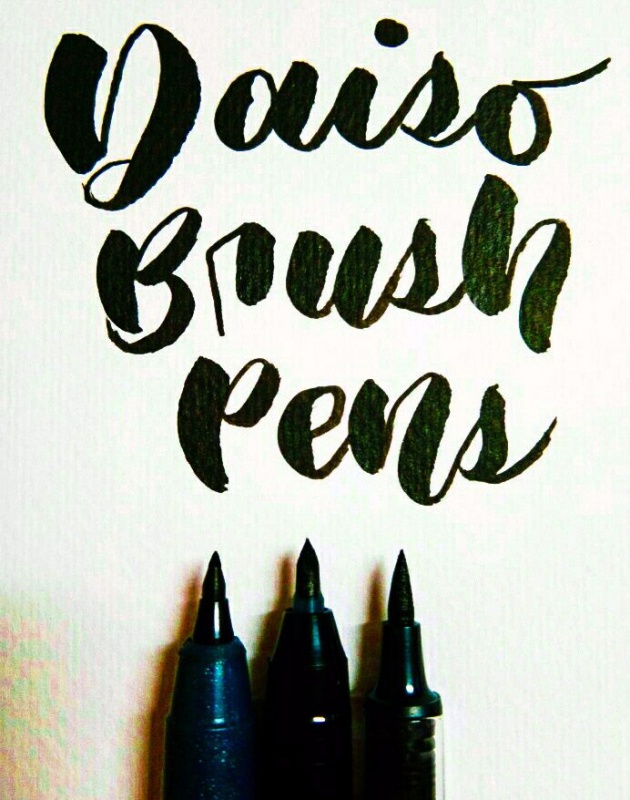 Photo Credits: Yannn via bitlanders.com
Before I discover this wonderful brush pens from Daiso I can say that I am a fanatic of this store already because of their various Japanese Items. Whenever I'm at the mall, I make sure to visit their store. Okay with no specific names, I love brush pens from Daiso even though I am not really aware of the name of the brands of their pens. Nonetheless I make sure to buy one whenever I ran out of pens (well I really didn't experience to run out of Brush pens because I still have tons) or maybe the proper term is to hoard. I got 3 kinds of pens from Daiso, two of them are medium tip and one fine tip.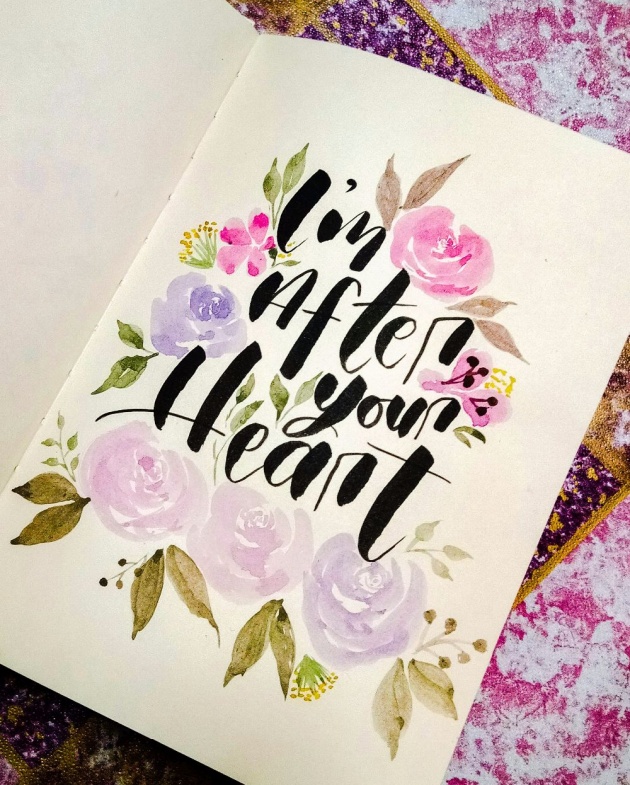 Photo credits: Yannn via bitlanders.com
One thing I love the most to their pens is the smoothness when you write it in the paper. It feels like it makes your hand move so freely that it results a good Brush calligraphy. Aside from its smoothness, the tip of their brushes does have a good quality and doesn't fray easily no matter how often you will use it. Well yes, having a Fray brush pens are the results of improper way of handling the brush but I am also sure that there are brands of brush pens that has a low quality of tip (to make it safe I will not mention any brand of it).
Here's a tutorial video of Ms. Sharisse on how to handle right the brush pen:
Source : Piecescalligraphy via youtube.com
When it comes to pricing, we all know that Daiso is known for its "88 Pesos store" so yes each pen costs 88 pesos. And I guess the price already gave justice to the pens. If you are a beginner and atleast have the budget Daiso's brush pens are good for you. But just like any other brush pens, of course with often use of it, it will soon ran out of ink. But as for me, since I have spare calligraphy ink, I am recycling my pens by using calligraphy inks.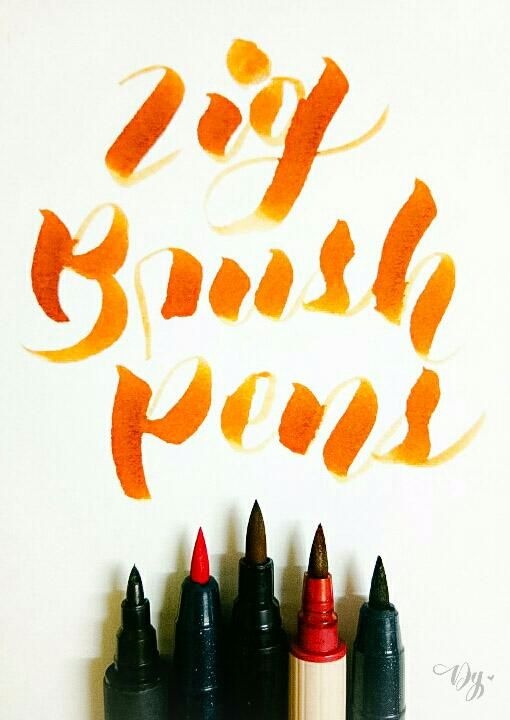 Photo credits: Yannn via bitlanders.com
Moving forward on my list, my next favorite is Zig. It is a Japanese brand of pens like Daiso. Zig Philippines is the most popular brand of Brush Pen here in our country, I assumed. Because they are the pioneer brand when Calligraphy is just starting to be known in the Philippines. And when you say "Brush Pen" I'm pretty sure most of Filipino Calligraphers will mention Zig. They are also the one who manage the first "Calligraphy Fair" last 2015. It had been an annual tradition for Zig to conduct a Calligraphy Fair or Pen Meet. It is an event wherein Zig Artists gather all together in a day to do demos and have name requests. And fortunately, I was Actually able to go to those 3 events. I don't know how to introduce Zig in the first place because it has a lot of products under its name. But I'll give you a glimpse on my favorites and "always on the go" brushes from Zig.
Zig Fudebiyori kuretake- It is a hard tip brush that is highly recommended for beginners. It has a one brush tip and probably it is the cheapest brush among zig products. Not to mention that it has many colors that you could choose from. Actually last September, Zig introduced new colors of fudebiyori brushes that made me so excited to try too, they already have pastel colors also. And oh, aside from the classic colors, ZIG also have Metallic fudebiyori pens that are perfect for black notebooks or papers. But of course Metallic pens are more expensive than the classic ones.
Here's a sample of my work using Metallic Zig Fudebiyori brush pen, I highly recommend for you to use a black calligrapad or black pape to see the beautiful effect of Metallic Brush pens.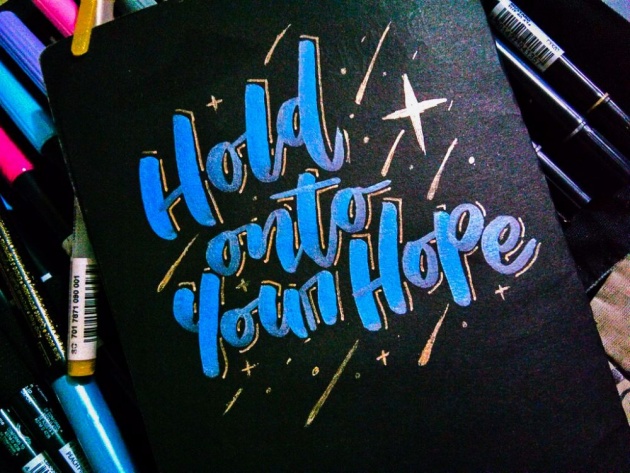 Photo credits: Yannn via bitlanders.com
Zig Brushables- Just like Fudebiyori, Zig Brushables has hard tip, but the exciting part here is, it has two brush tips. Yes you heard it right, not one but two brush tips. Brushables are perfect for ombre style of brush calligraphy. It has two shade of the color of your choice, basically it has the dark color and light color. Brushables had been one of my favorite Zig Brush pens because I am fond of doing ombres. And who doesn't want two brush tips in one brush pen anyway right? When it comes to pricing, it costs almost 2 fudebiyori classic. But I tell you, Zig Brushables are worth of your money.
ZIG Scroll and Brush- While from the name itself you will guess it already that it has two tips, but this time one is a brush and another one is a scroll. This scroll tip is perfect of Gothic style calligraphy. To be honest I had never been a fan of Scroll tip, or maybe I haven't tried to explore it yet. I am into Blackletter Calligraphy yes, but I often use Pilot Parallel Pen. Well, this brush pen has almost the same price with brushables.
ZIG Clean Color- Unlike the brushes I mentioned above the tip of clean color is like a real paintbrush. Which can make you paint using a pen. At first using clean color is so hard but when you will get use to it's soft tip then you're good already and you can enjoy and maximize the function of this tool. It can be also use as a tool for coloring drawings or sketches.
ZIG Art & Twin Graphic- Probably the most recent Zig product I discovered but one of my favorite already. It has two tips, one brush and another ballpen point tip. I love how the ink of this pen flow as you write it in the paper. This brush is similar to my favorite brush pen (which is obviously the no. 1 on this list). This is one of my "ready to go" brush/paint. Probably one of the most expensive brushes of zig, but worthy for sure.
ZIG Cartoonist Mangaka- Calling all Anime lovers who draws this pen is perfect for you. From the word itself "Mangaka" it is basically for Manga Artists. But if you are fond of fine tip brushes this one is for you too. Aside from fudebiyori and Art & Twin Graphic brush this is my "on the go" brush too (I packed so many brush pens on my pen roller everyday that's why) and because the function of this pen is not for colorful outputs, it has black and sepia color available only.
ZIG Cocoiro- This might be the smallest brush pen of Zig but definitely it was the people's choice favorite. It has a super fine tip with refillable ink. I always wanted to have a cocoiro but the price of it costs 2 Zig Art twin and graphic brush already yay. So I just borrow a cocoiro from my rich kid friends. Hahaha!
ZIG Wink of Stella/Luna- For a glittery effect on your script, this is the perfect one for you. Basically a brush pen that has glitters on it that can make your work classy, not to mention that the price of it is classy too. Hahaha!
Here's a sample illustration of some Zig Brush pens, I don't have all brushes sorry.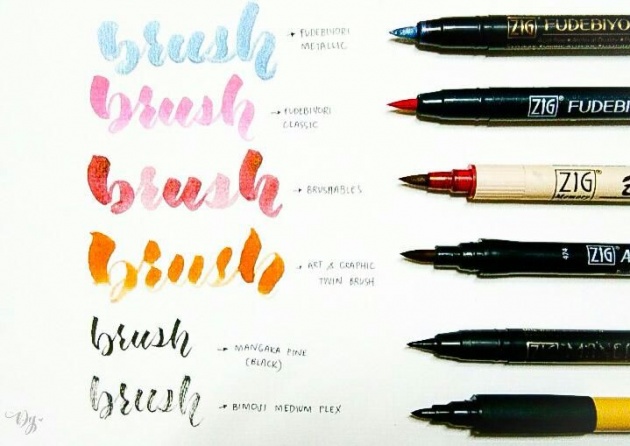 Photo credits: Yannn via bitlanders.com
And my favorite of all Brands of brush pens *drum role please*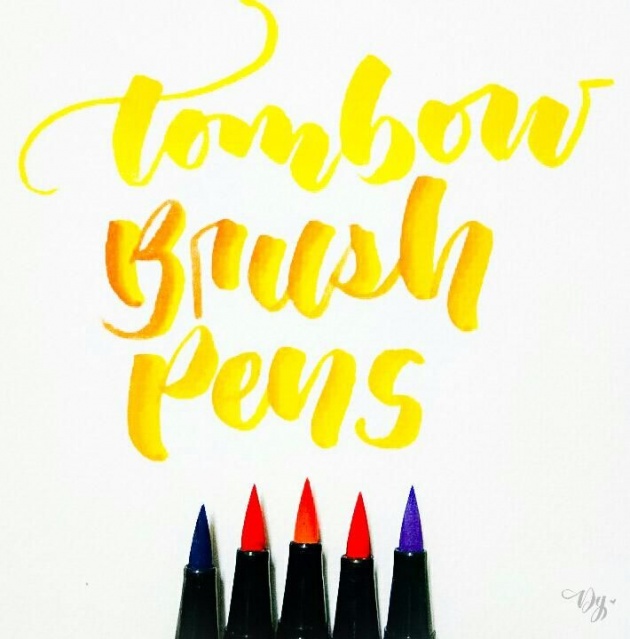 Photo credits: Yannn via bitlanders.com

Tombow which is a well-known brand in USA and Europe but it was originally from Japan. Tombow is my ultimate favorite brand when it comes to brush pen. It is my Dream brush pen when I was starting on my journey last 2015. My favorite brush calligraphy Artist Ms. Sharisse De Leon introduced this brand to me, and at that time it is not available to our country yet. It was just last year when Tombow arrives in the Philippines and it was like a dream come true! Tombow ABT brush pen which is like similar to Zig's Art Twin and Graphic brush. It has two tips, one brush tip (a large one though) and a ballpen tip. And just this year another brush arrived which is known as Tombow Fudenosuke. It is a fine tip brush, and so far my favorite fine tip brush among all.
Here's a sample of my work using Tombow Abt: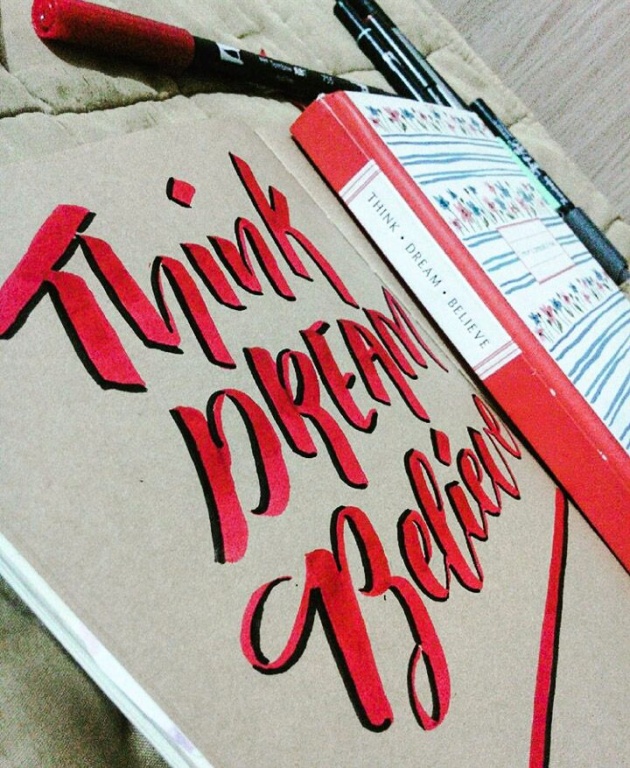 Photo credits: @forever.favored via instagram.com
Tombow ABT has 96 colors all in all and it has a blender brush too. Tombow is known as a brush pen that is perfect for blending colors. One of the very reason why I love this Brand is because of its blending use. As you can see I am fond of painting florals and landscape and whenever my watercolor is not with me, my tombow brushes and a water brush will do. It really brings convenient to me.
To give you an idea how to blend colors using Tombow ABT, here's a tutorial video from Ms. Sharisse.
Source: Piecescalligraphy via youtube.com
And of course when it talks about quality, you can assure that Tombow can guarantee you that. My first ever Tombow brush is still alive until now and I've used it so many times already. Also that gives the brand justice with their expensive price.
Here are my florals output using Tombow ABT Brush pens: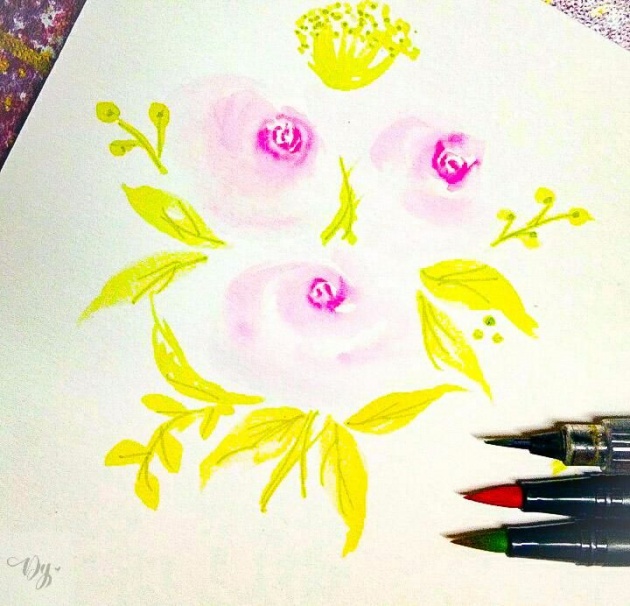 Photo credits: Yannn via bitlanders.com
Here I used a plastic cover as a blending palette, a waterbrush and I used my Tombow ABT brush pens as watercolor to perform this work. How awesome is that right?

Then there you have it, my Top 3 favorite Brush pen brands. I hope you got something from my blog. And also here's a quick querlo chat about my blog.
Thank you for reading and have a great day!
-Yannn/Dy