CAMIGUIN ISLAND
The charm of Camiguin Island attracts foreign and local tourists who escaped from the daily grind of the city. Hailed as "The Island Born of Fire" because of the seven volcanoes settled in the island. It's the second smallest province in the Philippines next to Batanes when it comes to population and land area.
No man is an island, entire of itself; every man is a piece of the continent.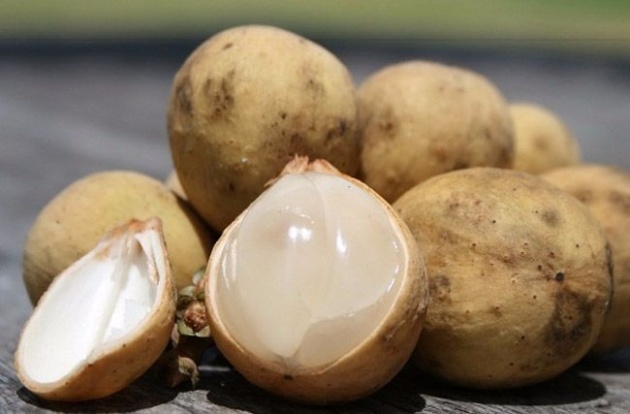 Lansium Parasiticum or better known as Lanzones / Photo Credit: Women Fitness of 1mhealthtips.com
This island is also known for its sweet horticulture crops Lansium parasiticum - Langsat or Lanzones as the Camiguinon address it but we call it "buahan" in my hometown--Cebu. Mambajao is the capital of Camiguin where you can find plantation of Lanzones. An annual "Lanzones festival" is held every third week of October celebrated by the whole island that showcase the town's most famous fruit -- Lanzones. It's an "eat all you can" treat to all tourists in the island where locals offer you the fruit for free and I experienced it first hand, as in--no limits.
NUTRITIONAL FACTS OF LANZONES
Lanzones per 1 serving contains:

86.5 g of moisture,

0.8 g of protein,

9.5 g of carbohydrates

2.3 g of fiber

20 g of calcium,

30 g of phosphorus,

13 IU of vitamin A,

89 mcg of thiamine,

124 mcg of riboflavin,

1 g of ascorbic acid

1.1 mg of phytin

Source: http://www.dietoflife.com
HOW TO GET THERE
What you want won't always come easy, but if you work hard and don't give up, you will get there.

Kushandwizdom
Travelling to Camiguin wasn't our primary destination but it is in Cagayan de Oro for white water rafting. Since we will be in Cagayan (one of the gateways to Camiguin) we decided to do a side trip to the moniker "Island Born of Fire" or simply known Camiguin Island. Aside from Cagayan there are other gateways to the island: Bohol and Butuan City. We took the earliest flight of Cebu Pacific from Cebu to Butuan, the time when Cebu Pacific doesn't have direct flight to the island.
A. From Butuan airport, we haggled for a van that would:
convey us to the Balingoan port (ferry transfer to Camiguin),
fetch us in the afternoon at Balingoan port once we return from our 1 day tour in Camiguin,
transport us to our reserved accomodation,
send us off to Cagayan Whitewater Rafting,
and take us back to Butuan airport.
B. Once we settled our transportation service, we carry on to Balingoan port to board a ferry that will transport us to Camiguin island.
C. Alighted at Benoni port in Camiguin and hailed a multicab for the whole day tour and send us back to Benoni port right after the day trip.
D. Board the ferry back to Balingoan port where the van waited and drop us off to our accommodation in Cagayan.
E. Had a day of water rafting the following day and left Cagayan in the afternoon and headed back to Butuan airport and stayed for a night before heading back to Cebu.
WHAT TO SEE IN CAMIGUIN
What we see depends mainly on what we look for.
The power of nature can make fun of the power of man at any time.
Sunken Cemetery / Photo Credit: Joseph Bacalso
There is this one spot in Camiguin - a unique diving spot that capture one's zests and cold creep for travelers who has the ultimate guts to dive in, snorkel or just by swimming in a not so typical above sea water because what's underneath is exceptional. The most common diving spot usually is a ship wreck, reefs, marine life, coral garden and a lot more, but in Camiguin it's one of a kind; beneath the crystal clear water and the big cross lies a "Sunken Cemetery" -- the main attraction in the island of Camiguin. A fluvial parade is held during the month of November by the people of Baranggay Borbon in commemoration of Sunken Cemetery tragedy and at the same time a thanksgiving celebration for a bountiful harvest. The grand White Cross bulging from the tropical ocean is a haunting reminder how powerful nature can be. It was in 1871 when Mt. Vulcan erupted and submerged most of the areas of Camiguin Island and that includes Barrio Bonbon where the public cemetery sunk to a 20 ft deep where some gravestones and ruins were now covered with corals and seaweeds -- the solid proof of nature's power. In 1982 this big white cross was established to denote the location of the burial ground during after the volcanic eruption that lasted between 1871-1875. The white cross is considered to be a significant historical landmark in the Philippines.
WHAT TO DO AT SUNKEN CEMETERY
PICTURE TAKING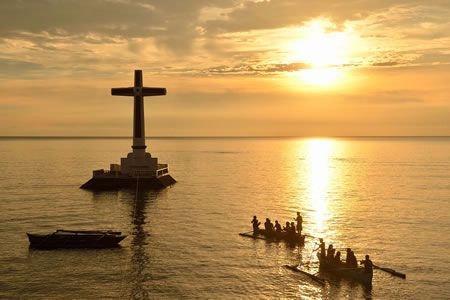 White Cross during sunset. / Photo Credit: Babakoto.eu
If you want to get a good snap or to have a selfie at the Sunken Cemetery White Cross, be there after lunch hour or just before sunset. It doesn't really necessary for you to go on swimming above the sunken burial ground to have a snap of the big cross. Just by far or by the shore you can have all the selfies you want and best if you can take a shot while the sun is setting. Locals are very kind hearted to take a creative snap for you free of charge, but if you like you can give them tips for the kind gesture.
DIVING / SNORKELING / SWIMMING / BOATING
The Sunken Cemetery Underwater / Video Credit: divejedi
Snorkeling, diving, boating and swimming are the activities that you can do at the Sunken Cemetery. Snorkeling devices and life vests are available for rent, just ask for it from the locals or to be sure you can bring your own snorkeling and diving gadgets before going to the island. Don't just stare at the big cross by far, gear up and rent a boat (rate is P50 per person) that will dock you to the big white cross. If you wish and have the courage to swim above the sunken graveyards then you are free to do so. Use your snorkeling or diving gears to get a clearer view of the sunken graves and explore the depths of the water. Me? I never had the guts to go on swimming besides it's a time constraint trip. But even if I have all the time of the day, still it's a no for me. It really scared me just by the thought of it. It felt like someone will pull me down to the depths. Woooh...I just don't have a good aura of the place. Goosebumps!
CLIMB UP IN THE WHITE CROSS CHAMBER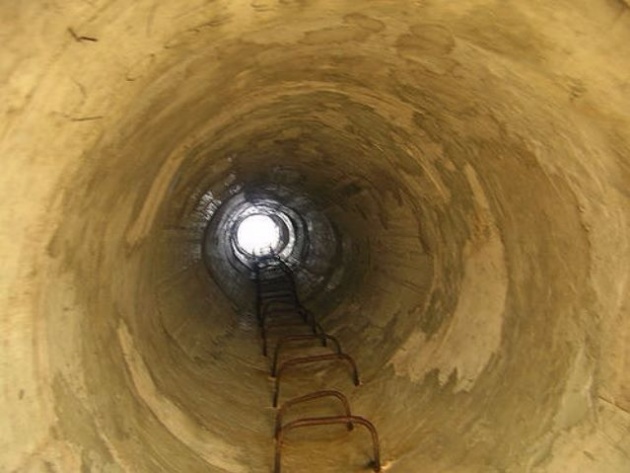 Photo Credit: Oggie Ramos
Another thing that you can do while docking at the big cross is to climb up the chamber of the big cross. Here you can see a full view of the island on a different angle. I was never aware that the big cross has a chamber not until I found one blog post. Tried searching it on the net and read various comments and tales. One said she felt strange while going up and decided not to push through. The other had goose bumps all over her body but the sight on top of the cross was amazing. I thought of going back for curiosity's sake because it's different when you experience the creepiness firsthand.
Our memories of the ocean will linger on, long after our footprints in the sand are gone.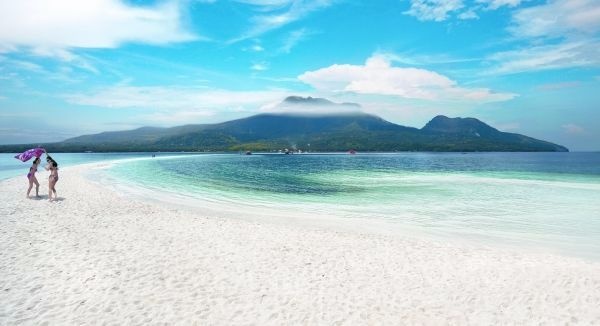 Photo Credit: Camiguin News Bulletin
If White Island is one of your must see lists then make sure to bring your own armor against the scorching heat of the sun. Beach umbrellas are available for rent once alighted from the banca to shelter you while on the sandbar. No single greenery in this island, all are pure white sands. It is only Mt. Hibok-hibok that is refreshing to the eyes and the best backdrop for selfies or for insta photos. Best time to be on the island is early morning before the place gets crowded with other tourists, but no worries the island is large and long enough to provide a long walk in the sand or sun bathing.
A land without ruins is a land without memories - a land without memories is a land without history.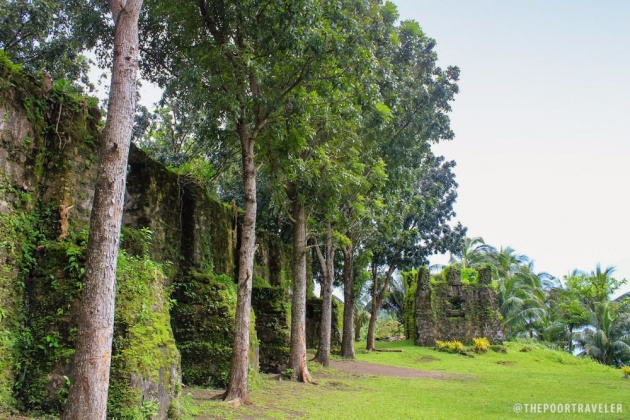 At the far end is the bell tower of the old church. / Photo Credit: The Poor Traveler
In the town of Catarman nestled a 16 Century Old Church or the Guiob Church that is made out of coral stones. A tragic volcano eruption took place in early 1870's where a portion of the town sank into the bottom of the sea and the old church was destroyed and what's left is the ruins of the bell tower of the church and the walls. As you can see in the picture above, the wall is standing still and at the very far end is the bell tower -- the only remnants of the 16th century old church.
Guiob Convent Ruins / Photo Credit: The Poor Traveler
It's not only the 16th century old church that was knocked down by the tragedy but the old covenant as well. Above photo are fragments of the Old Convent that you can behold within the same compound of the Old Church Ruins, as you pass right through the newly built small chapel in the old church remains.
There is a hidden message in every waterfall. It says, if you are flexible, falling will not hurt you!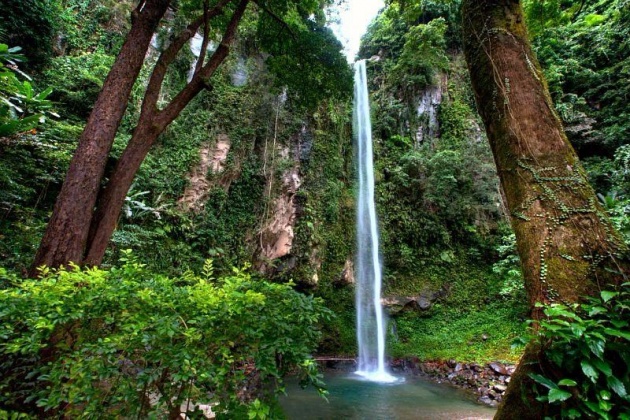 Photo Credit: Donelon Oco
This is one adventure that nature thrill-seeker travelers would love. Five minute drive from the capital city of Camiguin – Mamabjao at the foot of Mt. Timpoong is where the 250 meter high waterfalls settled and streamed down to a man-made rock pool where you can showcase your swimming abilities. Wade into the refreshing cool water, enjoy, be thrilled and get chilled as far as your body can sustain.
When you drink the water, remember the spring.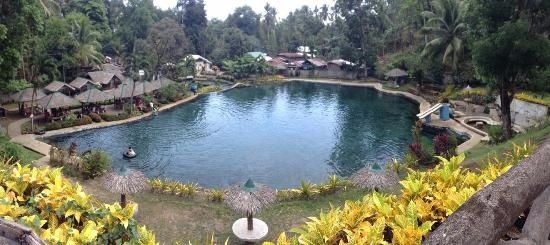 The big Pool / Photo Credit: Clare Wanders of Trip Advisor
This is the gigantic size pool that is sand base and with an approximate measurement depth of 10 meters with a big slide that is not suitable for very young kids. There are no available rooms or cottages for overnight stays. Cottages are available only for day tours. An organization of housewives had a livelihood program that offer home cooked foods to the guests just so you know you're famishing. You can buy fresh seafoods and have it cooked to any of the food stools available outside the vicinity. An entrance fee of P20.00 for adults and P15.00 for kids. For shelter or table use, first 4 hrs is P50.00 succeeding hours will be P10.00 per hour – applicable during day time and for the afternoon, the charge is P60.00 for first 4 hours and succeeding hours will be P15.00 per hour.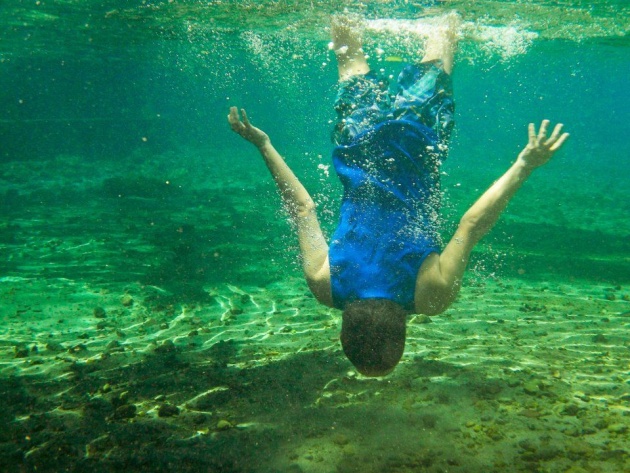 Base of the Cold Spring pool / Photo Credit: Joseph Bacalso
This photo shows the bottom of the pool. Not the usual pool base because of its rocky and sandy flooring. The pool water is so clear and it even has small fishes, you can have your feet soaked in the water and wait for the fishes to guzzle the dead skin of your freezing feet.
This is Camiguin / Video Credit: VOYAGE PHILIPPINES
This is Camiguin's Tourism official video showcasing the wonders in "the island born of fire". A day trip to this island is worth the effort. There are still a lot of hidden wonders that this island can offer, all you need is available time to explore and experience the island firsthand.
In every journey there is always an end that will make a new beginning of a new journey. I may leave my footprints behind but memories are always kept in my mind.
This has been Dimpsy and this blog is created and published by myself for bitlanders.
Thank you and always remember:
The world if full of wonders for you to wander.

Single Wanderess