A fine Sunday afternoon deserves a good conclusion thus the Beltran family made a last minute decision to have dinner at the neighboring town's floating eatery. Candijay is the town next to Guindulman, it only takes 15-20 minutes to reach the said town from my parents' house. The floating restaurant is also referred to as Candijay Del Rio Floating Restaurant.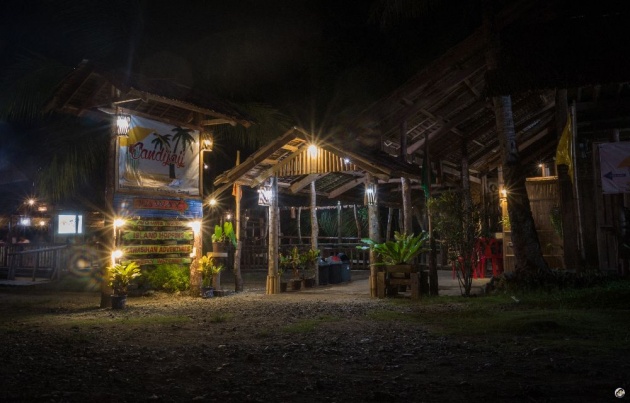 Image credits: Jean Beltran via bitLanders
The older brother suggested this to me after he watched this television advertisement which featured the Del Rio Floating Restaurant in the said municipality. Since the family was complete and intact that day, we reckoned it would be best for us to spend more time together outside the house, dinner was the best option too!
En Route to Candijay Del Rio Floating Restaurant
Video credits: Jean Beltran via bitLanders
Doors, windows, and gate closed, the house lights turned off too! I heard nothing else but the vibration of the engines, the family can't fit in a single car now thus, we split ourselves into two groups. The kids and ladies got into the airconditioned one while the male adults were with the open air type vehicle.
The wheels started spinning and off the adventure began! From the rural roadways with wide rice fields on the sides to the freeway where cars and the rest of vehicles popping like ants from the bird's view. Our journey was brief, after a few minutes, the junction showed us the way towards where the Candijay Del Reio Floating Restaurant.
From a concrete path, the wheels hit a rocky one. There were no other vehicles around, in fact, it was super solemn in this section of the town. The light from the street lamps enlightened our path until we recognized a spot with lit up Christmas lights, it has this ambiance but it wasn't Christmas just yet. There we located the signage that confirms we had reached the area.
Candijay Del Rio Floating Restaurant's Ambiance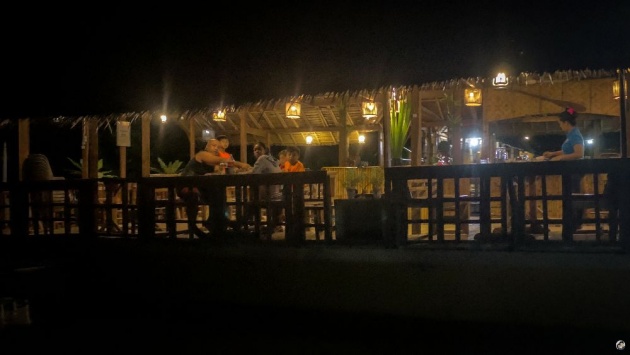 Image credits: Jean Beltran via bitLanders
It was already dark when we reached the restaurant, perhaps around thirty minutes past six, we aimed for two things here, the first was to have dinner, try their seafood choices if available and second was to watch the fireflies. We heard it would be amazing to witness them but I personally was not expecting anything grand which turned out to be very great and highly recommendable. Read the story below:
I Highly Recommend Visiting the Firefly Watching of Lungsodaan, Candijay, Bohol!
The lighting immediately had drawn us to like the place. I for sure love any site which has good lighting, especially at night. The Candijay Del Rio Floating Restaurant has been surrounded by yellow radiating lights. From the covered tarpaulin which also has write-ups of the town's tourist destinations and activities to the entrance of the floating restaurant. It also helps that the theme was rustic.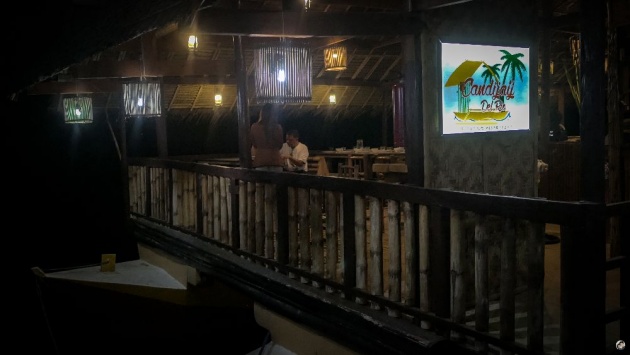 Image credits: Jean Beltran via bitLanders
Wooden but still sturdy posts, bamboo floors on the way to the eatery and nipa roofs remind me of childhood, our home was made of these materials too until we had to relocate. But aside from that, there were also painted writing on some hanged wood boards, some were inspirational while others were a few words of happiness and love. My younger brother even asked me to take a photo of him at the "Throw your feelings, not your waste!" quote section.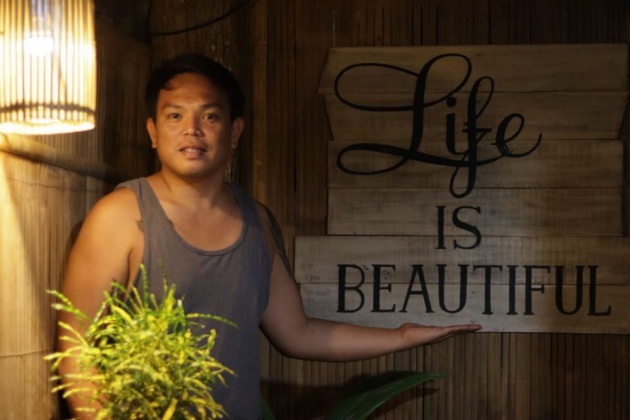 Image credits: Jean Beltran via bitLanders
As we penetrate the main restaurant, I examined its interiors. Floors were made of flat woods, there's a huge center table made of polished and coated bamboo of which I couldn't quite determine what it was for, we placed our bags in there though, but it has a tall palm-like plant at its center. The hanging lights were interesting too as the bulbs were placed inside a shade made of again, wood.
Its walls are produced of weaved local bamboo matting which we refer as "amakan". The pattern is pretty cool. Since it is a floating restaurant, the overall design is al fresco, no close walls but only wood and bamboo railings. The roof's manufactured of nipa.
Video credits: Jean Beltran via bitLanders
Tables were of plywood and chairs of bamboo, all native and locally made but there were still plastic chairs available and an electric fan to provide ventilation to the customers. I have to mention that there were also vintage lamps placed around. As soon as we stepped inside and confirmed we were dining in, the active and very accommodating staffs immediately arranged the table mats, the ceramic plates and provided us with ice-cold service water.
It was only when we were on our way to the firefly watching that I noticed this restaurant has boats underneath it which should be used to move it around the river, unfortunately, because of it being heavy, propelling them around would be difficult, so they just positioned it near the docking domain instead.
Menu and Food Options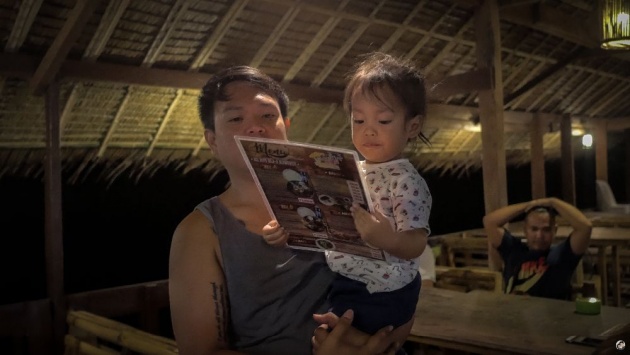 Image credits: Jean Beltran via bitLanders
Candijay Del Rio Floating Restaurant is actually a private establishment but they had partnered with the local government in providing a place for tourists and visitors to dine in before or after watching the fireflies.
Talking about food options, the restaurant's menu option was pretty straightforward. They got sections for group sets which they call as Del Rio's Bila-o Blowout, while there were ala carte options too for seafood, noodles, appetizers, some snacks, sweets, and desserts as well as liquor drinks.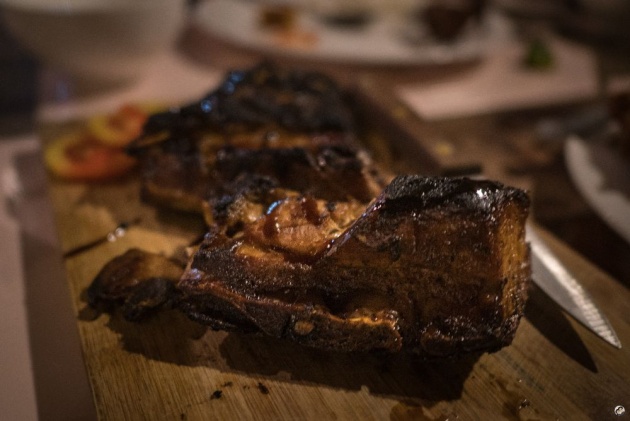 Image credits: Jean Beltran via bitLanders
Price-wise, the food options are pretty affordable, if we compare it to what we usually find in restaurants within Cebu and Tagbilaran City respectively.
Since we were 11 in all, we decided to order Sets A and B which includes a lot of options plus 1.5-liter soda in each set. We believe it to be the best selection so we won't be thinking too much of the viand selection.
I highly appreciated it when they allow us to exchange something off the menu. We asked if we could order Sizzling Sisig instead of the grilled squid and they agreed.
Food Taste Test and Service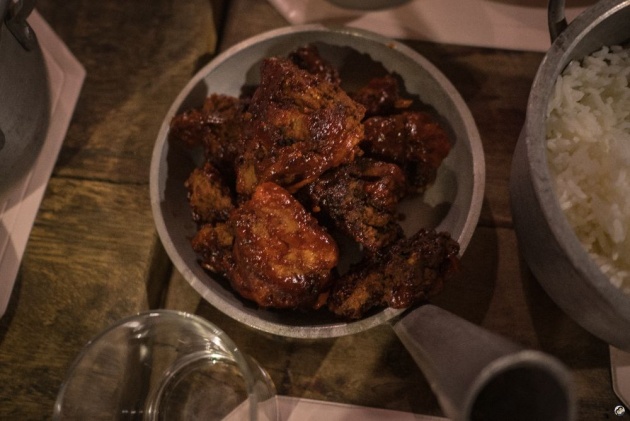 Image credits: Jean Beltran via bitLanders
Considering that we were the first customers that night moreover, the number of viands to be cooked, our requests were served only after almost an hour, we did a lot of things to entertain ourselves while waiting. The Buttered and Buffalo Chicken came first together with the cooked rice, then the rest of the orders followed.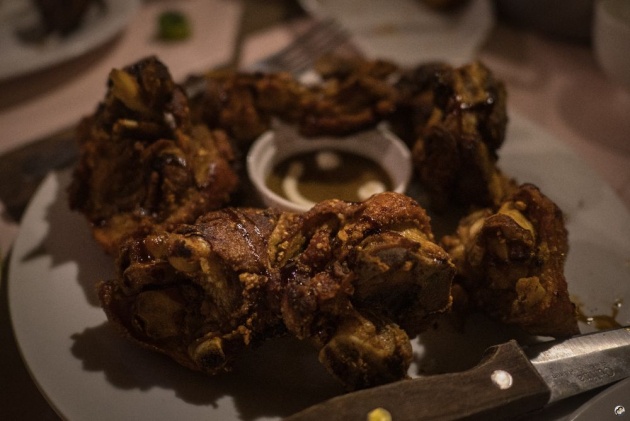 Image credits: Jean Beltran via bitLanders
Our table was easily filled. All the requested food were served in small cauldrons while the rice was served in pots, still in mini-sizes. We joked about having too many pots on our table, we might bring home some of them!
Overall, the food served was really good, I only had tried the seafood options like the "sinugbang tuna panga", calamares, Buttered Shrimp and fresh fish ceviche as well as their Tuna belly. All seemed to be tasting great except for some overly grilled parts!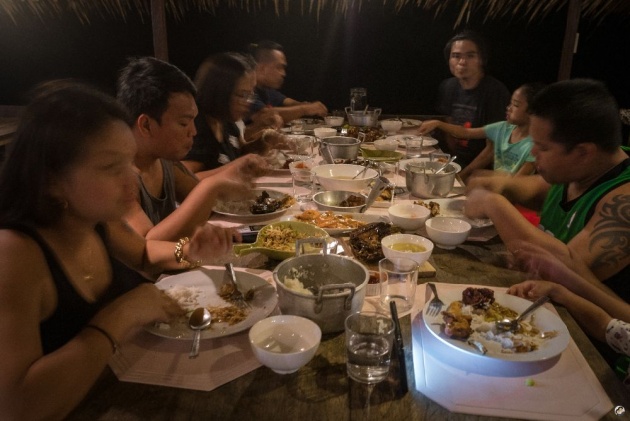 Image credits: Jean Beltran via bitLanders
The rest of the family also fancied some meat options like the chicken and crispy "pata". I personally love the "Pritong Talong" and their "salad na pipino". We all got really full way before finishing everything so we ended up packing the rest for taking out.
The only thing I dislike was the waiting time, the overall experience was great, the staffs were very friendly and easy to be conversed with. I am rating this 8 over 10 according to my experience.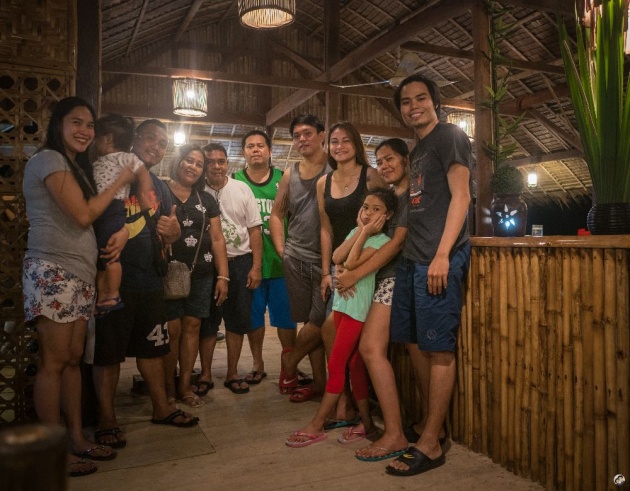 Image credits: Jean Beltran via bitLanders
After that sumptuous and satisfying dinner, we were taken to the firefly watching which took an hour. Our dinner plus adventure in Candijay had exceeded our expectations. It was a very recommendable place for Boholanos nearby and even local and foreign tourists.
______________________________________________________________________________________________
This blog entry was written and published by Jean Beltran-Figues for bitlanders.com.
Join me, click here to sign up and claim your $1.
Let's talk about cryptocurries: altcoinstalks
Are you a traveler? Book your next hotel through Airbnb and claim your ₱1,600: jeanf3125