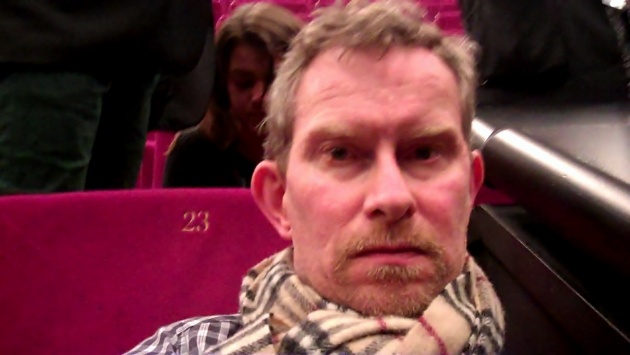 This is me at 2:45am on Monday 20 May inside the Grand Palais having just watched the World Premiere screening of Johnnie To's BLIND DETECTIVE at the 2013 Cannes Film Festival. Yes, I actually thought tenue de soiree meant checked shirts.
To say that BLIND DETECTIVE is the worst film I have ever seen in a major festival is an understatement. It is an embarrassment, with lacklustre plotting and offensive so called humour based around self-harm and people with weight issues. I am not entirely sure what Andy Lau was doing in the film. Self-harm is what this'll do to all concerned.
BLIND DETECTIVE is a very broad comedy in which Johnston (Andy Lau) is hired by a wealthy female colleague to find out what happened to a childhood pal, Maggie. Chefs and taxi drivers play a prominent part. Johnston is blind to the fact that the woman loves him. Instead, he keeps describing her as 'looking like a Susan', a by-word for a plain-looking colleague.
Of course, she is fantastically attractive but Johnston does not know that. Instead, he ritualistically humiliates her by getting her to act out scenarios involving Maggie and girls like her who may be the victims of a psychopathic killer.
Food, vomiting, dancing and treading on toes are the sources of whatever chuckles To and his four screenwriters hoped to elicit. A steady stream of appropriately dressed viewers headed for the exits.
Noone booed the movie - it was screened out of competition and no one was pretending it was art. But the enthusiastic cheers that greeted each of the six logos as the film began - or rather didn't - soon gave way to silence.
BLIND DETECTIVE was the fifth film I had seen in a twelve and a half hour viewing day, which began with FOR THOSE IN PERIL (UK. Director: Paul Wright) at 2:00pm on 19 May and continued with THE SELFISH GIANT (UK. Director Clio Barnard) at 5:00pm, MONSOON SHOOTOUT (India, Director: Amit Kumar) at 7:00pm, BLUE RUIN (US, Director Jeremy Saulnier) at 10:00pm and finally BLIND DETECTIVE at half-past midnight. Luckily I brought sandwiches.
Of the bunch, I cannot recommend BLUE RUIN more highly, a thriller about a vagrant who discovers that his parents' murderer has been released from prison and decides to take pro-active action. Twists follow. It is Jeremy Saulnier's second film after 2007's MURDER PARTY. He wanted to make a second film to re-define himself as a filmmaker. He's done that!