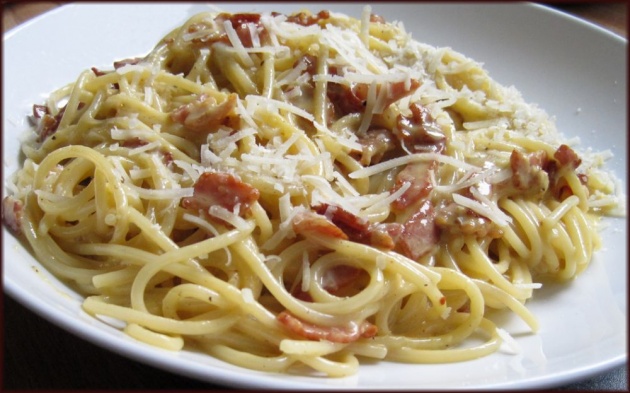 HOW TO COOK CARBONARA
Ingredients:
500 grams spaghetti
250 grams bacon, cut into half inch cube
5 eggs
½ cup heavy cream
1 cup grated parmesan cheese (pecorino-romano cheese if desired)
2 tsp. extra virgin olive oil
salt and ground black pepper to taste
HOW TO PREPARE
Fill a large pot with water and add a salt. Stir and it should be taste like seawater. Cover and wait until water boils. Put the spaghetti into the boiling water. Cook for 5-10 min the pasta until it tender but still firm to bite.
Cook slowly the bacon on a pan in a low heat for about 10 minutes until it crisp. Drain the bacon on paper towels. While pasta cooks on the pot combine in the bowl the cream, cheese, eggs and olive oil. Mix it properly with the whisk.
Combine the mixture with the drained pasta. Add the cooked bacon as toppings. Serve it right away. Add cheese if desired.