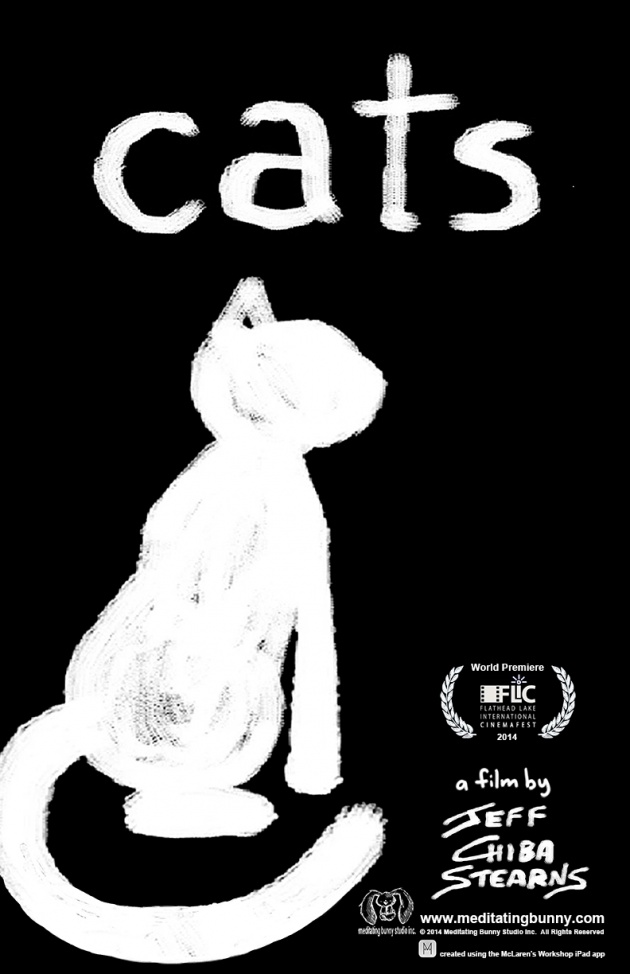 Late last year I discovered an iPad app developed by the National Film Board of Canada called McLaren's Workshop. The NFB has a long history of creating documentaries and animation with a pretty outstanding track record that includes quite a few Oscar wins and a ton of nominations for their work. One of those famed NFB animators Norman McLaren won an Oscar in 1952 for his animated 'pixilation' film Neighbours. McLaren started creating animated films with the NFB in 1941 and was a pioneer in a number of areas of animation and filmmaking, including drawn on film animation, visual music, abstract film, pixilation and graphical sound. He is also one of my personal inspirations when it comes to experimental and innovative animation.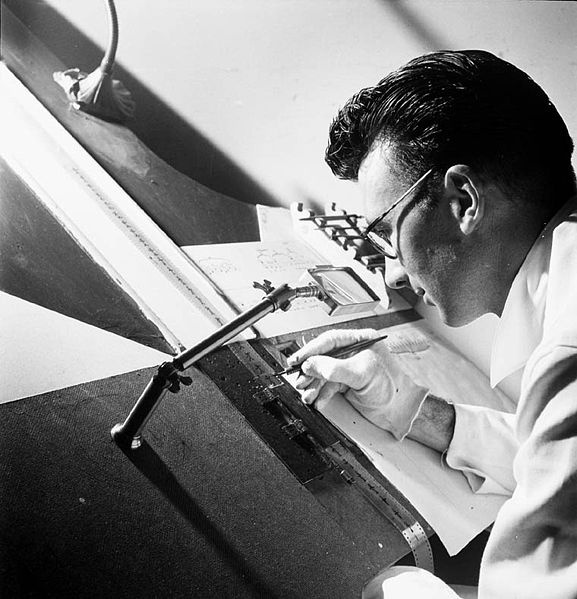 (Norman McLaren drawing on film 1944 - Wikipedia image)
So when I noticed the NFB had released this new app I was excited to try it out. The McLaren's Workshop app allows people access to 51 of McLaren's films for free as well as the ability to create animations three of McLaren's signature styles; Paper Cut-outs, Scratch on film, and Synthetic Sound. To promote the app, the NFB even commissioned a handful of award-winning independent animators from around the world, like Koji Yamamura, David OReilly, and Don Hertzfeldt to create an animated short film using the app. You can watch some of them here: https://vimeo.com/thenfb/videos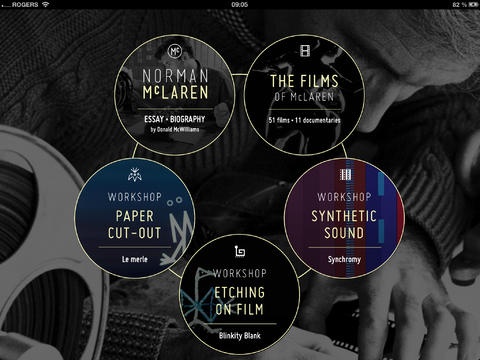 (Screenshot from McLaren's Workshop app - from iTunes)
I decided I wanted to try out the app and create my own little short animation. I had no idea what to draw so I just decided to use cats as a theme and start from there. There's a few different animation techniques created by McLaren that you can use in the app to create animation. I decided to use the technique of scratching on film to animate with since it was the workshop where I could create classical animation by drawing. Each workshop is an additional fee of $0.99 (the initial app is free but the animation upgrades cost $0.99 each).
This scratch on film technique allows people to draw directly on the iPad using a very sketchy thin or thick line. I decided to keep it simple by drawing solely with just the thick sketchy white line over the default black background. Thus, I drew the animation with a stylus using a straight ahead animation technique which involved animating from one drawing to the next without knowing what poses came next. Overall, I really liked the simplicity of the program and how easy it was to draw quickly and instantly play back the animation to check movement and flow. I liked that you could adjust the frame rate and there was onion skinning to see previous drawings to reference. In the end, I used 12 drawings per second (around 700 drawings) to create the animation.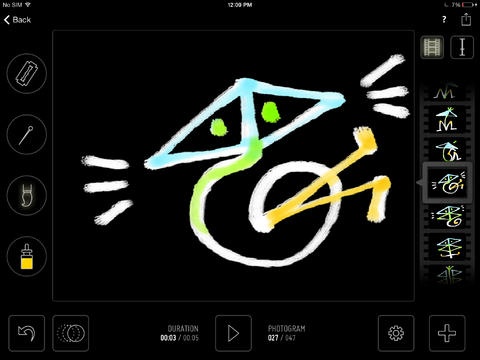 (Screenshot from Scratch on Film Workshop - from iTunes)
After a couple months of drawing off and on, here and there, I had created a one-minute long whimsical little cat animation. What was great is that I could draw anywhere and at any time since the iPad is portable and small. So I drew chilling out on the couch, on a road trip, on the plane, in a hotel room, etc. In the end, I used the original music supplied by the app because it seemed to really fit well with the animated movements I had created and paid respect to McLaren's influence on my work. I had a sound designer buddy, Mike Heath, add some sound effects and create the mix...and next thing I knew, I had a new little classically animated film entitled Cats.
I never really set out with the intent to create a film using an iPad and the McLaren Workshop app but it just happened...and I'm glad I did because it was a fun exercise in utilizing what I've coined as Animation Meditation (a style of stream of consciousness / straight ahead animation technique). The film will be making it's world premiere at the Flathead Lake International Cinemafest (FLIC) in Polson, Montana (January 24 to 26th, 2014) where I'll be attending and conducting an animation workshop.
I hope to submit the film to a few more festivals and then release it here on Film Annex soon. Until then, please enjoy some stills from the film and please subscribe for updates on new blog posts and film uploads. Thanks!