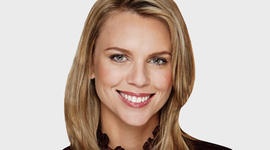 Jeff Fager, Chairman of CBS News and executive producer of the show 60 Minutes, asked correspondent Lara Logan and producer Max McClellan to take a leave of absence, which they both agreed to do.
This follows the 60 Minutes story on the attack in Benghazi, Libya, which was discredited after it was revealed that the main witness had given a faulty testimony.
Lara Logan has been the chief foreign affairs correspondent for CBS News since 2006.
(Photo credit: CBS)