It was an unplanned day out when my nephew and I was tagged along by my sister who was officially invited to a post-birthday celebration of her best friend's son Luke that was held at Cebu Westown Lagoon. The main purpose of tagging us along is for my nephew who just came from Singapore to enjoy his first summer vacation in Cebu after leaving his hometown six years ago. This is the main reason why I was quite disconnected in bitlanders' blogging world (if you noticed it on my descending rank) so I can attend to the needs of my nephew whenever he's at home.
It was a favorable tag for me though because it's my first time to visit Cebu Westown Lagoon and a prospective travel article blog for bitlanders. So here I am starting to tap my fingers back on the keyboard and will be sharing with you another local trip in my hometown where a man-made lagoon in the City can be found at Cebu Westown Lagoon.
► CEBU WESTOWN LAGOON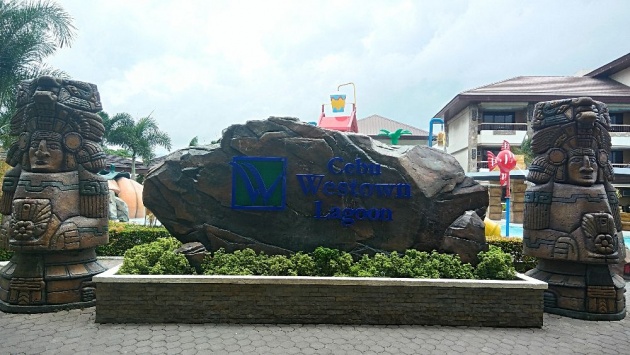 Cebu Westown Lagoon / Photo Credit: Dimpsy via Facebook
In between the cities of Cebu and Mandaue City lies a man-made lagoon that will radiate one's feels of a "home away from home" and "a surprisingly refreshing oasis for the travel-weary tourists" as what is stated in the homepage of Cebu Westown Lagoon website.
Personally, this is the best place to break free from the hectic schedules of the day or a week. A home not away from home to chill out, dip in to soothe yourself before heading back to your usual grind. Here is a video of the waterpark that I personally made so you can check it out and see if the place fits your personal preference.
The Waterpark of Cebu Westown Lagoon / Video Credit: Yen Yoh via Youtube
After the registration, you can now access the waterpark of Cebu Westown Lagoon where a lagoon in the city has been situated. You can see in this video the three different swimming pools that are suitable for kids and kids at heart. There is a medieval pool that has a dragon and castle theme with a depth of two feet and three feet. The kiddie pool has a playground set on it but just make sure to closely supervise your kiddos because they might bump their heads on the hard structures of the playground set that were made out of bars. This video will allow you to see the jacuzzis, gazebos, and the big slides that I did not get to enjoy because my swimming shorts won't slip on the slides.
☻ HEIGHT REQUIREMENT AND FEES ☻
Cebu Westown Lagoon has an entrance fee of Php350.00 on promo rate for an adult who is above four feet in height. It's Php500.00 when it is on rack rate. For the kids measuring two feet to four feet in height, the promo rate is Php250.00 and the rack rate is Php400. Kids are free of charge when they measure below two feet in height.
☻ OPERATING HOURS, CORKAGES AND COMPLIMENTARY TICKETS ☻
The waterpark will open at 8:00 am to 11:00 pm. Corkages are applicable for alcoholic drinks and a whole roasted pig (Lechon baboy) that will cost Php500 each. Bringing of foods and non-alcoholic beverages are free of charges. Below photo is the complimentary drink that I claimed at the cafe bar.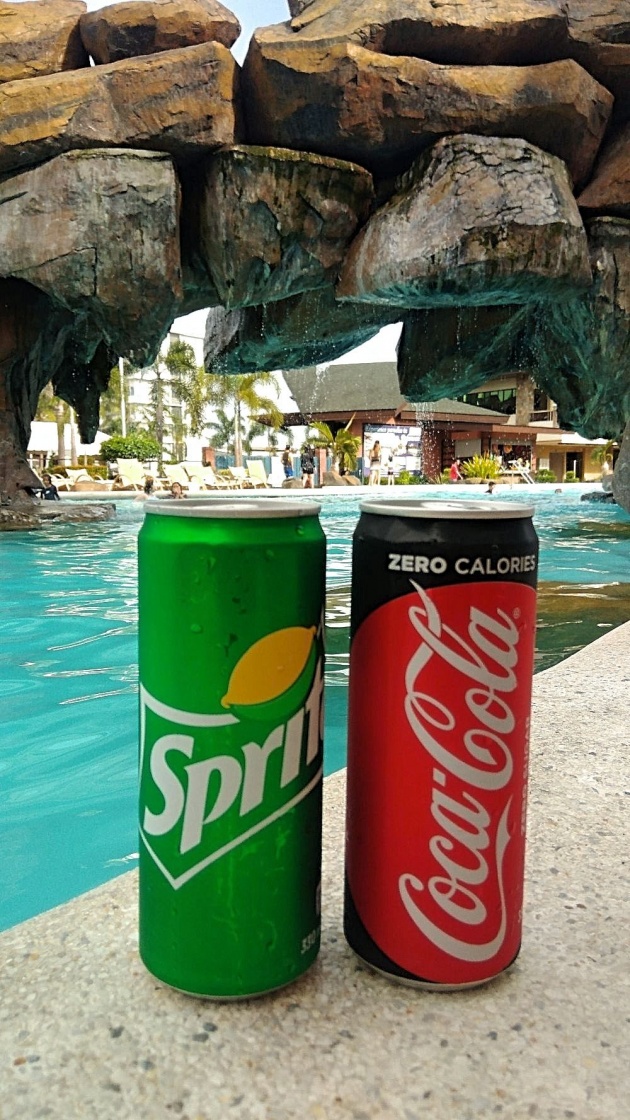 Complimentary Drinks / Photo Credit: Dimpsy via Facebook
Every registered guest in the waterpark entitles one ticket that has 1 complimentary drink that you can claim at the pool cafe bar. Two cans of chilled green and black beverages for me and Nathan and had it snapped for blog attachment purpose.
☻ GAZEBOS, PAVILION AND PICNIC AREAS ☻
What is a Gazebo?

A gazebo is a freestanding, open garden structure, sometimes hexagonal or octagonal in shape, with a roof. Most gazebos are constructed of wood or metal and have built-in seating inside the sheltered area. To add a sense of enclosure and privacy, latticework or outdoor curtains or drapes are sometimes used. In a garden setting, a gazebo can serve as a focal point—something to be viewed and appreciated—or situated in a location on a property (like a hill) that offers views while providing shelter from the sun.

Source: thespruce.com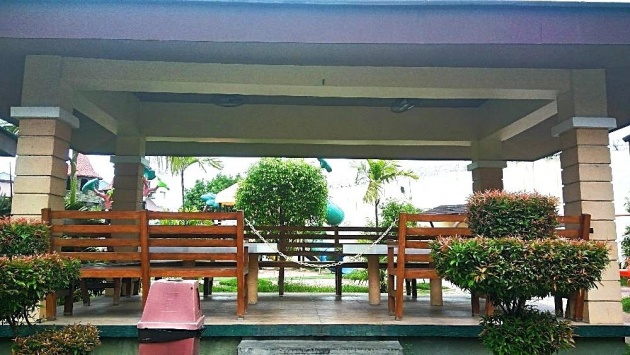 Big Gazeebo / Photo Credit: Dimpsy via Facebook
There are two sizes of Gazebos in Cebu Westown Lagoon - the small and big gazebo that is ideal for day and night usage. Rental fees will vary depending on the days of the week and the time of the day. I listed down below the rental fees and the days for the availability of the Gazebos as well as the Cleopatra where the birthday party of my sister's best friend's son was held.
SMALL GAZEBO

Time of Usage

Day Use - 8:00 am to 5:00 pm
Night Use - 6:00 pm to 11:00 pm

Days / Day Usage / Rates

Saturdays, Sundays, and on Holidays (day or night use) Php1,200 ($24)
Fridays, Sundays, and before Holidays (night use) Php800 ($16)
Monday to Friday (day only) Php600 ($12)

BIG GAZEBO

Time of Usage

Day Use - DAY USE - 8:00 am to 5:00 pm
Night Use - 6:00 pm to 11:00 pm

Days / Day Usage / Rates


Saturdays, Sundays, and on Holidays (day or night use) Php2,400 ($48)
Fridays, Sundays, and before Holidays (night use) Php1,600 ($32)
Monday to Friday (day only) Php1,200 ($24)

CLEOPATRA

Time of Usage


Day Use - 8:00 am to 5:00 pm
Night Use - 6:00 pm to 11:00 pm

Days / Day Usage / Rates


Saturdays, Sundays, and on Holidays (day or night use) Php3,000 ($60)
Monday to Friday (day only) Php1,500 ($30)

PAVILLION

Time of Usage

Facilities

It has a couch, refrigerator, balcony, dining, tv, and own comfort room

Days / Day Usage / Rates


Saturday, Sunday, and Holiday Php3,000 ($60)
Monday to Friday Php1,800 ($36)

PICNIC AREA

This area is available for FREE but on a "FIRST COME, FIRST SERVE" basis. So make sure to arrive early to avail the picnic area.
► THE HOTEL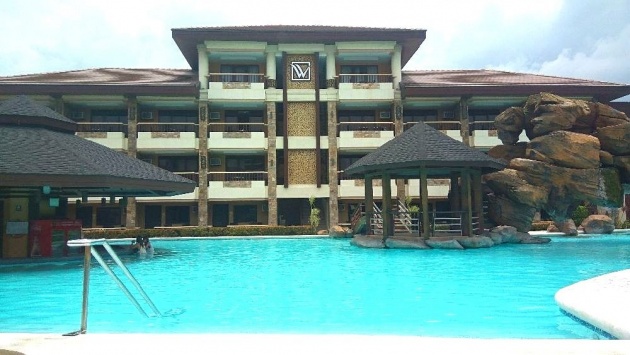 Cebu Westown Lagoon Party Wing Hotel / Photo Credit: Dimpsy via Facebook
The hotel is located near the main pool bearing the letter W as their logo. Accessible to the big pool, 2 big slides (not shown in photo), the pool cafe bar (left side of the photo) and gazebo (adjacent to the cafe bar). Rooms are distributed on the Party Wing and on the South Wing with an exclusive pool. For the Party Wing (shown in the photo) it consists of four categories for the rooms: Deluxe Room, Premium Room, Family Room and the Penthouse. While on the South Wing it has 6 room categories namely: Superior Twin (can access the exclusive pool), Family Room (can access the exclusive pool), Family Suite (can access the exclusive pool), Superior Room, Family Suite, and Barkada Room.
For the room details, scheduled check-in and checked out, facilities, room photos, room rates and other information of Cebu Westown Lagoon hotel you may pay a visit at its official website for your reference. Or email them at cebuwestownlagoon@yahoo.com.
► THE WATERPARK
The highlight for me in Cebu Westown Lagoon aside from the man-made lagoon in the city is the waterpark itself. Its unique creativity of the Dragon Cove made it so enticing not only for kids but for kids at heart as well most especially to those who believe in dragons, castles, and princesses and to those who love medieval eras. But before your fantasies will take you to anywhere else please be guided accordingly to the following swimming pool guidelines of the waterpark.
☻ SWIMMING POOL GUIDELINES ☻
Every resort that has a swimming pool has its own guidelines. Be mindful of the swimming pool guidelines before plunging yourself. Let me just share with you the ten Swimming Pool Guidelines of Cebu Westown Lagoon and the four attires that are not allowed for swimming before I will proceed to the types of swimming pools.
CEBU WESTOWN LAGOON SWIMMING POOL GUIDELINES

Take a shower before swimming.
Guardians are responsible for their children at all times.
Children are advised to use the kiddie pool with the depth of 2 feet.
Children who want to use the big pool with the depth of 4 feet must be supervised by their parents and guardians.
No running, jumping, horse playing, spitting, rock climbing, and back diving in the pool area.
Proper swimwear is strictly required.
Lifeguards are not babysitters.
MANAGEMENT IS NOT LIABLE FOR ANY LOSS AND/OR DAMAGE. PLEASE DO NOT LEAVE YOUR BELONGINGS/VALUABLES UNATTENDED. (Ex. slippers, bags, swimwear, cellphones, jewelry, gadgets etc.)
If unsure always ask the lifeguards.
No person shall enter the swimming pool while knowingly suffering from contagious skin disease.

Source: cebuwestownlagoon
NOT ALLOWED SWIMMING ATTIRES

Cotton shirts or shorts
Jersey shirts or shorts
Jeans or denim shorts
Cargo shorts

Source: cebuwestownlagoon
► WHAT YOU CAN ENJOY AT THE WATERPARK
☻ THE SWIMMING POOLS ☻
There are three kinds of swimming pools that you and your kids can enjoy at Cebu Westown Lagoon namely: the Dragon Cove, the Kiddie Pool, and the big pool that has 2 big and high slides. Proper swimming attire is highly required by the management of the waterpark.
DRAGON COVE SWIMMING POOL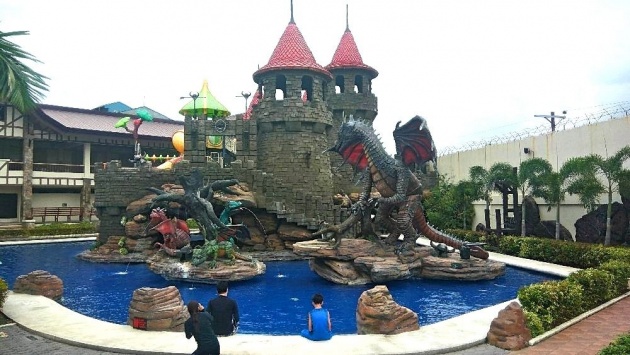 Dragon Cove / Photo Credit: Dimpsy via Facebook
It's a medievally themed swimming pool that has a castle and dragons on the back part of the pool. The kid in blue that matches the color of the water is my nephew Nathan - the main reason why my sister tagged me along to accompany him while she's at the party with her family -- in short I'm a "nanny". In the pool, you can find the man-made lagoon on the left side of the castle when facing the dragons. Inside the castle, there are two slides and staircases going to every tower. A children's playground can be found on the second floor of the castle. I took a video of the outer and inner part of the castle for the viewers to see the Dragon Cove, as well as the man-made lagoon.
Dragon Cove / Video Credit: Yen Yoh via Youtube
Here is a video of the Dragon Cove that I recorded separately just for this blog. You can see it here the outer view of the castle, the lagoon, playland for kids, view from the towers, the south wing and the top view of the dragons as well as what's beneath the castle.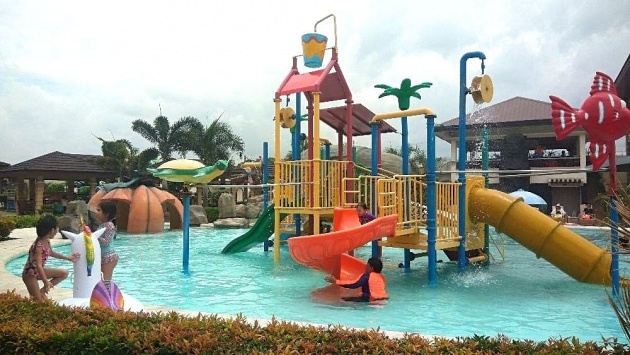 Kiddie Pool / Photo Credit: Dimpsy via Facebook
The kiddie pool has a depth of two feet. Playground set is available in the pool that mostly has slides attached to it. My only concern for this playground set is the metal structure that would lead to an injury (God forbid) to the kids such as head bumping. It's nice to look at though but at least they should have wrapped it up with something foamy to prevent injuries. You know kids nowadays are very hype they don't mind any pre-cautionary measures when it comes to playing so it's the obligation of the parents or guardians to watch over the safety of their own child/children.
BIG SWIMMING POOL WITH BIG SLIDES
Big Pool with two big slides / Photo Credit: Dimpsy via Facebook
This pool is best for kids and adults alike. It has a depth measurement of four feet that is suitable for adults who doesn't know how to swim. For kids, there should be a guardian or a parent that will supervise to their kid/kids. The pool is located in front of the Party Wing hotel rooms. There is a cafe bar in the pool that you can see in the upper left corner of the photo and a gazebo. The two slides are located in the right corner of the of the photo where a square rock tower popped up with a green slide on it.
THE YELLOW AND THE GREEN SLIDES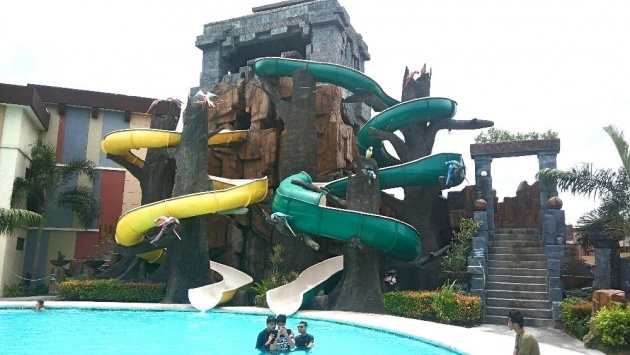 Here is a clearer view of the two slides in the big pool. It is called the water slides that were designed for indoor recreational use specifically in waterparks. It differs in riding method and sizes. For this slides, it requires the rider to sit directly on the slide and only two persons are allowed to slide together. Most water slides run into a swimming pool and often called a plunge pool. The yellow slide has a measurement of 20 feet while the green slide measures 30 feet. Never had the chance to enjoy the slides because of my swimming shorts that don't slip at all. I will see to it that the next time I will be riding a water slide I will be wearing a silk, lycra, or spandex cloth so it will slip easily on the slide.
☻ THE HEATED JACUZZIS ☻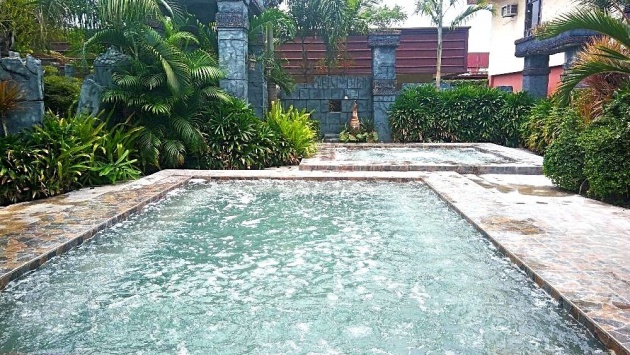 Heated Jacuzzis / Photo Credit: Dimpsy via Facebook
The weather condition at the time we visited Cebu Westown Lagoon was a cloudy day. I don't know why but the pool is very freezingly cold and these heated Jacuzzis aided in normalizing our freezing body temperatures into its normal warmth. It has a rectangular shape on the first jacuzzi and a square shape on the second one. These Jacuzzis are very much beneficial to the human body as it promotes relaxation, post-workout soreness, targets pain relief, and improve sleeping habits. This is what you call a "hydrotherapy".
What is hydrotherapy?

Warm water or "hydro" therapy can promote relaxation, pain relief and improved sleep habits as the heat, buoyancy and massage work together to clear your mind, reduce stress and soothe overworked muscles. Heat improves circulation and warms muscles and joints. Buoyancy lifts the pressure of weight from joints and muscles. Hydromassage stimulates muscles, healing and soothing soreness, which also helps to ease pain surrounding joints.

Source: jacuzzi.com
☻ CHILDREN'S PLAYGROUND ☻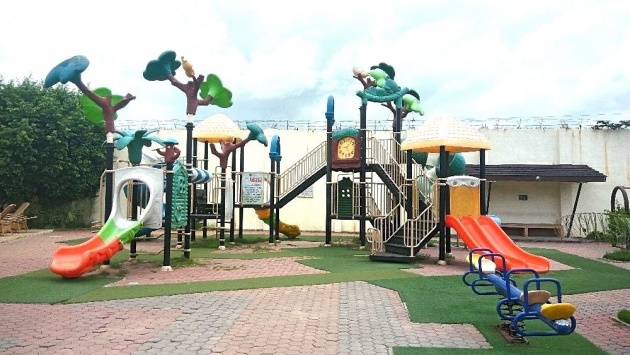 Children's Playground / Photo Credit: Dimpsy via Facebook
The place where children love best. Situated just before the Dragon Cove. Artificial grasses can be seen in some areas of the playground, especially in those grounds where the bums will land like the slides, seesaw, and swings. There is a sheltered bench at the back of the playground sets where guardians and parents can directly supervise their kids.
Before I end, here is a Querlo Chat for you.
► END NOTE
It was a time well spent with my sister, bro-in-law, nephews, niece, and my sister's close friends. First time to be in Cebu Westown Lagoon, though I know there's a man-made lagoon in the city but I never expected it to be this fun. I love the place, most especially the heated jacuzzis and the big slides. Perfect for a day getaway to destress my self in an affordable and accessible place. Surely, I will keep on coming back.
► ► ► ♥ ♥ ♥ ◄ ◄ ◄
Thank you once again for reading my blog.
For more travel blogs please visit my blog page by clicking this link.
Created and submitted by Dimpsy for bitlanders.