While most couples enjoy their recent Valentines Day in some fancy restaurants and receive lots of sweets and flowers from their man, I on the other hand had only asked one thing from my man as well and that's for him to take me to the Temple of Leah.

Now that's a new place to go here in Cebu and in fact it is still under construction but even though it is still under construction, that didn't discourage us to go there. Glad that the Valentines Day was a Saturday and so my boyfriend didn't have work on that day as well. I got so excited to see it and although we aren't sure where the temple is located exactly, we didn't really worry about that at all as we know for a fact that it is already making a name in Cebu.

The Temple of Leah is located in Roosevelt St. in Lahug, Cebu City, an upon coming to the area, we just asked the locals and they pointed us to the direction. The roads towards the temple is a bit steep but we were able to manage up towards the temple itself. This view welcomed us: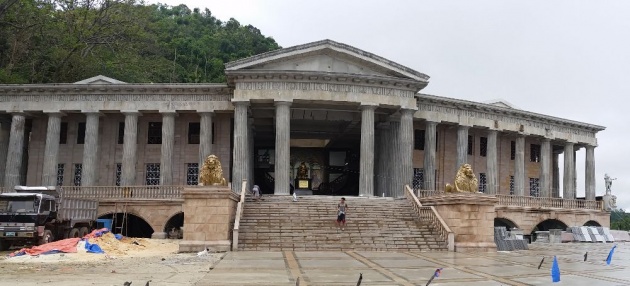 Obviously, it is still under construction but the temple is around 40% finished and that they already allow visitors to come inside although certain areas are still being closed only until they are finished as this temple is actually a kind of museum and art gallery.
Both of us were quite excited on what the temple has in stored for us so we went inside. A huge monument had greeted us but the view from the entrance area was totally fascinating that we stopped and took a photo of the floor tiles first.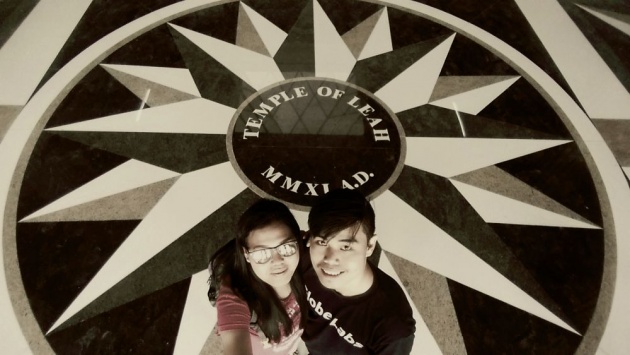 Inspired by Greek architecture and interior design, I feel like I had been to Greece too! I can't help but take photos of each corner of the temple! I even told myself that I will come back and maybe visit this place every weekends to read and enjoy the scene from below as this has been situated in a place overlooking the city of Cebu. Let me show you more of what's inside the temple.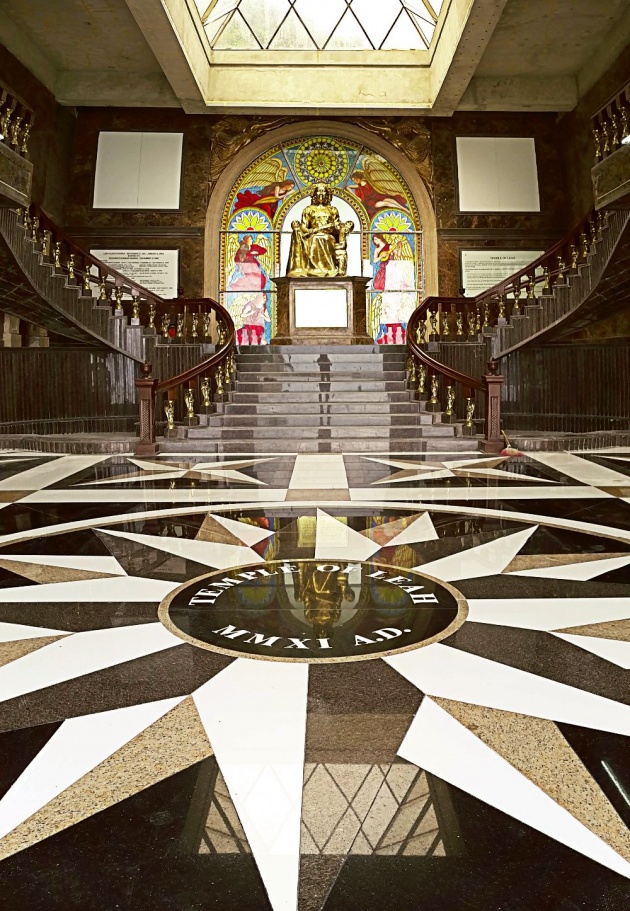 Look at the view from the main door, it's just fascinating even if that is still undone. It was actually raining on that day but the floors were kept clean by the caretakers, there were a lot of workers around too and they had been very accommodating too! Even the sweepers told us that they want the place to be clean and pleasing to everyone coming in. This is the first constructed building with this kind of Greek theme so this would truly become a hit to all the Cebuanos and to the non-Cebuanos too for sure. I can't wait to see what it will look like once it is finished!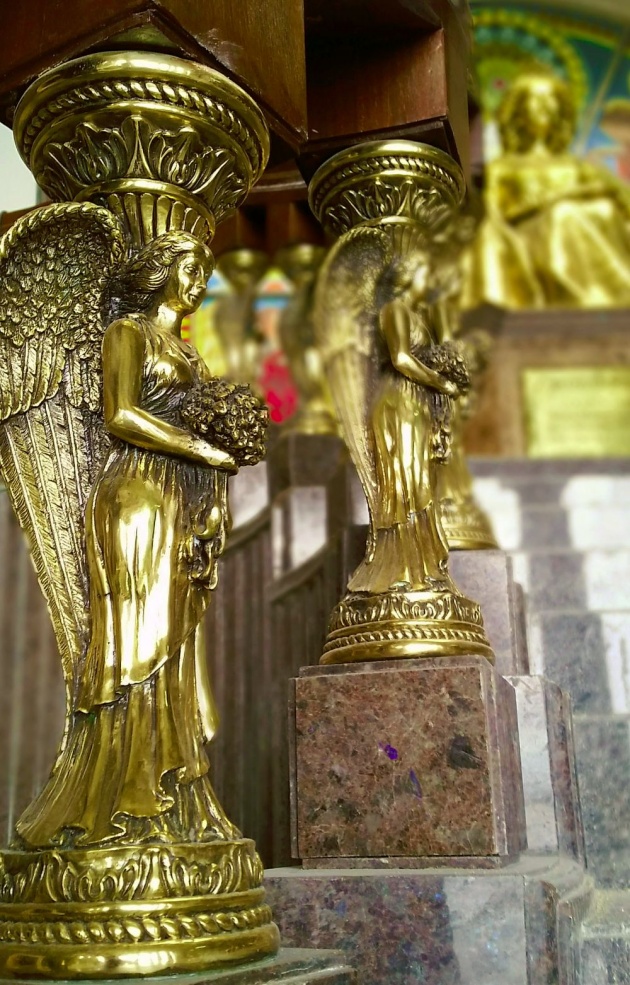 We can't just go up towards the monument without noticing the design of these railings. Golden angels with corresponding bouquets of flowers are lined up on the stair railings! I jumped off my feet and went to take a photo of it. My husband was feeling the same so we both went and took some photographs. In that photo you'll see that the monument of Leah is visible but not focused as we are trying to take angels first.
I wasn't able to count how many angels were standing in the way. They just look like they were paying their respect to the late Leah who is sitting in the center of the temple.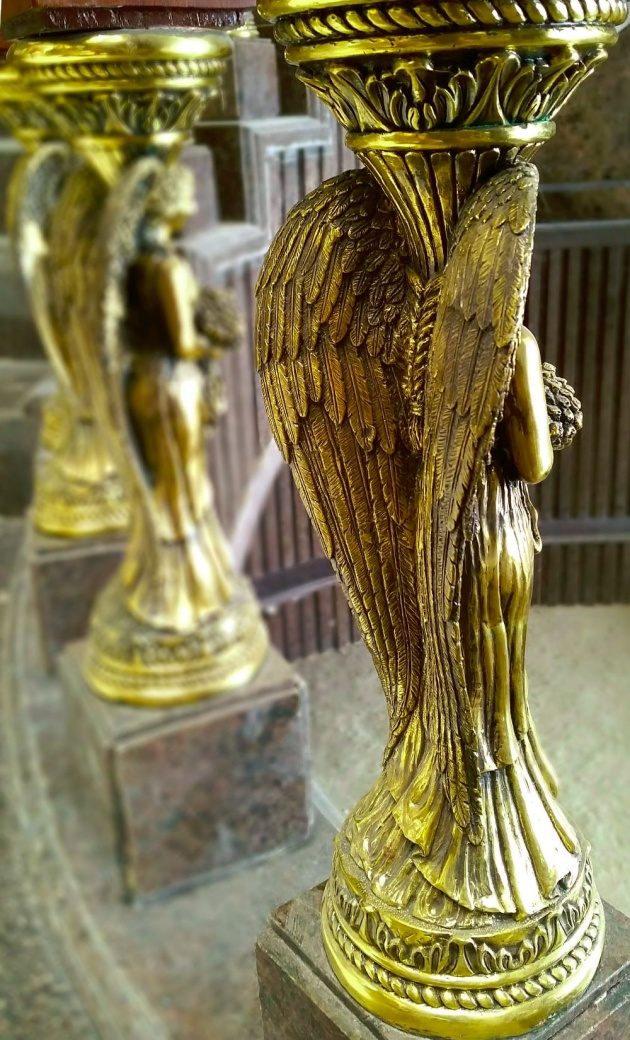 We can't just take a picture of the front part but also the back view of the angels. They are made just like real ones, perfectly carved and I salute to the artist or shall I say workers behind these railing designs. I can sense their efforts while manually carving each rail. Amazing talent!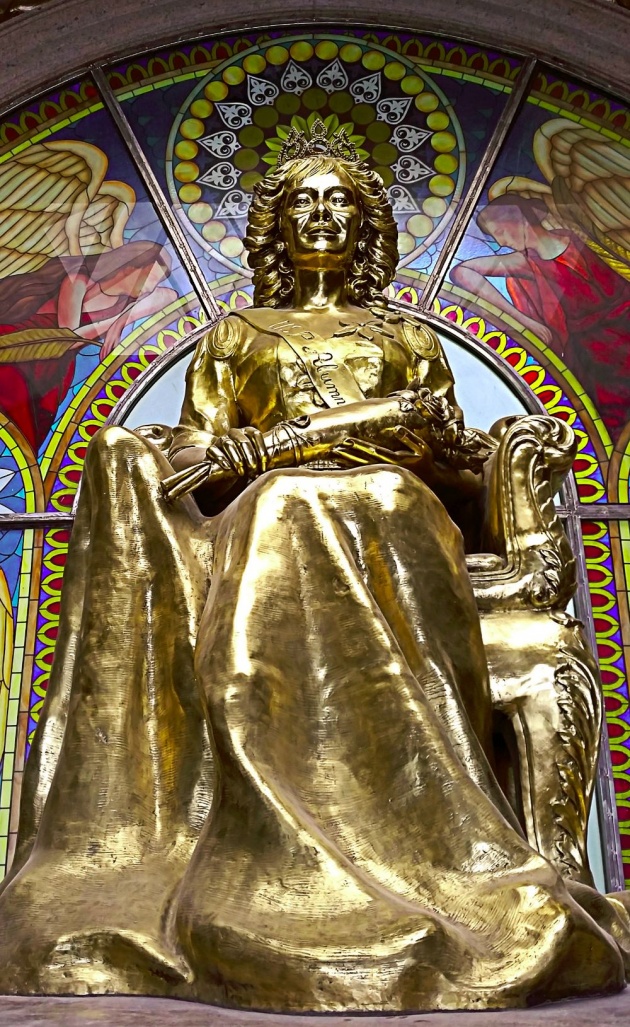 Leah V. Albino-Adarna was chosen Matron Queen of her Alma Mater, the University of Southern Philippines. This nine-foot bronze statue portrays her composure and regal bearing when she was crowned. May the beholder discern her innate beauty, poise and genteleness.

Signed by Teodorico Soriano Adarna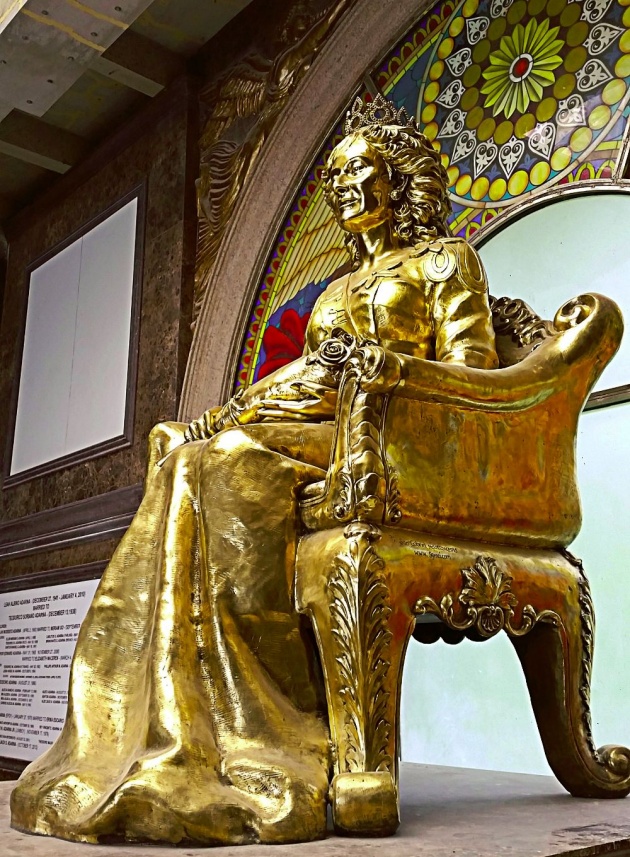 This Temple was constructed in the year 2012 A.D. as a symbol of my undying love for her and my ceaseless devotion to Leah Villa Albino-Adarna, this was according to Teodorico Adarna, the husband of Leah.
We both had witness the everlasting love that the owner who is also the grandfather of a local Filipino celebrity, Ellen Adarna. This is a huge evidence of his love and faithfulness that he can't contain himself and he had to share it to others with this museum. Leah was a fan of Greek Mythology and she had a huge collection of arts and books most of them were about Greek Mythology so this became a repository of those items where other people can also see.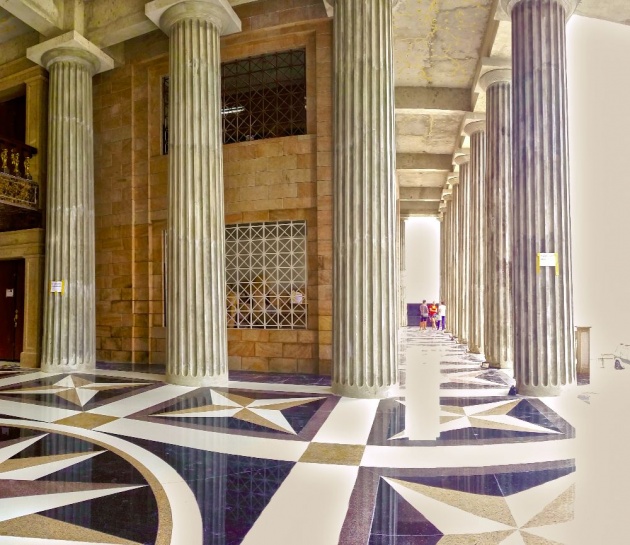 High and huge pillars can be seen in every corner of the temple, those guys there looked like ants while I took this photo. I had to use the panorama option on most of my photos since I can't capture the whole view if I just make it into a single shot.
Here's what we can see upon stepping on the temple's main stairs.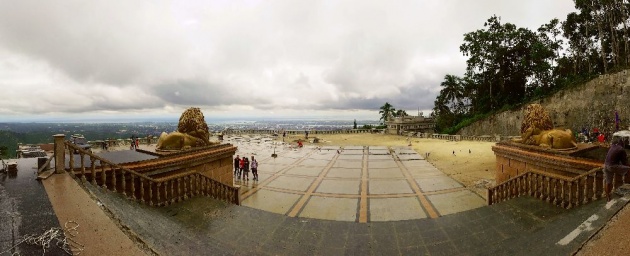 There's a huge area in front of it and I wonder what will be placed in there. The tiles are still being planted by the construction workers, I can't wait to see this once it's finished. It has been rumored that it will finish within this year so expect we will be coming back soon with better photos of the finished area.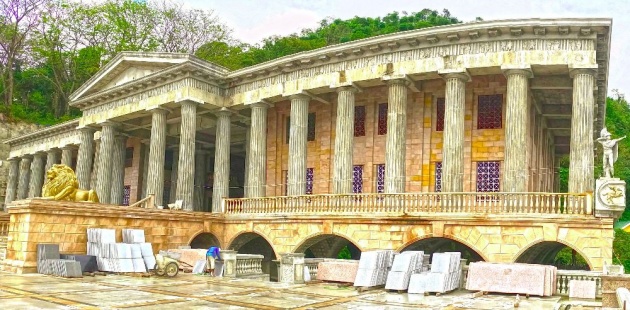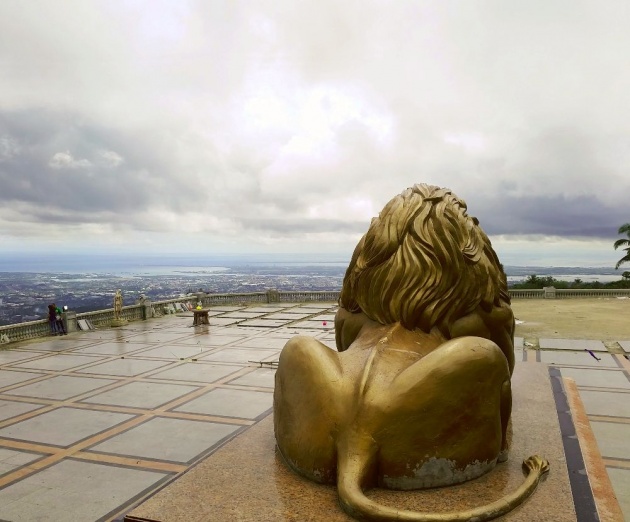 There are two big lion statues as well sitting silently in the both sides of the temple, they look like the greeters or attendants of the temple. They seem to be observing the commotion down below. I can't leave without taking a photo of it.
As you can see, the weather that day was not really nice, it was a bit gloomy and it rained for a few minutes. Glad it stopped and we were able to go outside and explore. The view from the outside is also breath taking as it showcases the overview of Cebu City.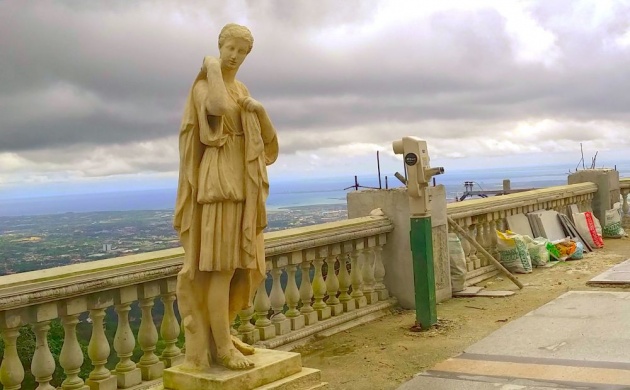 There were more statues placed outside like this one below but the rest were still kept to ensure they won't get damaged. However there was one left outside, I couldn't figure out who's this sculpture. And yes there's coin operated telescopes too so one can see views from there.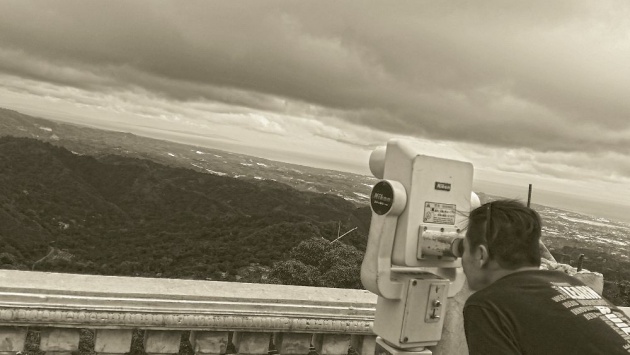 And yet wall carvings were also available which is very attractive. They got some pegasus as well as on the gate walls! It was totally amazing!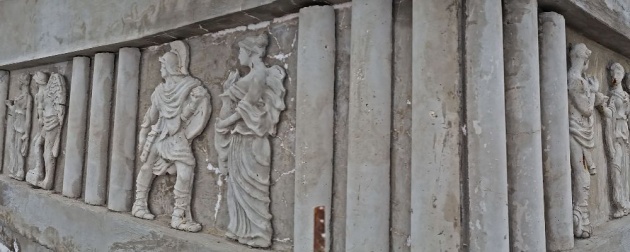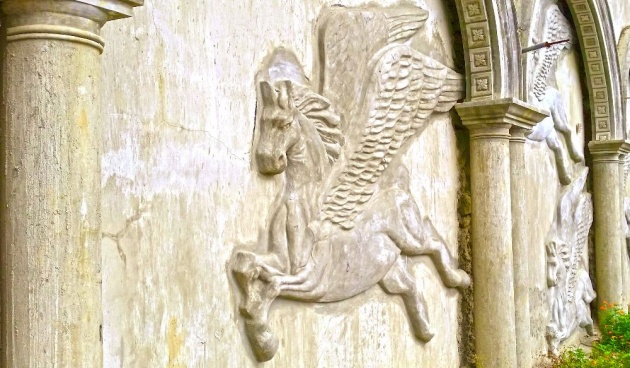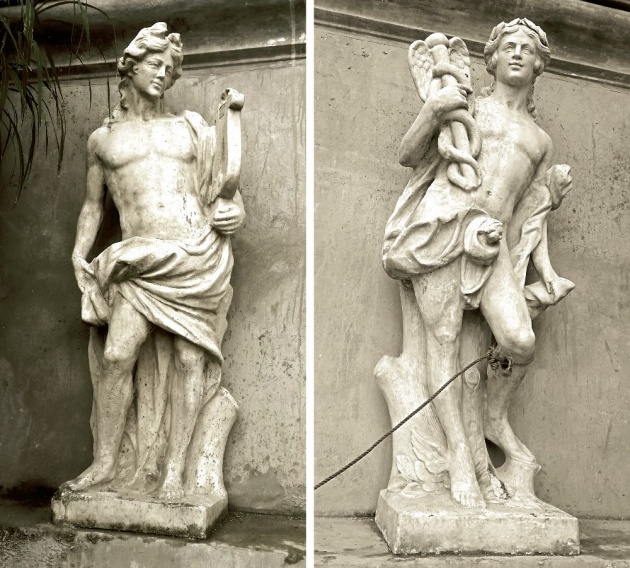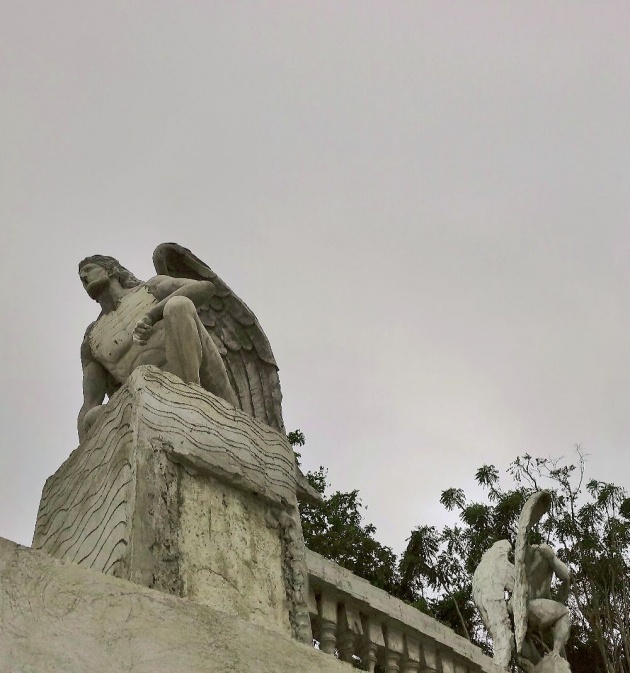 My husband loved the one that I took when he was standing in the area where one of the great lions was sitting. He looks small with the huge tiles planted on the walls of where the lion sits. Totally astonishing!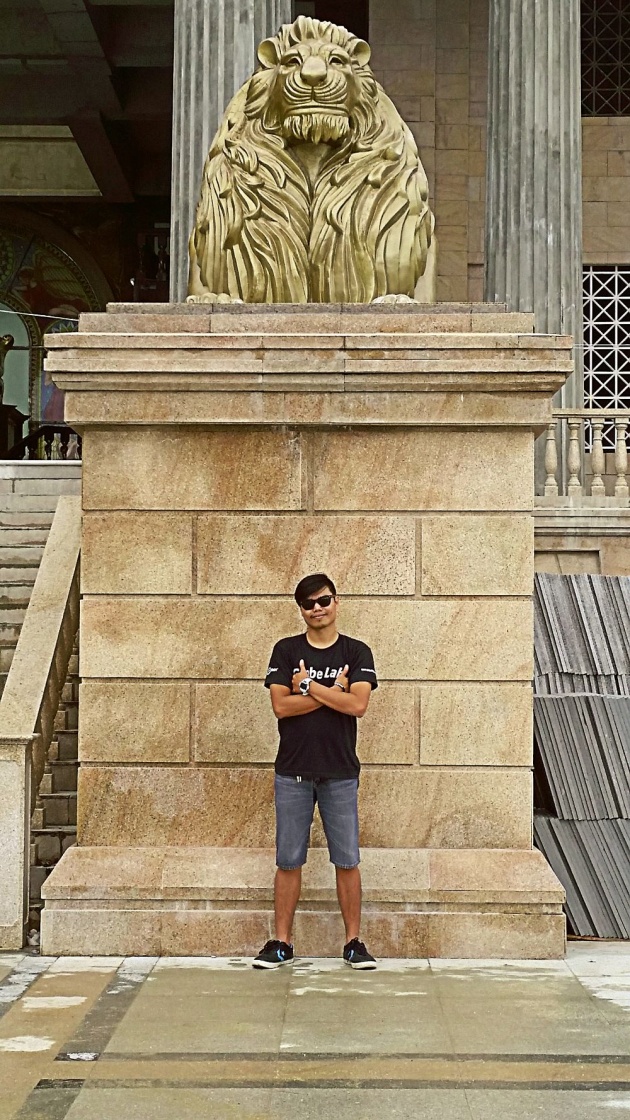 From the outside of the temple, we still have a good taste of Greek architecture as the lower floor is still being worked out. It is consistent with the carvings and the statues too! There were head sculptures there and the intricate designs are really exciting.
There were questions on my head while looking at this project. I wonder how will the temple look when it is already done, I wonder if they will be charging visitors who will come and check the place and I wonder how long will this structure last. I guess I was just happy that a place like this has been created in the heart of Cebu, very easy to locate and very accessible.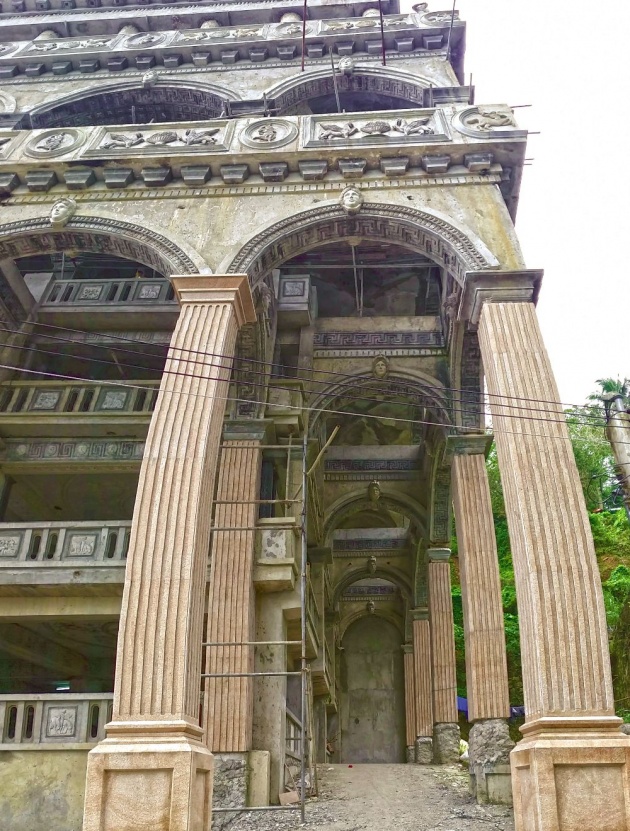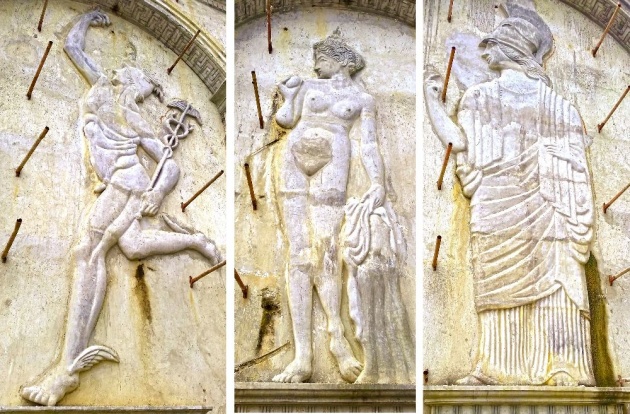 The base floor is also still unfinished together with the Greek Gods like Mercury, Athena, Aprodite and the others. While the main temple has circular pillars, the base floor has square ones which are still fascinating as well.
Base on the looks of these designs, the temple is indeed almost done, I respect the owner for bringing up this kind of attraction and providing the city another means of destination. This is not just a tourist spot but also for education due to the books and other items available of which can provide knowledge to anyone who is willing as well.