On the 24th of February, a holiday in Cebu, James and I had consciously decided to tie the knot via a Civil Wedding Ceremony with only a few people who are very close to our hearts. It was only our family members who had known about our plans. It was after seven years of being together as boyfriend and girlfriend that we mutually decided to be one.
Three years later was fast and it just flashed right in front of our eyes. February 24 had again commenced and as we both promised each other to celebrate and make this day extra special, we did the same this year. The first wedding anniversary, we went to Baguio:
• bitLanders Sponsors 1st Wedding Anniv Vacation
On our second wedding anniversary, we went to Batad and Sagada:
• Batad Rice Terraces Day Tour
This year, we went to Negros Occidental, it was an early celebration because the cottage which we want to celebrate this special occasion with was already booked on that day. It was celebrated together with James' birthday. It was a double or perhaps triple celebration.
After that week, we again celebrated the anniversary in our simple way in Cebu City. Today, let me share with you how we celebrated it and what occurred on that very special day, kindly continue reading.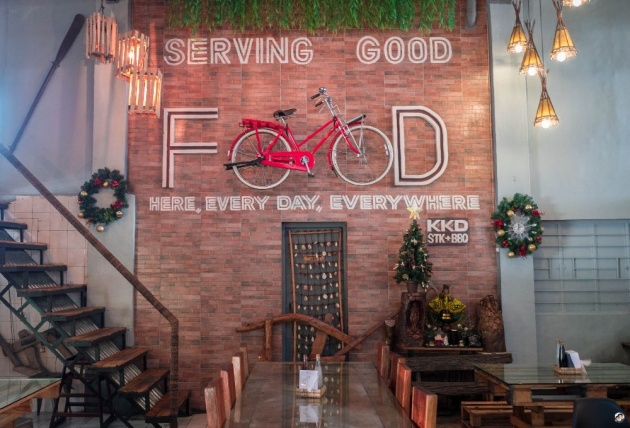 Image credits: Jean Beltran via bitLanders
LUNCH AT KKD STK+ BBQ
Although it was an extra special day, both James and I woke up late because we watched the movie, Black Panther, that Friday night in Ayala Cinemas and our schedule was at the last full show.
Our plan was to go out and explore Cebu, wherever our feet would bring us.
Video credits: Jean Beltran via bitLanders
Since it was almost lunchtime, we headed to one of seafood haven here in the city. KKD STK+ BBQ has been trending in Cebu's top places to dine in at an affordable price. I suggested it to James and he agreed with dining there for lunch.
Situated right in front of the Plaza Independencia along M. J. Cuenco Ave, Cebu City, so KKD STK + BBQ was not hard for us to find this corner. It is just along the highway and the SM MyBus has a loading and unloading bus stop there so it was an easy pea for us to find it.
Simple but chic! I can see that the KKD STK + BBQ interiors were simple but they still look Instagram-worthy! The hanging lights have different styles. I might be creating a separate blog for the review of the restaurant, for now, let me share how this day went first.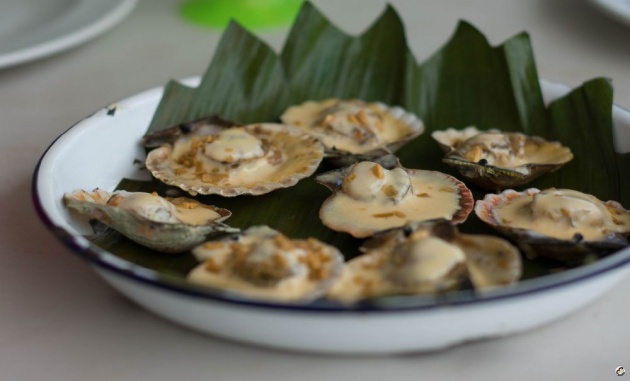 Image credits: Jean Beltran via bitLanders
We decided to stay up to the second floor, at the balcony, there were many crews and each one could dedicate to a specific table. A huge menu was given and we picked:
Baked Scallops
Buttered Shrimps
Kinilaw
Garlic Rice
Citrus Cucumber Cooler
Four Seasons
Choco Leche Flan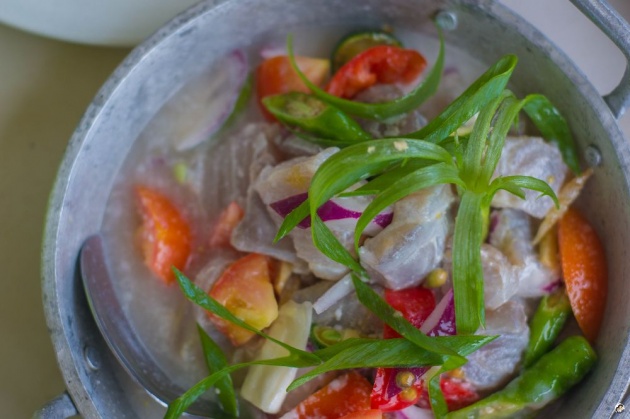 Image credits: Jean Beltran via bitLanders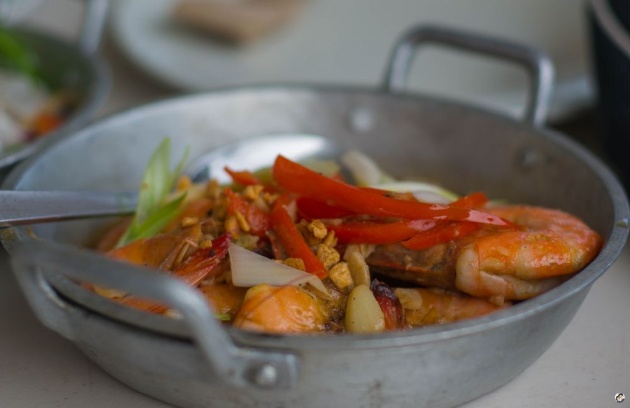 Image credits: Jean Beltran via bitLanders
Food was definitely good, served with average waiting time which we didn't mind as we had been busy taking photos of each corner of the restaurant. It has a lot of tables which means they are ready to accept a lot of guests!
One thing we noticed was the numerous presence of the foreigners too! I bet they had researched about good and affordable Filipino foods perhaps!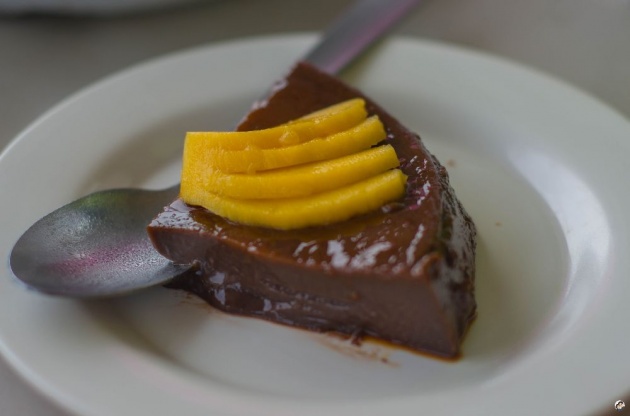 Image credits: Jean Beltran via bitLanders
What surprised me the most was the serving. For the price of Php 150 average, we couldn't get to finish the shrimps and the kinilaw! What we ordered was somehow good for four heads!
Definitely, we will be coming back, next time, we'll come at night for its good ambiance and lighting.
Don't forget to check on the Querlo Blog below dealing about restaurants:

ROAD TRIP TO BUWAKAN NI ALEJANDRA
Busay is colder than the main Cebu, it takes 30 minutes to an hour to travel there depending on the vehicle speed. After having lunch, we head straight to Busay with our trusty Yamaha Aerox motorcycle.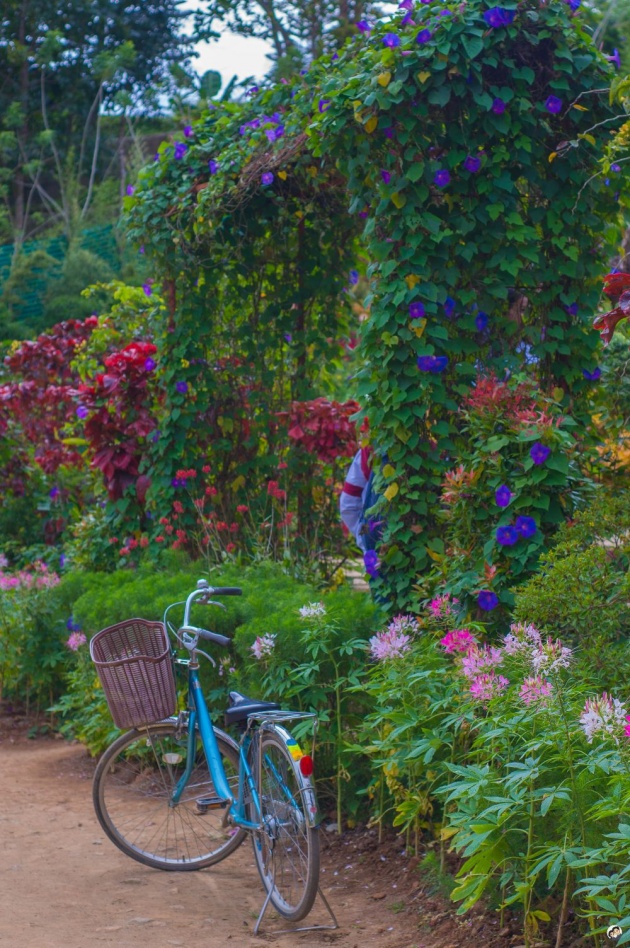 Image credits: Jean Beltran via bitLanders
Road trips are one of what we used to do before when we were still dating together with some friends. Now, we do it only by ourselves but we still had fun!
Our aim was to visit the Buwakan ni Alejandra, a social media sensation which trended on 2016. We felt the cold atmosphere upon reaching Balamban, there was even fog in some certain areas. The roads were curvy and we had to be careful, speed wise.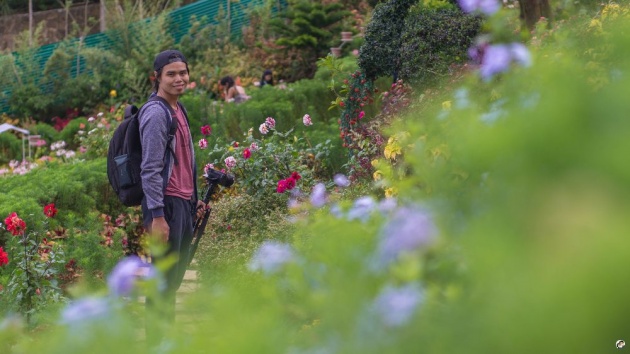 Image credits: Jean Beltran via bitLanders
Finally, we reached the Buwakan ni Alejandra, we paid Php 50 entrance fee per person, we were welcomed to a landscape which reminded me of Terrazas de Flores. The garden was intended for viewing purposes only so the workers here only plant flowers but they won't harvest them.
Currently, the upper part is filled already with blooming flowers, they bloom every day throughout the years. The owner who was once as well a farmer had bought the area below and make an extension for the garden.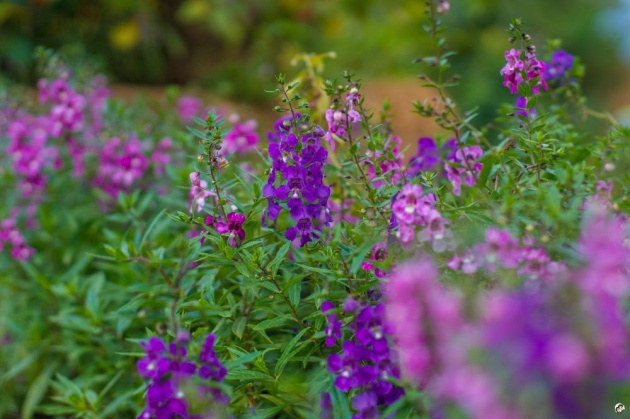 Image credits: Jean Beltran via bitLanders
Although far, there were still lots of people who came to visit the garden. We flew the drone and the garden definitely looked interesting from above. The neighboring resorts as well became visible from where we were at.
I love the photos taken with my Sony camera with 50mm lens and I can't wait for the entire attraction to finish so we could also be introduced to more flower kinds.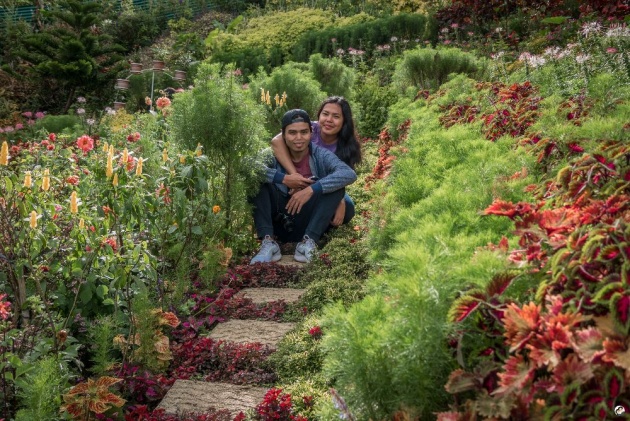 Image credits: Jean Beltran via bitLanders
MEETUP WITH ONLINE FRIENDS
Our evening was originally planned to stay at Tops and have dinner at Top of Cebu but I received a notification that @kneelyrac was in Cebu together with some of her dancer friends.
I immediately heed the call of meeting them up so we canceled the dinner at Top of Cebu and just went to Robinsons Galleria to watch their team's performance.
We then met up at the stage area for the first time, I had a successful meet up with a fellow online user and friend, groupmate and fellow Bisaya! I am glad to also meet the friends who won as well during that competition which was the main reason why they came to Cebu City in the first place.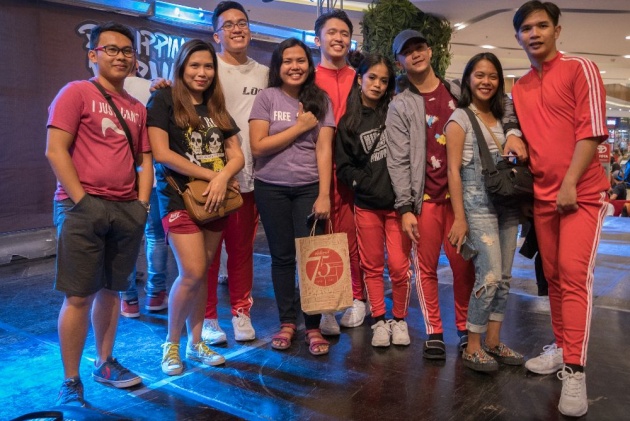 Image credits: Jean Beltran via bitLanders
After the meetup, we ended the night. We went home and felt fulfilled for spending the entire wedding anniversary day together at different places, we wouldn't want to be in a different place during that day.
Video credits: Jean Beltran via bitLanders
---- o ----
Blog entry written and published by Jean Beltran-Figues, A Pinas traveler and photography hobbyist, find more travel blogs in my blog section, click here.
---- o ----
Check also my recent blogs:
• Half Day Tour to Sipalay Negros Occidental
• Punta Bulata Resort and Spa is a Hidden Gem in Cauayan Negros Occidental!
• 5 Reasons Why I Can't Get Over Natural Native Sea View Cottage
• We Fell in Love With The Cottage on a Hill at Negros Occidental!
• The RUINS: A Love Which Lives Through Time
• Why You Should Visit Campuestohan Highland Resort?