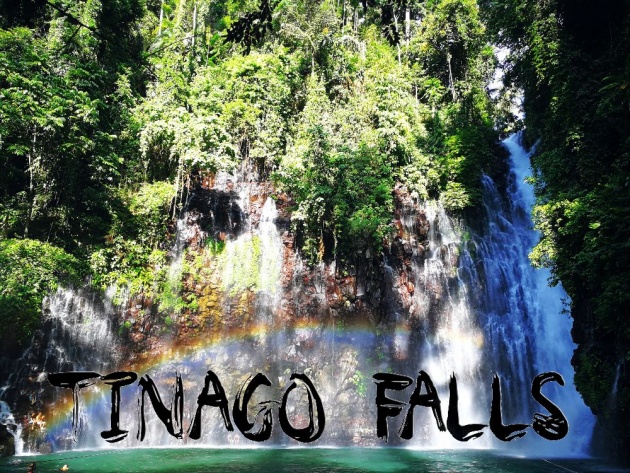 Image Credits: Kneelyrac via Bitlanders
Iligan City is known as the City of Waterfalls. It has 23 Majestic Waterfalls that will captivate your heart and make you fall in love. One of these waterfalls is the popular Tinago Falls. Geographically speaking, Tinago is located in a deep ravine in Barangay Ditucalan, Iligan City. However, locals said that it is in between the town of Linamon and Iligan City, Lanao del Norte.
Tinago Falls is one of the main tourist attractions of Iligan City. It is widely known for its majestic cascading water drop. The water that flows from Tinago is the discharge of the man-made Lake Lanao in the Municipality of Baloi that cuts into two channels. The first channel flows all the way to the powerful Maria Cristina falls which is also known for its beauty and purpose since it is powering the Agus IV Hydroelectric Power Plant. The second channel is the Tinago Falls which is known to be the Hidden Majestic Waterfalls of Iligan City.
Tinago Falls is a must-see beauty that every traveler should witness with their two eyes. It has a beautiful cascading rock formation with a total number of water drops of five (5) and has the longest drop of 240 feet high from the cliff full of trees and plants. The cold waters drop beautifully in the cascading rock formation into the deep pool-like basin. Behind the falling waters is a small cave wherein anyone can swim towards the cave and enter it. You can listen to the reverberated sound produced by the falling waters.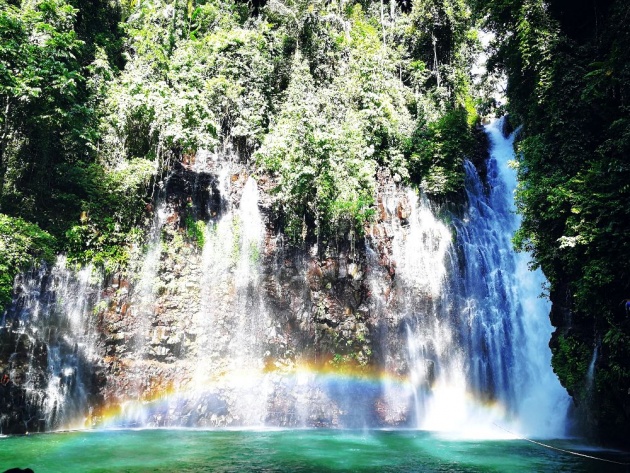 Image Credits: Kneelyrac via Bitlanders
(Notice the rainbow on this image and on the first image.)
With the combination of the water droplets from the falls and the sun that shines high and mighty, a formation of the rainbow occurs. It appears few meters above the water and as the sun shines brightly, it slowly goes up away from the basin-like pool giving you much vivid ROYGBIV colors.
But before that, activating your sweat glands is necessary since you will have to trek to witness the beauty and plunge yourself into the cold water. You have to descend to the man-made winding staircase in the middle of the jungle to an approximately 500 step counts. And yes, after enjoying the beauty and cold water, you have to ascend again to another 500 step counts, approximately.
Video Credits: Kneelyrac via Bitlanders
Now, the pool of Tinago falls is very deep and cold that children must be guided accordingly by their respective parents or guardians. However, there are also a smaller and not that deeper version of the basin-like pool and also small streams that flow all the way to the sea where children can plunge themselves safely.
THE LEGEND AND ETYMOLOGY OF TINAGO FALLS
The Philippines are also known for its folklore stories. Aside from its beauty, Tinago Falls also has a story to tell as to where this beauty came from and how it was named as Tinago.
The legend says that the story started when an influential couple, Sultan Agok and his wife, were appointed as the king and queen in their town. The couple became more influential and powerful couple and later on became selfish and proud rulers of their kingdom. One day, an enchantress disguised and cloaked herself as a beggar. She approached the sultan's wife and asked for help. Instead of extending her arms to the poor beggar, the Sultan's wife exiled her which made the enchantress revealed herself. The enchantress was mad because of the proud and selfish rulers. With that, she cursed the couple together with their unborn child that it will become ugly for the rest of the child's life. The proud rulers didn't bat their eyes and just ignored the curse. Instead, they ordered to permanently banished the enchantress.
Months later, much to their dismay, the queen gave birth to an ugly baby girl. The king and queen were very sad and disappointed for their baby. To avoid further embarrassment, they chose to hide their own child in a cave. They named their baby, Tin-ag, which means "hidden face". They secretly visited the cave and took care of the baby.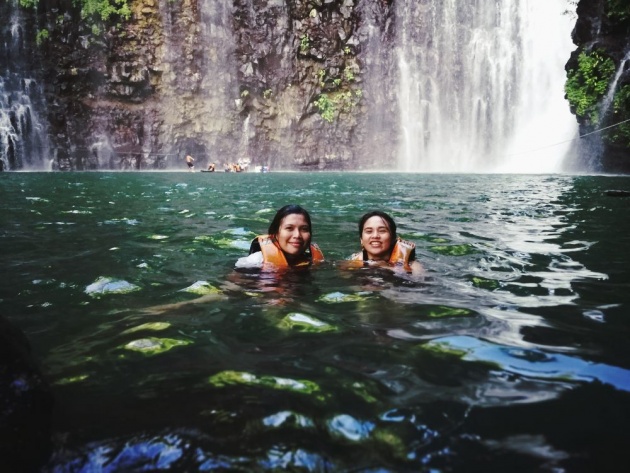 Image Credits: Kneelyrac via Bitlanders
As time passed by, the child grew up and became more curious as to what is beyond the cave. She decided to come out and was then mesmerized by what she saw with her own eyes. As the child wandered, she met the enchantress. The enchantress knew who the child was and made an offer to her. She told her that she can transform her into something of great beauty and splendor. The child accepted the offer and the enchantress turned her to what we call as the Tinago Falls.
Tinago is a Filipino word of "hidden" in which the falls is hidden in a deep ravine.
MY FIRST AND SECOND VISIT
My first visit to Tinago Falls was on 2016. My ECE classmates, The UNBLOCKED, had a mini-reunion. I was 23 years old back then and even though Tinago Falls is only 20-25 minutes away from home, I wasn't able to visit it before.
I used to be the cottage girl because I like to sit and just guard our belongings and eat our foods while the others are busy swimming. That time, I rented a life vest and decided to join the gag to feel the coldness of the water. We had some photo shoots before jumping into the water. Then we decided to swim towards the small cave and let the water hit our body. I was few meters to reach the cave when my left leg cramped and then seconds later, it was my right leg. I was really crying and some of my classmates were in the cave already. Anthony, my boyfriend, immediately grabbed my hand and pulled me towards the cave. He made the necessary aid to ease the pain I was feeling at that time. I was lucky enough to wear a life vest at that time.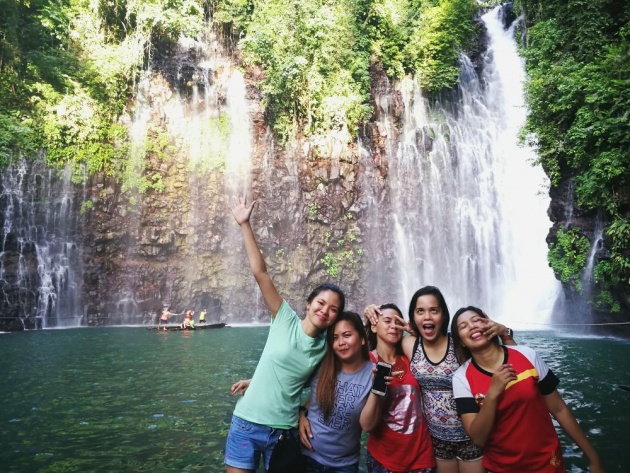 Image Credits: Kneelyrac via Bitlanders
Recently, on my second visit which was on April 29, 2018, I was with my High School classmates this time, the OHMians. You can say that it was a mini-reunion as well. Only two of us jumped into the water and enjoyed Tinago's coldness.
HOW TO GET THERE?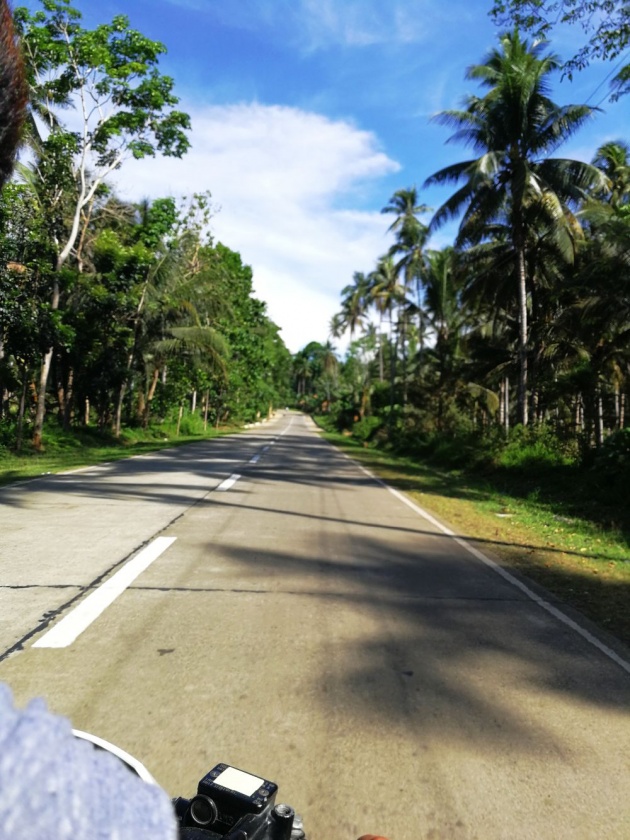 Image Credits: Kneelyrac via Bitlanders
You can choose which route you will take going to Tinago Falls. The first route is via Ditucalan, Iligan City and the second is via Linamon, Lanao del Norte. But if I were to choose, I'd go with via Linamon since it is a more convenient route to take.
From Iligan City proper, you can ride a jeepney, a Buru-un Liner, and then ride again a tricycle or a bicycle sidecar from Buru-un Jeepney Terminal to Linamon. You just have to say that you will go to Tinago and they will drop you to the area where there are motorcycles that will lead you to Tinago.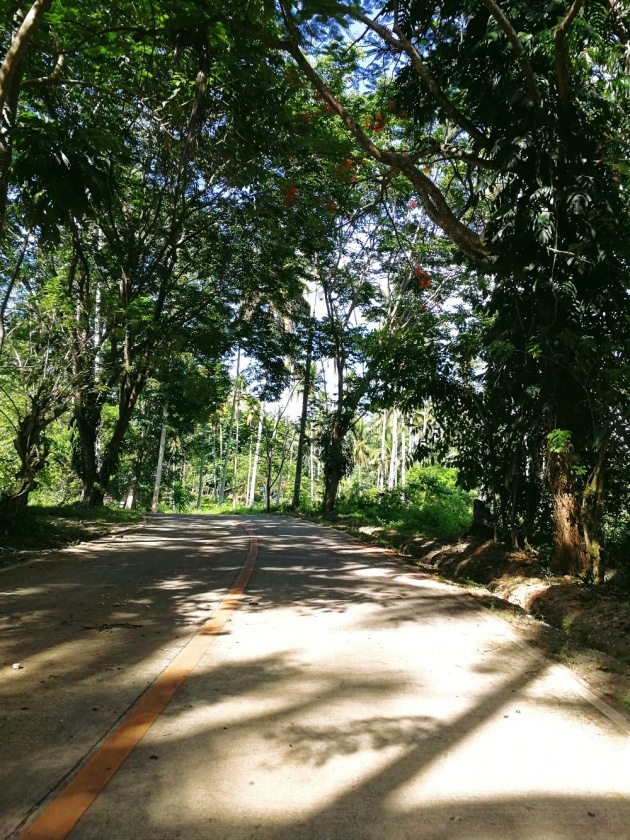 Image Credits: Kneelyrac via Bitlanders
Now if you are from outside of Iligan City, like for example, you are from Manila or Cebu, from the Laguindingan Airport, you can ride a bus with a signboard ILIGAN and it will stop in the North Bound Terminal, Tambo, Iligan City. After that, ride a bus again with a signboard, Kapatagan, Mukas, Pagadian or Dipolog and tell the man in charge of the tickets to drop you in Caltex Linamon.

Image Credits: Kneelyrac
Facing the national highway, you will see a big tarpaulin of Tinago Falls. Upon crossing the highway, you will see lots of motorcycles and tricycles and the drivers will automatically ask you if you are going to Tinago Falls. I suggest that you will ride a motorcycle instead of a tricycle since it will be a bit difficult for the tricycle on an uphill road. The disadvantage is that it can only accommodate 2-3 passengers while the tricycle can carry 4-5 passengers.
While going to Tinago, you will see lots of greens in a broad daylight. You will breathe more of fresh air and hear the sound of nature.
GOING DOWN
As mentioned beforehand, before you witness the Majestic Tinago and savor her relaxing coldness, you have to descend to the man-made cemented stairs which are approximately 500 steps. Upon descending, you will see lots of trees and flowers plus the sound of nature which makes it more relaxing amid the almost-500 steps you will going to take. As you go nearer, you will be able to hear the rumbling of her waters and see a glimpse of her deep blue lagoon.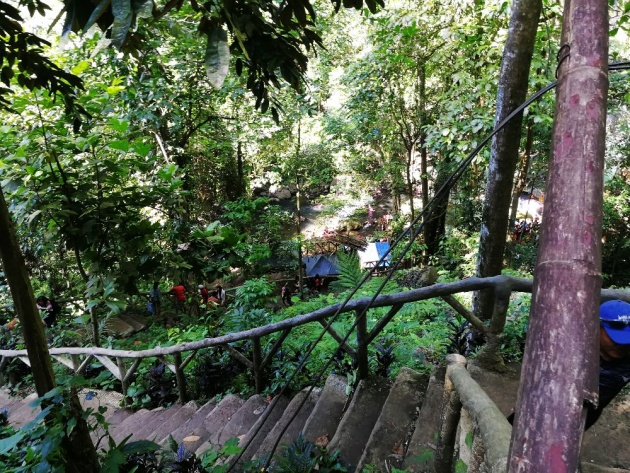 Image Credits: Kneelyrac via Bitlanders
UPON THE ARRIVAL
On my second visit, by the time we arrived, there were lots of people already. Some were on their table eating or drinking; some were swimming already; some were climbing on the rock formation to take a high leap and have a good splash and some were riding in the Balsa. The Balsa carries multiple passengers that will go near to the cascading water drops. All you have to do is sit still and let the water fall into your body, consider it a cold and powerful body massage.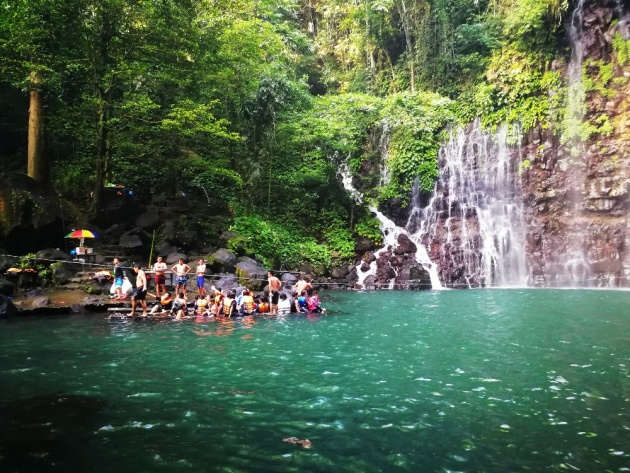 Image Credits: Kneelyrac via Bitlanders
Balsa is the Filipino term for Bamboo Raft.
It was a bit crowded when we went there. It was an expected sight since it's often crowded during weekends, if not always. Luckily, one of our classmates went there first and was able to reserve a table. Our table was placed in between the big rocks. The space allocated for a chair is limited. We only had two chairs so we decided to eat in a standing position.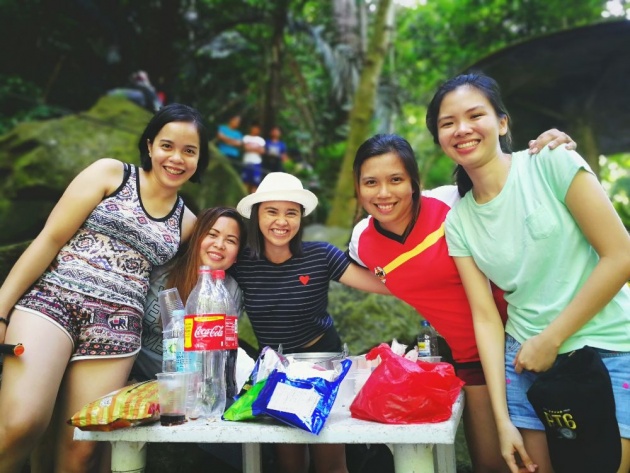 Image Credits: Kneelyrac via Bitlanders
To every non-swimmer, worry not, you can still enjoy the water since you can lend a life vest in the area. After plunging and splashing, you can rinse yourself since the place offers 3 bathrooms and 3 dressing rooms. You can also rinse in the traditional bathing session of Filipino, the big tub and a 'kabo', a spoon-like water vessel with a long handle which is used to pour the water into your body for the bathing session.
THE DISLIKE PART
1. It could have been better if the area has a big trash can for non-biodegradable and biodegradable.
2. I saw a male caretaker who threw the garbage on the streams and let it carried by the current. To think that the discharge of Tinago Falls is directly into the sea.
3. Tourist should know the difference between the dressing room and bathroom or comfort room. A dressing room is intended for you to undress and get dress. It is not a room for you to pee.
EXPENSES BREAKDOWN
From Laguindingan Airport to Iligan City via Bus - 100 Php
From Iligan City to Linamon via bus- 15 Php
From Iligan City to Buruun Jeepney Terminal via Jeepney- 14 Php (Regular Fare), 11 Php (Student/Disabled)
From Buruun Jeepney Terminal to Linamon-Tinago Crossing via tricycle - 7 Php
From Linamon National Highway to Tinago via Motorcycle- 25 Php
Entrance Fee - 30 Php
Tables and Cottages - 50 Php to 100 Php
Life Vest (All Day Long) - 25 Php
Balsa (Unlimited Ride) - 10 Php
CONCLUSION
Amid the parts that I don't like, I still want to visit Tinago Falls again. On my next visit, I would like to climb on the rock formation and take a leap few feet high into the cold water of Tinago Falls.
You can visit my gallery for more pictures. Click here!
You can also check this video from an American Vlogger, Finn Snow.
Video Credits: Finn Snow via Youtube
You can also check my other travel blog:
SIQUIJOR DIARIES: The Mystical Island