By Chauncey Ross | Gazette Staff Writer
The eighth time is a charm — proverbially speaking.
Edward Zellem, a well-traveled U.S. Navy captain originally from Indiana, has won high recognition for his eighth published book, "Zarbul Masalha: 151 Afghan Dari Proverbs."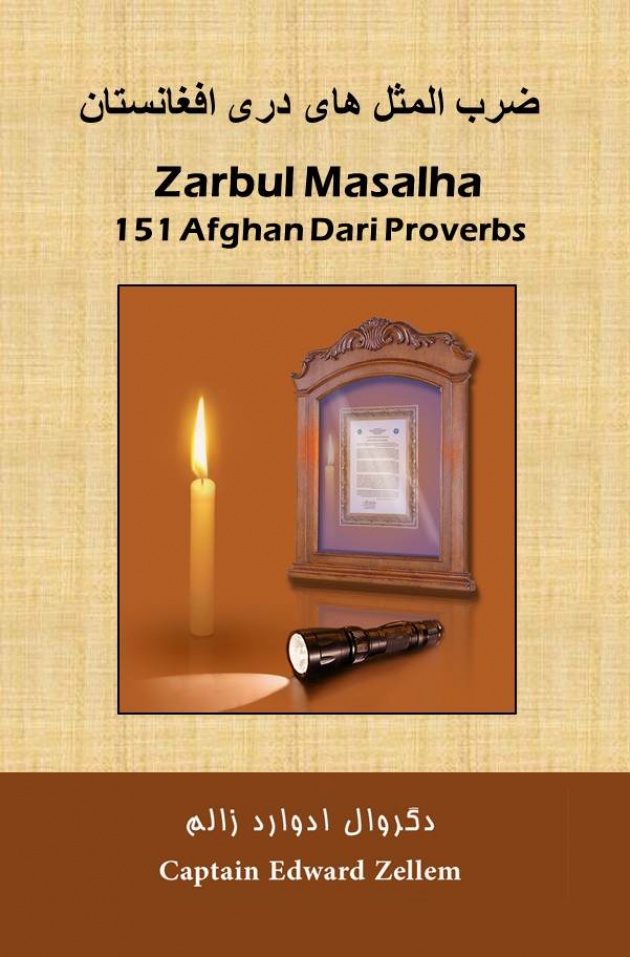 The Military Writers Society of America presented its Gold Medal writing award in the Reference category for Zellem's collection of the wit and wisdom of the Afghan people.
So much has Zellem taken the Afghan culture to heart that he arranged to have the students of Marefat High School, in a poor neighborhood of Kabul, design 50 illustrations for "Zarbul Masalha."
Zellem was immersed in Afghan life while the Navy stationed him in Afghanistan with the task of developing a team of American military and civilian experts in the Dari language spoken by many.
Enamored with the colloquialisms of the Afghan people, Zellem began learning and using their proverbs, compiling lists for his own enjoyment and soon assembling the very best of them for publication.
The volume has been translated into multiple other languages for circulation worldwide, and garnered the MWSA nomination earlier this year.
Zellem's book was announced as the winner at the association's convention Sept. 28 in Dayton, Ohio.
"In my acceptance speech I told the society that I accepted the award on behalf of all Afghans and the high school student illustrators at Marefat High School," Zellem said. "They were all tracking my selection as a finalist and waiting for the results. When I tweeted the announcement it was retweeted all over Afghanistan to tens of thousands."
Next in the works for Zellem is a companion to the Dari language book. He is compiling 151 proverbs used by those who speak Pashto, a second major language of Afghanistan, and he said he is heavily relying on the people there to make the new book, "Mataluna: 151 Afghan Pashto Proverbs," complete.
"I have finished collecting them by online crowdsourcing from Afghans all over the world, and 'Mataluna' is now being illustrated in Kabul by the same school that illustrated 'Zarbul Masalha,'" he said. "I expect it to be published probably in January."
Zellem said the culture has the perfect saying to describe the unique relationship between him and the people who are contributing to this book.
"The proverb I would use is 'Ba yak gul bahaar nameysha,' meaning, 'One flower doesn't bring spring,'" Zellem said. "It means that good things happen by teamwork and cooperation. An English equivalent might be, 'No man is an island.'"
Although a personal project undertaken in his spare time, Zellem said his work has won praise from military and civilian sectors.
The president of MWSA, author Dwight Jon Zimmerman, delivered a copy of "Zarbul Masalha" to the Afghan consulate in New York City, Zellem said.
Media around the world — including publications in Pakistan, Great Britain and Florida, and the Christian Science Monitor — have taken interest in the book and Zellem's passion to gain attention for this sample of Afghan culture.
Incorporating Twitter and Facebook to reach contributors and readers, and to promote the book, earned Zellem an invitation to speak last month at the Afghan Social Media Summit in Kabul, he said.
Zellem appeared via Skype, speaking from his current home in Tampa, Fla.
"At the social media summit, I followed Sulyman Qardash, of Kabul Dreams, the No. 1 rock star in Afghanistan," Zellem said.
"The next big thing will be speaking in Portugal in November, by invitation of the International Association of Paremiology. That is the scientific study of proverbs," he said. "They elected me as a member about a year ago."
Zellem said much of what he gains from the books will go back to the people who made them possible, through charitable contributions aimed at helping to erase illiteracy in Afghanistan and to promote digital literacy.
"Afghans can use all the inspiration they can get right now, and they are justifiably proud that their proverbs are receiving world attention," Zellem said. "This shows our common humanity and that people aren't that different."
The Military Writers Society of America is a nonprofit organization that is the world's largest writer's association dedicated to the military genre. It has the most comprehensive award program for the creative arts with military themes in the world. Its membership includes authors, artists, musicians and poets.
Chauncey Ross - The Indiana Gazette
-----
Published in The Indiana Gazette, October 5, 2013
Reprinted with permission from The Indiana Gazette