Video Credits: Pulpliveworld via Youtube
Music with a beat that can make me dance is the type of music that I want to listen, well, maybe because I love to dance. Aside from that, my old soul is trapped in a young adult body and that is why I love old school music, too. I rarely listen to rock music from the popular Filipino bands. You can tell that I don't like alternative rock, post-hardcore, pop funk, emo, you name it. I don't dislike these genres but it was never really my type to listen to that kind of music that makes my ear wax pops out.
However, I've made an exemption. I'm an anime addict and it's a must to listen to the OST (original soundtrack) to the anime I'm watching amidst the genre. I was able to adapt the loudness and the beat of the music. So, I started loving rock songs, and later on, bumped to One OK Rock because of Rurouni Kenshin Movies.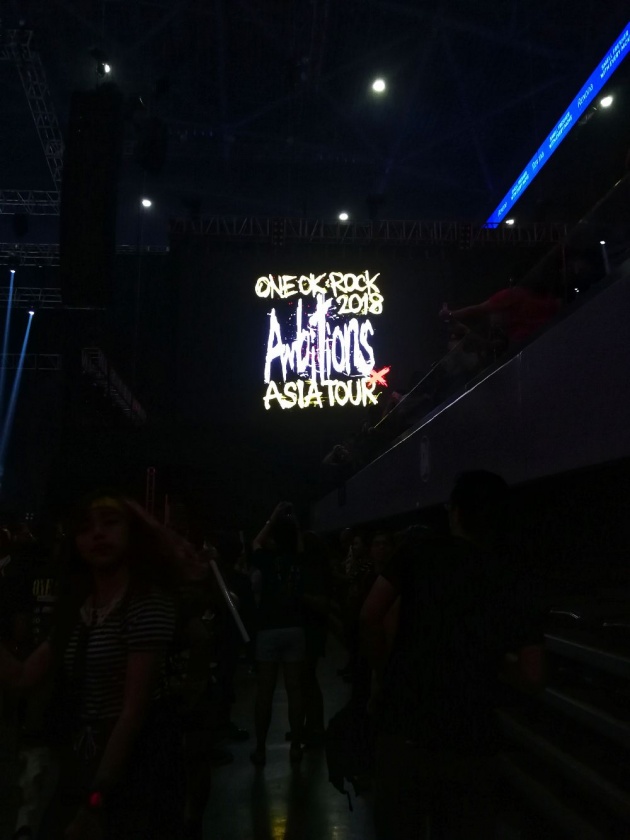 Image Credits: Kneelyrac via Bitlanders
One OK Rock
One OK Rock is a Japanese rock band who sang the official soundtrack (OST) of the Rurouni Kenshin Movies. The band is composed of four members:
Toru Yamashita "Toru"- the guitarist and the band leader
Ryota Kohama "Ryota" - the bassist
Tomoya Kanki "Tomoya" - the drummer
Takahiro Moriuchi "Taka"- the composer and the lead vocalist
The band is also known as OOR and 10969. The band name is derived from one o'clock since they always practice one o'clock in the morning because of the cheaper rehearsal rate during such hours. However, the Japanese Language made no distinction between R's and L's. With that, from One O'clock, it became O'CROCK or O'KROCK which later on, it transformed into OK ROCK.
The band's first Manila Concert, the 35xxxv, was held two years ago and I was sulking at the four corners of my room because I can't attend and same goes to my sister. I restrained myself from opening any social media like Facebook, Instagram, and Twitter.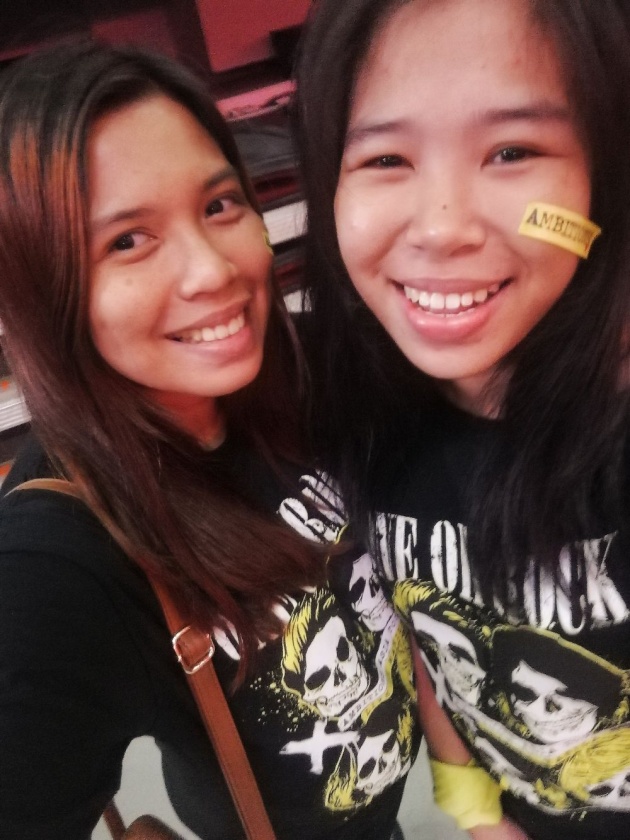 Image Credits: Kneelyrac via Bitlanders
However, my sister said that Taka made a promise and said, "See you next time!". It was a promise that gave me hope that I'll be able to see them perform live. And yes, the see-you-next-time promise was fulfilled last January 29, 2018. It was a dream come true event and I was so hype and wild and ecstatic and at the same time emotional on that night and for the following 4 weeks, I think.
GOING TO THE VENUE
Our grandmother and grandfather can't send us off to the venue. We stayed at the Antipolo, Rizal and it's a bit far from SM Mall of Asia - Arena. It was raining at that time and I instructed my sister to stop pointing high buildings and other things. I don't want others to know that we are from the province (Bisaya). So, we started talking like a Manila girl, you could say that we talked in a conyo way - meaning to talk both in English and in Filipino in a sweet way.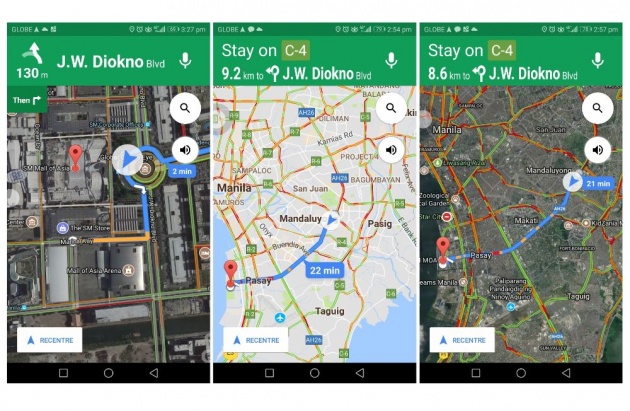 Image Credits: Screenshot via Google Maps
Google Maps was a big help for our Find The Venue Adventure. My mother kept on calling me and asked where are we already and same goes for our grandparents.
BEFORE THE CONCERT
The line started at 4:00 PM and ended at 6:00 PM for the PULP Royalty, Platinum and Gold Ticket holder. There were freebies for the VIPs and merchandise sold on the inside. The merchandise were so expensive, $34.84 for the Shirt, $11.23 for the Bowler wristband and $23.23 for the tote bag. I bought 3 shirts, one for me and for my two sisters.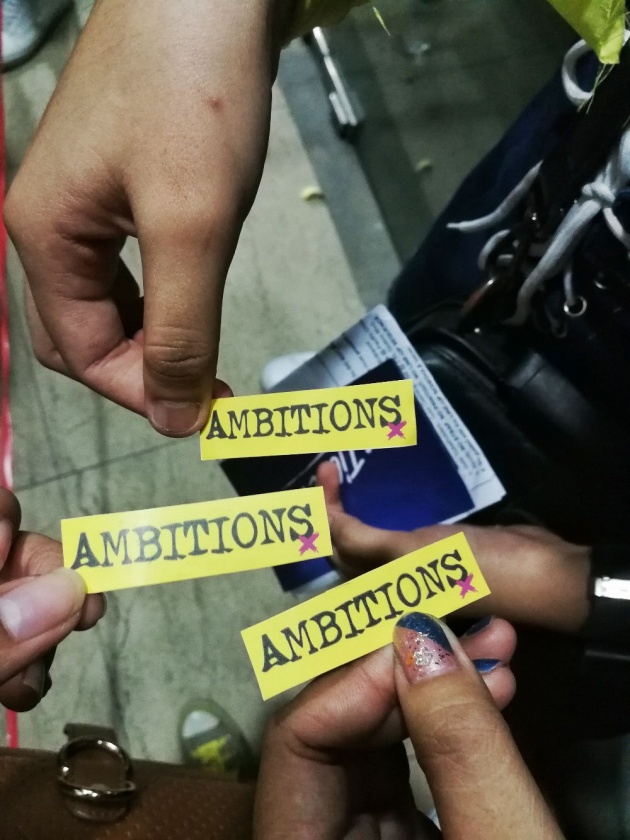 Image Credits: Kneelyrac via Bitlanders
Before the concert started, my sister and I already made friends with our fellow OORockers. We met the OORockers from Pangasinan and decided to separate our ways and was able to gain new friends again while lining up. We were given an Ambition sticker which we put on our face and a pretty girl who looks like Bae Suzy, a Korean Actress, approached and asked me if she can go with me and my sister.
We arrived at the arena a bit late because Maureen, Suzy look-a-like, experienced some technical error wherein her ticket was detected to be void and instructed by the management to wait for a while. We waited for her for 10 minutes. After that, we went straight to the merchandise section and then to the comfort room
We were on the third line and people were super tall but I managed to make ourselves on the front line of the Gold VIP. We also had new found friends and some of them are from Cebu! They had given my sister a one piece of yellow tape while I used the Ambitions sticker cover instead.
ON THE CONCERT NIGHT
I could feel that I'm on the verge of crying even though the staff and crew were still busy checking the sound system. When the white lights turned off and violet shades of spotlight appeared, people were screaming at the top of their lungs and that includes me as well. One OK Rock opened their Ambitions Manila Concert with the "Bombs Away", and the crowd went wild!
This is the end of you and me
And I'm never going back
Before my broken soul begins
To fade to black
It was already an explosive opening, but the bassist, Ryōta, performed a bass solo and then "Deeper Deeper" was played. This song was released on their 2013-14 Jinsei×Boku album. Then it was followed by "Taking Off" (Ambitions) and lastly, "Cry Out" (35xxxv).
That was just the first four songs as an opening number and no one can resist that kind of opening songs. The crowd went wild and there were screaming, singing jumping and headbanging. Then, each member greeted their fans in the Filipino language.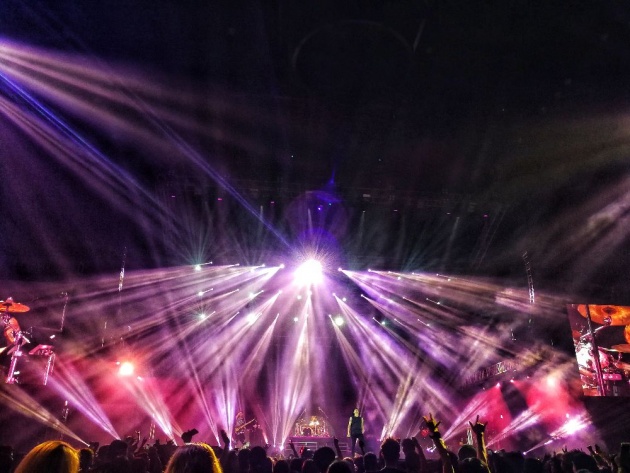 Image Credits: Kneelyrac via Bitlanders
They said that they are all happy to see us and hope that we will enjoy the concert since they prepared it well just for us. Taka was the last one to greet and later he said, "Is this Tagalogo?". And fans all responded, "Tagalog!". They were so adorable in the greeting session and everyone enjoyed and appreciated their greetings in Filipino even though they were having a hard time pronouncing every syllable.
The performance resumed with Toru's guitar solo of "Re: Make" in their 2011 Zankyo Reference Album. I saw him that night as a shining star while playfully and handsomely playing his guitar. After that, it was the "Clock Strikes" played on their Jinsei x Boku album. Taka never fails to amaze me with his impressive vocal range while singing with full emotions. Also, Ryota and Toru never missed a single string even though they were headbanging and spinning and Tomo who never missed a single beat.
What will we have?
Believe that time is always forever
And I'll always be here
Believe it till the end
I won't go away and won't say never
It doesn't have to be friend
You can keep it till the end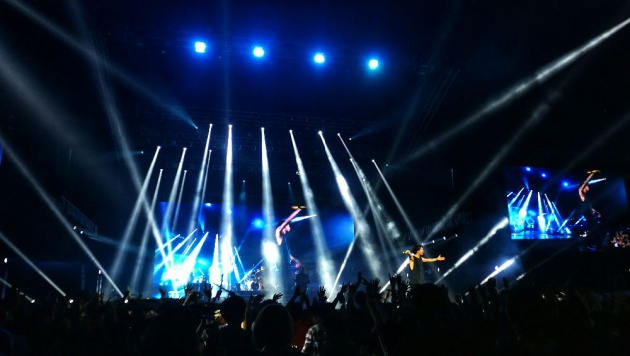 Image Credits: Kneelyrac via Bitlanders
Next was the "Bedroom Warfare" (Ambitions). It was one of my favorite and I was jumping and singing even though my voice is capable of calling a thunderstorm. Then another favorite was played afterward, "Wherever You Are" of their Niche Syndrome Album which was released in the year 2010. And at that moment, I cried. It felt surreal at that time that I was at the MOA Arena and I was watching my favorite Japanese Rock Band performs on stage.
Wherever you are, I always make you smile
Wherever you are, I'm always by your side
Whatever you say, you're always on my mind
I promise you "forever" right now
I was crying because I never thought that this day will come very soon. I was able to regain my composure when "One Way Ticket" was played. I was back on jumping and singing and screaming. Everyone did the same because One OK Rock doesn't really know the word rest and then breathe because Toru, Ryota, and Tomoya gave their guitar, bass and drum solos that will definitely make your mouth form an O. They indeed showcase impressively their talents together with their instrument.
Then another change of beat and Taka, Ryota, Tomo and Toru were headbanging in unison. Taka then sang "Bon Voyage" of their Ambitions Album. Another crying moment happened when I heard the instrumental opening of "I Was King". It's my favorite among the Ambitions song favorites! The background was the animated music video of "I Was King."
When I was king
I was king
We had everything

If I go down
I will go down fighting
I'll go down
Down like lightning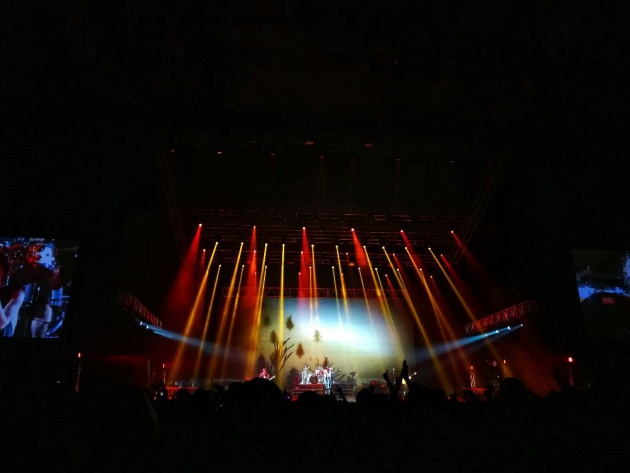 Image Credits: Kneelyrac via Bitlanders
Then, another favorite was played, "Take What You Want", a song of a dying relationship. It was a sad song and Taka sang it really well. The spotlight was on Taka alone and the background instrumental music was super low.
Come and gone, the perfect storm
On and on never ending
Open doors empty arms
Don't look back no pretending

I don't want anything in our broken home
Not the memories or the things we own
Not the picture of us on the wall
So take what you want
He sang the two verse and then stopped singing. He waited for the crowd to be taken over by the silence. It took a couple of minutes and then Taka started singing while the fans turned on again the yellow and red lights. The spotlight was on Taka with the sea of yellow and red lights.
Can you hear me? I'm trying to hear you
Silence strikes like a hurricane
Now I'm singing for you, you're screaming at me
It's hard to see your tears in the pouring rain
Taka told us that only 3 songs left and asked for a countdown with him. And it started with the song that made me love the One OK Rock. It's the popular official soundtrack of Rurouni Kenshin: The Origin, "The Beginning" and followed by "Mighty Long Fall", another official soundtrack of Rurouni Kenshin: Kyoto Inferno. That tandem made the crowd went wilder. The Gold was busy headbanging. I thought my head will going to roll out of my neck or one of my nerves will break.
The Platinum and Pulp Royalty performed the 'wall of death'. Taka gave a sign and the Platinum and Pulp Royalty went sideways giving a big circular space in the front and seconds later, everyone started counting down, in 3, 2, 1 and they ran off to the middle, jumping and screaming with the hands on the air.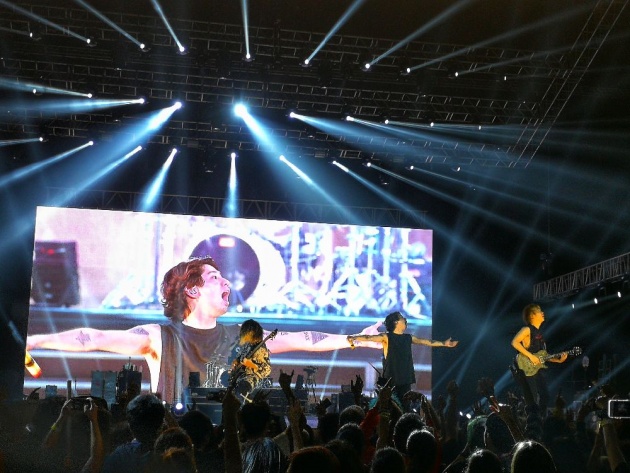 Image Credits: Kneelyrac via Bitlanders
The last song was the 2-week number one song on the MYX Philippines, "We Are". "We Are" conveys the worth of the young generation and their worth is not based on what other people or the society is saying. It's a reminder that you should be proud of who you are and what you are capable of! He then said that we should sing with him if we know the lyrics.
Never tell yourself
You should be someone else
Stand up tall and say
I'm not afraid, I'm not afraid
So never tell yourself
You should be someone else
Stand up tall and say
I'm not afraid, I'm not afraid
Then the lights went off and the band members left the stage. Since it was my first time attending a concert, I misheard what the other fans were shouting. Yellow and red lights were turned on while shouting, "Encore! Encore!" and what I shouted was "One More! One More!"
As expected, the band returned to the stage and played with the upbeat "American Girls". Taka was so cool. Then the instruments stopped playing and Taka changed the lyrics to, "Come and break my heart, you Filipina girls!" and Taka was smiling as those eight words come out in his mouth. Of course, there was a big uproar from all of the lioness including myself.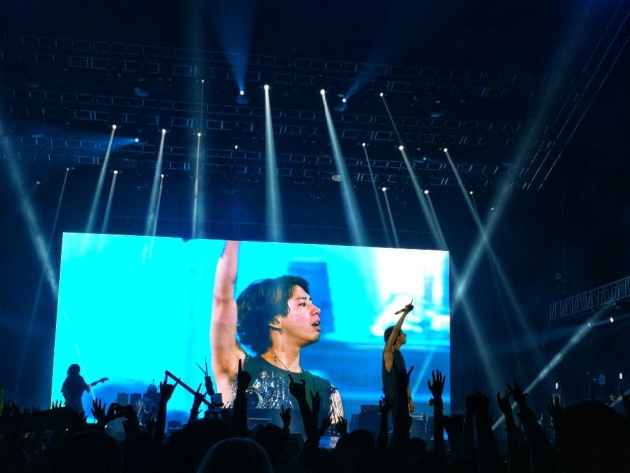 Image Credits: Kneelyrac via Bitlanders
For the finale was the "Kanzen Kankaku Dreamer" of their Niche Syndrome Album. It was a perfect song to end the show since it led the fans to the highest peak of the mountain. And as the music ends, we all clapped our hands! One OK Rock deserved it. The four went on the stage again carrying some stuff to be thrown to the crowd excluding Taka. Toru threw personalized guitar picks, Ryota threw the towels which said to be the towel they had used on that night to wipe their faces and Tomoya threw a pair of drumsticks! Then, the band picked the banner made by Philippine One Ok Rockers in which lots of fans expressed and jotted down their sweet messages to the band.
Taka, Ryota, Toru, and Tomoya gave their fans a long and deep bow while fans were giving them the loudest clap their while screaming the name of their favorite band member. Tomoya shouted, "Mahal Kita." and then Taka said this, "See you soon!", and we all shouted with joy!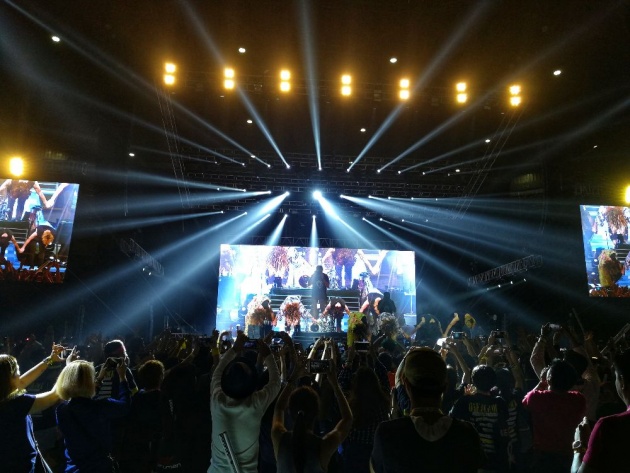 Image Credits: Kneelyrac via Bitlanders
TICK IT OFF ON THE BUCKET LIST
I never thought that this day would come that I will be able to see and hear them perform live. Just thinking about it made me feel that I've been blessed. God helped me to make one of my dreams come true. I will always remember those ecstatic feelings and excitement I've experienced on that night. It's definitely worth to remember. And this wouldn't be possible without Bitlanders and Steemit as my two part-time jobs. Now I've mentioned in my Bucket List blog that even if I'm in the farthest seat, I will still be very happy to see them perform live. However, I was able to purchase a Gold Ticket, a VIP 2 ticket. I actually wanted to purchase Platinum Ticket but my mother was furious when she learned that I wanted to buy a ticket worth $166 each. Plus, my grandmother was beside me when I bought one so yes, I behaved accordingly.
Video Credits: Fueled By Ramen via Youtube
-----------------------------------------------------------------------
ATTEND ONE OK ROCK CONCERT CHECK!
-----------------------------------------------------------------------
You can check some of the pictures I took during the concert.
One OK ROCK Ambitions Tour 1

One Ok ROCK Ambitions Tour 2
-----------------------------------------------------------------------
THANK YOU FOR READING!