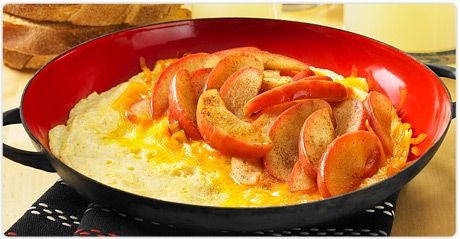 Ingredients
1 tbsp unsalted butter
2 gala apples (or other small sweet red apples), peeled, cored, and sliced into 1/2-inch pieces
1 tsp ground cinnamon
1 tsp light brown sugar
sea salt
freshly ground black pepper
4 large eggs
2 tbsp olive oil, divided
2 tsp chopped fresh herbs (such as basil, rosemary, oregano, and/or parsley), plus more for garnish
1/2 cup shredded provolone cheese (or other mild, creamy white cheese such as mozzarella or muenster)
Preparation
Heat a small nonstick skillet over medium heat and add the butter. When the butter has melted, add the apples, cinnamon, and brown sugar and season with salt and pepper. Stir well to combine.
Reduce the heat to low, cover, and cook until the apples are very tender, about 20 minutes. Remove from the heat.
Meanwhile, whisk 2 eggs in a small bowl. Heat a 9-inch nonstick skillet over medium heat and add 1 tablespoon of olive oil. Swirl to lightly coat the entire surface.
Pour the whisked eggs into the skillet and gently tilt it back and forth for even spreading. Season with salt and pepper. While the eggs begin to set, whisk the other 2 eggs in the same small bowl.
Tilt the skillet to check for firmness in the eggs after about a minute. The bottom should be fairly set while the top should jiggle a bit without being too runny.
Sprinkle 1 teaspoon of chopped herbs over the entire surface of the eggs. Top 1/2 of the eggs with 1/2 of the cooked apples, spreading the pieces to flatten a little. Sprinkle 1/2 the cheese over the apples.
Slide a spatula carefully beneath the other side of the eggs and fold over. Press down the omelet gently with the spatula to flatten and to finish melting the cheese and setting the eggs.
Slide the omelet onto a plate and keep warm. Add the remaining 1 tablespoon of oil to the skillet and repeat with the remaining eggs, herbs, apples, and cheese.
Plate the omelets and garnish with herbs. Serve right away.