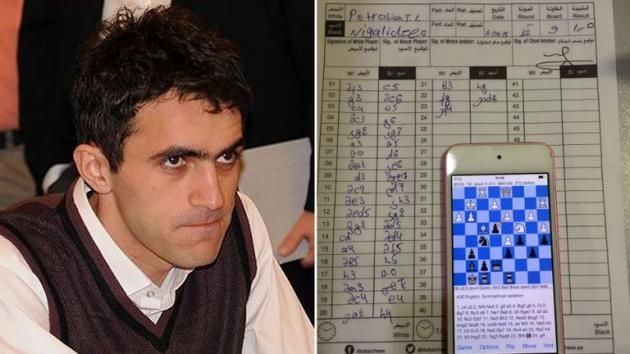 Sky News - Chess Grandmaster Used Phone In Toilet To Cheat
A chess grandmaster has been thrown out of an international tournament after he made repeated trips to the toilet to allegedly check tactics on a mobile phone he had hidden inside a cubicle.
Gaioz Nigalidze, the current Georgian champion, was expelled from the Dubai Open for using his smartphone in a match against Armenian grandmaster Tigran L Petrosian.
He faces a ban of up to 15 years.
British former world title contender Nigel Short said Nigalidze "should be stripped of his GM (grandmaster) title and banned immediately".
He called for the World Chess Federation (FIDE) to tighten up rules, and questioned on Twitter whether it should introduce "mandatory two-year bans for computer cheats".
Two-time national champion Nigalidze was exposed when Petrosian grew suspicious about his frequent trips to the lavatory during Saturday's sixth-round match.
Tournament officials found Nigalidze had hidden a mobile phone in a cubicle, covered in toilet paper.
The Dubai Chess and Culture Club announced its decision to expel Nigalidze on Sunday morning.
It issued a statement on its Facebook page, along with a picture of Nigalidze's phone and an official game sheet of moves.
"When confronted, Nigalidze denied he owned the device," it said.
"But officials opened the smartphone and found it was logged into a social networking site under Nigalidze's account. They also found his game being analysed in one of the chess applications."
Petrosian told the Daily Telegraph: "Nigalidze would promptly reply to my moves and then literally run to the toilet.
"I noticed that he would always visit the same toilet partition, which was strange, since two other partitions weren't occupied.
"I informed the chief arbiter about my growing suspicions and asked him to keep an eye on Gaioz.
"After my opponent left the very toilet partition yet another time, the arbiters entered it.
"What they found was the mobile phone with headphones; the device was hidden behind the pan and covered with toilet paper."
When questioned about the offence, Nigalidze said: "Not everything is true in what Petrosian said."
It is not the first time a player has been caught cheating at a chess tournament.
In July 2013, Bulgarian player Borislav Ivanov was suspended for four months after officials found most of his moves matched those of the top computer chess programmes.
In 2008, at the Dubai Open, an Iranian player was banned after he was found receiving help via text messages.
Computers became powerful enough to outwit the world's top chess players nearly 20 years ago.
In 1997, Garry Kasparov became the first reigning world chess champion to be beaten by a computer under tournament conditions.
source : sg.news.yahoo.com/chess-grandmaster-used-phone-toilet-cheat-101217306.html#k2XgvCx