CHICKEN FRIED RICE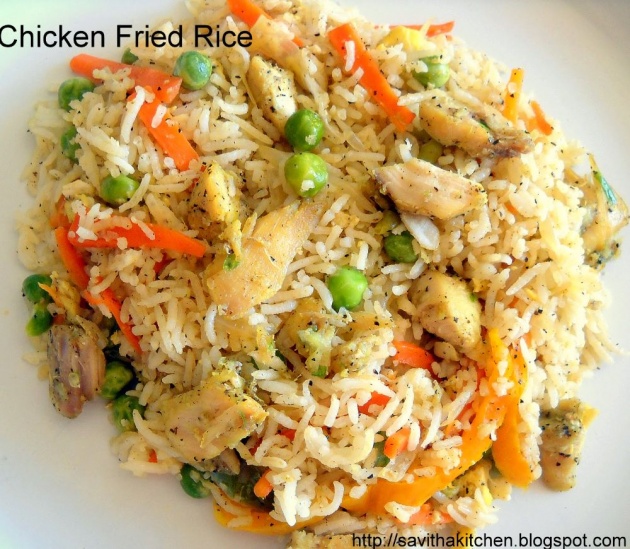 Today I will share the most favorite chicken fried recipe with you.Try this and enjoy.
INGREDIENTS
Rice: ½ kg (boiled)
Egg: 2
Chicke:n 100 gm (boneless, boiled)
Spring onion: 2 (chopped)
Cabbage: ½ (chopped)
Carrot: 2 (small, chopped)
Peas: ½ cup
Capsicum: 2 (chopped)
Soya sauce: 4 – 5 tbsp
White vinegar: 4 tbsp
Black pepper: ½ tsp
Chinese salt: ½ tsp
Salt to taste
Oil

HOW TO COOK

First of all take a pan and add 1 tsp oil in it and fry the eggs.Then make small pieces of fried egg.
Now heat the remaining oil and fry chicken, cabbage, carrot, capsicum, spring onion and peas for atleast 2 minutes.Then add white vinegar, soya sauce, black pepper, chinese salt and salt it. Cook it for 2 minutes.
Then combine rice with fried eggs.Cook it for a while.
Then add the fried mixture in rice and steam it.
Delicious chicken fried rice is ready.
Garnish it and serve to your loved ones and enjoy.