CHICKEN MANCHURIAN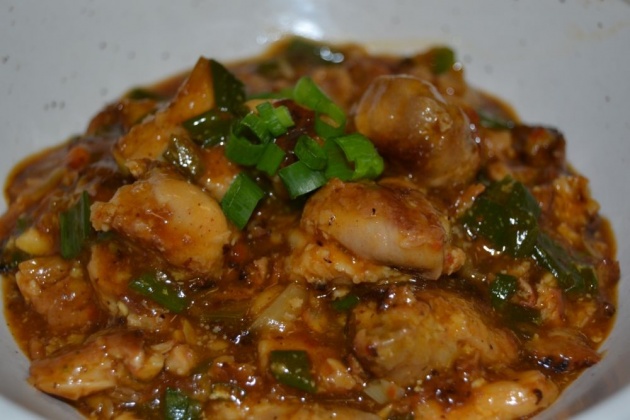 Today I will share with you how to make delicious chicken manchurian.

INGREDIENTS
The ingredients which you will need for chicken manchurian are:
Boneless Chicken (cubed): 1 kg
Salt: as per taste
Garlic Paste: 1 tbsp
Whole Red Chillies: 4-6 (crushed)
White Pepper Powder: 1 tsp
Vinegar: 2-3 tbsp
Soya Sauce:4 tbsp
Chilli Sauce: 2 tbsp
Sugar: 1 tsp
Chinese Salt: 1 tsp
Tomato Paste: 1/2 cup
Tomato Ketchup: 2 tbsp
Stock: 2 cup
Cooking Oil: 4-6 tbsp
Corn Flour: 2 tbsp (mixed with 5 tbsp stock)
Carrot (julienne): 2 tbsp
Capsicum (julienne): 2 tbsp
INGREDIENTS FOR MARINATION:
Salt: to taste
Vinegar: 2 tbsp
Soya Sauce: 2 tbsp
Sugar: 1/2 tsp
FOR GARNISHING:
Spring Onion (chopped): 2 tbsp

HOW TO MAKE
First of all take all the marination ingredients and marinate the chicken.Keep it for at least half an hour.Then take a pan and heat oil in it on high flame.Saute garlic paste in it and add chicken.Fry the chicken on high flame till color changes and remove it from the pot.Then heat a little oil in the same pot and add tomato paste, chilli sause, ketchup, soya sauce, vinegar, sugar, chinese salt, crushed chillies and white pepper to it.Bring it to a simmer and add in stock.Now add chicken, capsicum and carrot.Then add corn flour paste in it while mixing.Simmer it till the gravy becomes thickened.Turn off the flame and add spring onions in it.
Delicious chicken manchurian is ready.Serve hot with boiled rice to your loved ones and enjoy.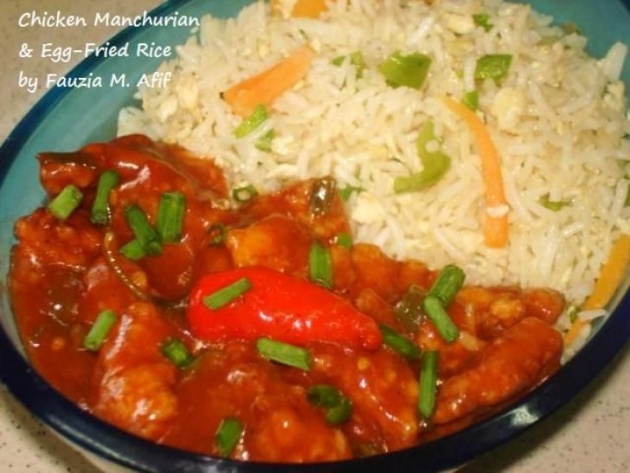 Thank You.

Written by : BRIGHT AQUA