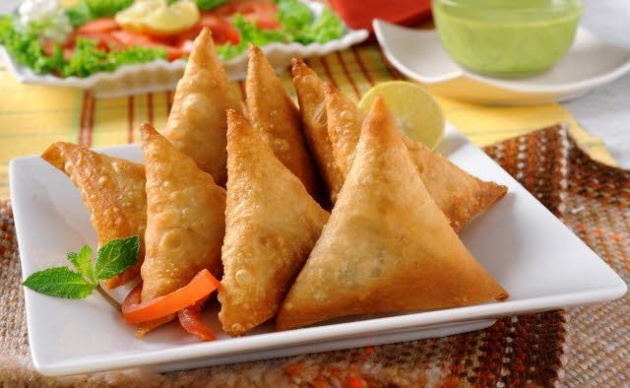 Ingredients
Serves:
18
2 large potatoes, peeled and cubed

1 cup frozen carrots and peas, thawed

2 tablespoons vegetable oil

1/2 teaspoon cumin seeds

2 large onions, finely chopped

500 gm minced chicken

4 cloves garlic, crushed

1 tablespoon curry powder
1/2 teaspoon ground black pepper
1 1/2 teaspoons salt
2 tablespoons chopped fresh cilantro
1 quart oil for deep frying
1 (16 ounce) package phyllo dough
Directions
Prep:
20

min › Cook:

20

min › Ready in:

40

min
Bring a medium saucepan of lightly salted water to a boil. Stir in potatoes and frozen vegetables . Cook until potatoes are tender but still firm, about 15 minutes. Drain, mash the potatoes and mix in the carrots and peas and set aside.
In a large saucepan over medium high heat, heat the oil. Brown cumin seeds, add in onions, garlic and minced chicken. Stir until chicken is cooked and onions are soft, about 5 minutes. Season with black pepper, salt and curry powder . Stir in the mashed potato mixture. Remove from heat and chill in the refrigerator for 1 hour, or until cool.
Heat oil in a large, heavy saucepan over high heat.
Mix chopped cilantro into the potato and chicken mixture. Place approximately 1 tablespoon of the mixture onto each phyllo sheet. Fold sheets into triangles, pressing edges together with moistened fingers.
In small batches, fry until golden brown, about 3 minutes. Drain on paper towels and serve warm.