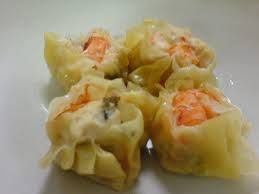 This Chicken Siomai recipe is a variation of pork siomai or shaomai. This recipe makes use of lean ground chicken plus additional vegetables and seasonings.
Are you a fan of siomai? If you are, I am certain that you will love this recipe! Those who don't like siomai will think twice after trying this recipe and can eventually get hooked-up.
This Chicken Siomai is really good! As long as you follow the recipe without adding or subtracting any ingredient — you'll see what I mean. This goes well with ponzu or toyomansi.
I used my ever dependable 3-Piece Bamboo Steamer to make these delicious Chicken siomai. The steamer is very convenient and easy to use. I also like using this tool that I use to make puto and siopao.
Try this Chicken Siomai Recipe. Let me know what you think.