Child labour is a reality in Afghanistan.Poverty, community pressure and lack of awareness about education are main factors contributing to child labour. The age of children is defined from 5-14. More than 25% children in Afghanistan are at high risk of leaving school and being forced to work.
Childhood is the most innocent age stage in human life.It is that phase of life where one is free of tensions, love playing and enjoy new things, and is the sweetheart of the family.but in Afghanistan, it is quite opposite. Children are forced to work to earn money for their family.According to UN children,s fund(UNICEF), 24% percent of Afghan children are working in different places.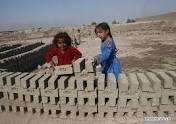 Poverty has been regarded as main contributor to child labour.In Afghanistan, more than 9 million(36% of the population) lives under absolute extreme poverty. Government has failed to provide them with jobs.Hence forcing parents to send their kids to work and earn money rather than sending them to get education and learn something new.
Beside poverty, there are few other factors that are contributing to child labour.Lack of employment, high cost education,lack of enforced laws etc are also forcing kids to work rather studying. In Afghanistan, laws are made but they are not implemented.Kids are forced to work under poor working conditions with low pay.Strong laws are needed to be made and implemented.
Moreover, unemployment is one another contributor to child labour.Big size families and low income is not enough to feed family.so parents force their kids to work and bring money to home.There is lack of awareness amongst Afghan parents. Learning skills is considered important than sending their kids to school and get education.
Child labour is growing concern for authorities and government of Afghanistan. It is time to take serious steps and save future of bright Afghans.Education should be provided free of cost and most importantly awareness should be created.Those parents sending their kids to work should be punished and laws should be made strong to counter this growing problem.