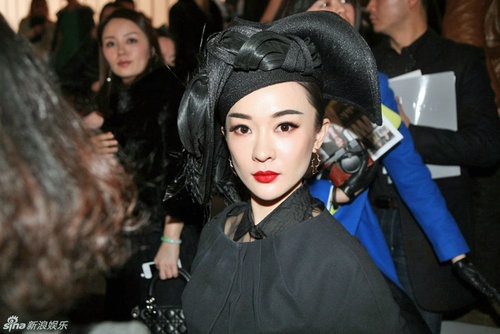 Tuesday March 06 2012, I found this info on line that I want to share with you ,about China's passion for fashion on show in PARIS ... very interesting !
-
Chinese stars dot the front rows,
a new
designer
from the country joins the runway calendar, and its retailers scout the city for talent: China's love affair with style is on full view at Paris Fashion Week.
Huo Siyan at Dior's catwalk show
, paparazzi clustered around after the Dior show poring over a hand-out from the company, matching names to the faces of
the Chinese celebrities they had just snapped. T
hough totally unknown in Paris, these young women -- t
he actresses Huo Siyan,
wearing a stand-out plumed hat,
Li Xiaolu or Lin Peng --
were clearly the stars of the day, dressed to kill with a buzz of security agents around them. And their presence signals a shift in a increasing
high-end fashion industry turned
towards the booming country. Home to more billionaires than anywhere except the United States,
China's luxury market is forecast by McKinsey & Co to soar to 27 billion dollars by 20
15 -- one fifth of the world total -- up from 10 billion dollars in 2009.
"It is a country that is passionate about fashion, like all emerging nations where appearance is of the utmost importance," Didier Grumbach, head of France's fashion federation, told AFP at a "China in Paris" cocktail party last week. Held since 2010 on the sidelines of Paris Fashion Week, the event aims to build bridges between China and the world's fashion capital.
"Ten years ago we didn't have any Chinese citizens in our industry," Grumbach told the gathering, as he introduced some of the figures who are developing the fashion business inside China. One of these is William Zhao, chairman of the COPAIS industrial group, which is setting up a network of multi-brand designer stores in China. While five European brands -- Dior, Louis Vuitton, Chanel, Gucci and Armani -- currently lead in the Chinese marketplace, according to consultants Bain and Co, Zhao was on the look-out while in Paris for less-known designers. "I think it is just the beginning for the luxury industry in China," Zhao told AFP. "We are targeting the richest 10 percent of the population -- and these people want novelty." -
-. So far three of the designers are working with Paris showrooms, said Zhao, who believes that "for social and economic reasons, people are paying a lot more attention to fashions coming out of China."
The 30-year-old Chinese designer Masha Ma showed her work as part of the event two years ago, but later decided she would rather go it alone. "I want people to come to my show, and judge the clothes in a fair way, not because of a Chinese connection," she told AFP
. "I'd like to contribute to changing the notion of low-grade 'Made in China'," she said. "I think it's an approachable goal" ~
And this is just the beginning... !!!!