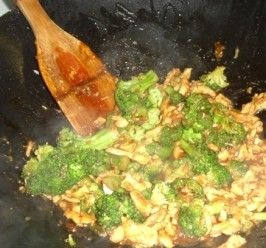 Ingredients:
Directions:
Pound sliced meat strips with the back of the knife until tender. Set aside.

Combine cornstarch and rice wine.

Add meat to cornstarch and rice wine mixture and marinate for at least 30 minutes.

Combine Kikkoman soy sauce and sugar. Set aside.

In the meantime, cut the broccoli into small florets, cutting the small stems diagonally; discard the big stalk.

Heat oil in a wok over medium flame.

Stir fry marinated beef; keep stirring until it changes color, but only until it's half done (half color).

Add onions and the kikkoman with sugar mixture.

Add the broccoli and oyster sauce; keep stirring for 5 minutes or until cooked; while adding also a pinch of baking soda to the broccoli.

Add 1/4 cup water and stir fry for another minute.

Serve warm.