Chinese fishing nets
In the image you can see a Chinese fishing net.
One can see such nets in the backwaters in our state.
These nets are placed in locations where fishes are expected in large numbers.
I do not know how these nets came to be called so or how it came about here but our state is a coastal state and fishing has always been a part of the livelihood of the people here.
I took this photograph while going to town last week.
Fishes also migrate and these nets help catch it in large numbers.
Our state also exports fishes to other states and countries.
Have you seen such nets in your areas?
Did you know that fishing helps you in meditation and concentrate well?
it is also a stress reliever.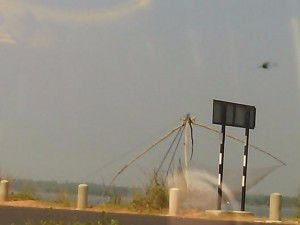 written earlier for cgp gallery
image source : author