Chitrangada Singh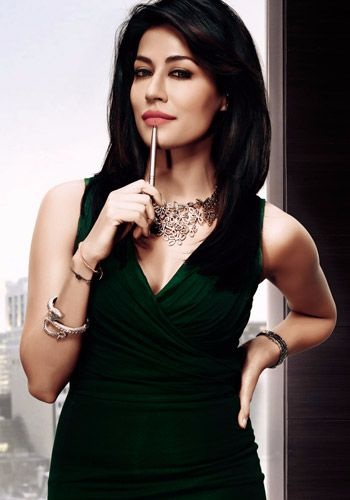 Name: Chitrangada Singh
Born: 28 March, 1976
Zodiac: Aries
Marital Status: Married to golfer, Jyoti Singh Randhawa.
Trivia: Chitrangada's brother Digvijay Singh is well known golf player.
Biography: The dusky beauty is one of the talented actress Bollywood has today. Chitrangada launched in the industry with Sudhir Mishra's social and political drama, Hazaaron Khwaishein Aisi (2003). Her performance as the protected yet unsettled Geeta Rao won her admiring reviews and several debut awards of the year in the Promising Female category. Originally a model from Delhi, Chitrangada worked in several advertisement campaigns and music videos before plunging into Bollywood. Often called Sudhir Mishra's muse, Shekhar Kappor appreciated Chitrangada for having "outdone Smita Patil". She worked in 2005's Kal: Yesterday and Tomorrow, following which she took a short break. She reappeared with Onir's Sorry Bhai (2008) starring alongside Sanjay Suri and Sharman Joshi. The film failed to create any ripples. But she bounced back with Sudhir Mishra's Yeh Saali Zindagi and the commercially successful Desi Boyz in 2011. She shared screen space with Akshay Kumar, John Abraham and Deepika Padukone in her first ever commercial venture.
Presently, she has performed on the raunchy item song, 'Kaafirana' from Shirish Kunder's 2012 comedy flick, 'Joker' with Akshay Kumar and Sonakshi Sinha in the lead. An active supporter of animal rights, she recently did an advertisement for PETA. She is currently working on projects like 'I, Me aur Hum' and Sudhir Mishra's under production, Inkaar. She would also pair up with Arjun Rampal for Sudhir Mishra's Lucknow based political thriller 'Mehrunissa'.
Chitrangada has many commercials like Garnier, Airtel, Puma, Aliva Crackers, Parachute and Borges Olive Oil in her kitty.
Turns Producer
The Desi Boyz actress, Chitrangada Singh is keen on producing a sports-based film. Though she isn't willing to reveal much about her plans, she told, "I'm working on something and I'm excited about that. I'm putting things together... the kind of thing I want to work on." She would be seen in Akshay Kumar's upcoming film Gabbar Is Back where she has done a special number.
Career
Chitrangada Singh has started her career with modelling in Delhi. She has done few music videos like Gulzar's 'Sunset Point' and many more. During her modelling days, she has done ads for brands like Alukkas Jewellery and ICICI bank, Taj Mahal tea and Garnier. She has made her debut with Sudhir Mishra's film Hazaaron Khwaishein Aisi in 2003. She made her debut as an item girl in Shirish Kunder's Joker. She took a break from acting from 2005 to 2008. In 2008, she made her comeback with the leading role opposite Sanjay Suri in the director Onir's romantic-comedy, Sorry Bhai! followed by Sudhir Mishra's movie Yeh Saali Zindagi (2011), Rohit Dhawan's Desi Boyz and many more.
Marriage/Husband
Chitrangada Singh was married to golfer Jyoti Singh Randhawa and has a son named Zorawar Randhawa. The couple separated in 2013 and then formally got divorced in April 2014. Zorawar's custody has been granted to Chitrangada.


Upcoming Movie
The charming actress Chitrangada Singh has been roped in Prawaal Raman's upcoming film. The director is planning to make a film on Dr. Ajoy Kumar, who is a doctor-turned-cop-turned-politician. He has choosen the dynamic actor Randeep Hooda as the main lead and Chitrangada will play his wife as Reena.
Babumoshai Bandookbaaz
Chitrangda Singh will be seen playing a cobbler in Kushan Nandy's Babumoshai Bandookbaaz film. She is also learning Bengali as she has to mouth dialogues in that language for the film. It is an action thriller and is to be shot in the badlands of West Bengal, including Purulia and Burdwan, which is famous for its red soil. Chitrangada is key to the film and like everybody in the movie.
Chitrangada Singh is an Indian actress who is popular in bollywood. She is best recognised for her performance in Hazaaron Khwaishen Aisi and for her first mainstream commercial film, Desi Boyz. She is the brand ambassador of Parachute, Airtel, Puma, Garnier, Taj Mahal Tea, Aliva Crackers, Joyalukkas Jewellers, Borges Olive Oil, Tanishq and Burberry Store. Now she will soon be seen in upcoming movie Gabbar Is Back.
Biography
Actress Chitrangada Singh was born on 28 March 1976 in Meerut, India. She belongs to an Army Family and was named after Chitrangada, a character in the Mahabharata, by her mother. She has two siblings, Tina and her brother golfer Digvijay Singh. She is very fond of dancing and also has received formal training in Kathak, a form of classical dance. She was married to Jyoti Randhawa who is a professional Indian golf player.