Something in a jar is always popular nowadays. Why not have a Chocolate cake and Cookies and Cream Ice cream (or just plain vanilla ice cream) in a jar?
Chocolate Cake and Ice Cream in a Jar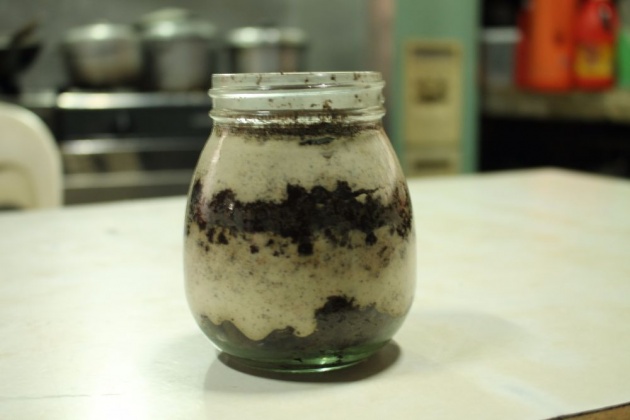 When we say dessert, the first few things that usually pops out of our mind are chocolate, ice cream, and cake. Why not have all of them in a jar? make a dozen of them and even keep them in a fridge to be eaten whenever you feel just like it.
For the Chocolate cake.
You can use a spare cake but its better to use a moist cake or a chocolate brownie but I used a pack Cindy's Chocolate Cake bites and mashed then layered them in the jar. Easy-peasy. If you have an extra chocolate cake, that will do as well. Just cut them to tiny pieces for easy pressing and layering.
For the Ice Cream.
I just used 2 cartons Nestle all purpose cream, 1 small can condensed milk, vanilla essence oil, and you can optionally add cookies/oreos to make it cookies and cream Ice cream. Just whip up the cream in a cold bowl. I usually put it under a bigger bowl or a colander and fill it with ice and water. The cold will help firm up the cream until firm enough to make an ice cream. Be careful not to overdo it or it will fall apart. Finally, Add in the condense milk and vanilla essence to taste ad whip slightly until evenly distributed.
An easier option would be to buy your ready made favorite ice cream.
Finally Layer the Cake and Ice Cream - Cake, Ice Cream, Cake, Ice Cream, Cake, Ice Cream.
Be sure not to leave spaces between the glass and the brownie. It is also better to freeze the ice cream a bit before adding in the mixture.
Leave it in the fridge and voila! There you have it! Your very own supply of cake and Ice cream in a jar. of course you can use other flavors as well.
Don't be afraid to try it! I'd like to hear from you guys soon!
The recipe is just for one jar.