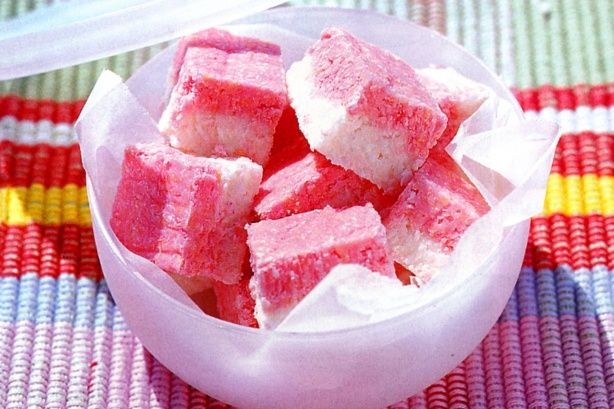 Ingredients:
Procedure:
Line a square 20cm (base measurement) cake pan with non-stick baking paper, allowing it to overhang the sides. Melt the copha in a small saucepan over low heat. Remove from heat and set aside for 10 minutes or until cooled to room temperature.
Combine the coconut and icing sugar in a large bowl. Add the copha, egg white and vanilla extract, and stir until well combined. Divide coconut mixture in half. Press half the coconut mixture over the base of the prepared pan.
Add the red food colouring to the remaining coconut mixture and stir until well combined and evenly coloured. Spread the pink coconut mixture over the mixture in the pan and smooth the surface. Cover with plastic wrap and place in the fridge for 1 hour or until set.
Remove the coconut ice from the pan. Use a sharp knife to cut into 16small squares to serve.
You can make the coconut ice up to 1 day ahead. Store in an airtight container out of direct sunlight. Copha is a solidified coconut oil that gives recipes a subtle coconut flavour.
----------