Coke Studio (Pakistan)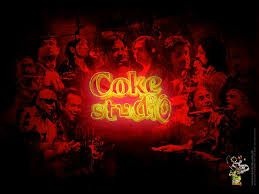 Coke studio is music television series of Pakistan featuring live studio music performances of different artists.Rohail hayat produced this show untill season 6,and now producing by Pakistani band named string,and sponsered by coca cola Pakista.This music series is started in 2008 and popular around all over the country.
Coke studio focuses on classical, folk, qawwali, bhangra,sufi and hiphop,rock and pop music.It provide a plateform for renowned upcoming and less stream artists of various region and languages.On 8 June 2008 its first season start,now currently it's 8 season is running successfully.File for mp3 and video is available on youtube of each song.Coke studio has its official channel on you tube you can watch video also from there.
History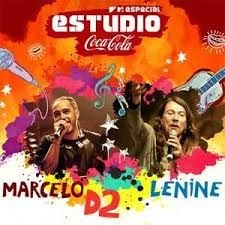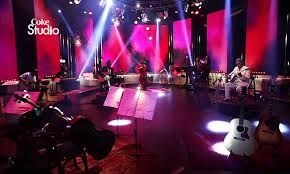 The concept of program is taken from a Brazilian show named as Estúdio Coca-Cola which first recorded on Mtv Brazil in March 2007.The format of the program is totally different from origional Brazilian format.In brazil performances are based on concert style,However in Pakistan it's held in a close studio.
International fame

Becoming a successful music show in Pakistan after its first launch ,coke studio now become an international music show franchise.The show has large fan following in India.Following success in Pakistan the show is launched in India having similar format as of Pakistani Coke studio.Indian version is produced by MTV India in partnership with Red Chillies Entertainment.Arab version of show is launched in april 2010 named as Coke Studio Bel 3arabi.Episodes of coke studio are recorded at Studio 146, located in the Korangi Industrial Area of Karachi.

chart of artists which have performed at Coke Studio since 2008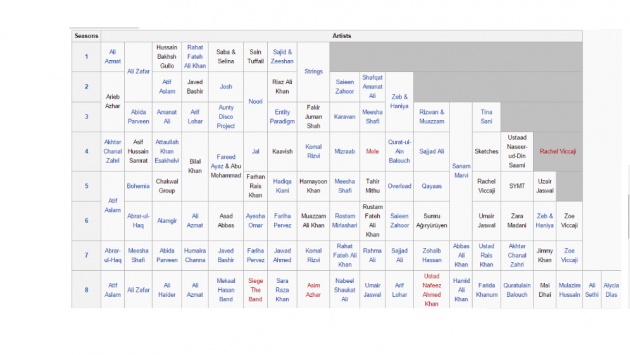 Coke Studio Pakistan (Season 1)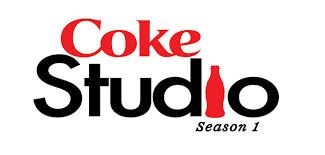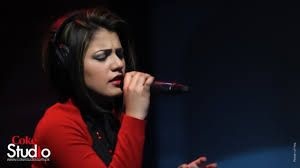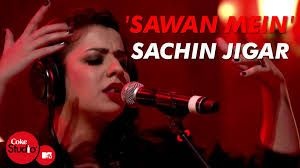 First season of coke studio start in February 2008 and ends in April 2008.Show is produced by Rohail Hayat and coca cola.Rohail hayat and amber hayat are the producer of coke studio,other production members are Natasha De Souza, Nofil Naqvi and Naseer-ud-din Wasif.
Artist peromered in first season are Rahat Fateh Ali Khan, Ali Azmat, Ali Zafar, Ustaad H. B Gullo, Saieen Tufail Ahmed, Strings, Sajid & Zeeshan, Saba & Selina and Mauj.Coke studio has its own home band with some high profile musician including,
The first episode of Coke studio is on aired on 8 June 2008 the 2nd one is on aired on 29 June,show came to an end on 4th August 2008.

Coke Studio Pakistan (Season 2)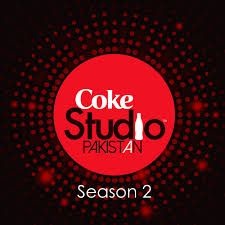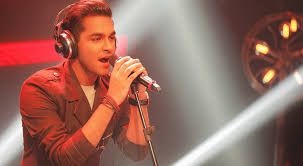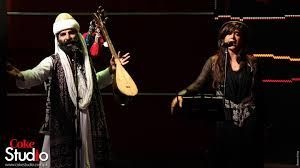 Coke studio 2nd season commenced on 4th June 2009 and ended on 14th of August 2009 on Pakistan's day.There is noteable differnce in 2nd season of coke studio from the first season,live audience were excluded and series ran more longer than 1st season.In 2nd season contain's 5 episode and 5 performances in each episode as well.Rohail and Amber were again the producer of show.The number of house band musician were also increased in this season.
Some well known musician are included in this season,sitar player Rakae Jamil, flutist Baqir Abbas, sarangi player Gul Mohammad, Gupreet Channa on tablas and Sadiq Sameer playing the rubab and singer like Ali Zafar and Strings performing performing for 2nd time in coke studio.Each episode assigned individual name which are Individuality, Harmony, Equality, Spirit and Unity respectively.

now I am coming to its 8 and last season.
Coke Studio Pakistan (season 8)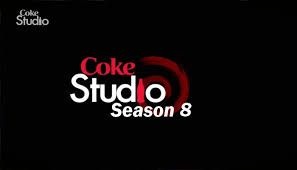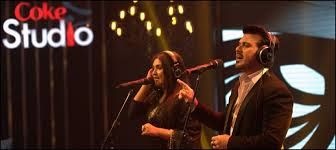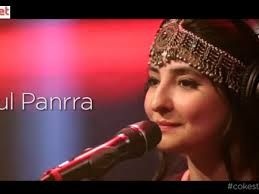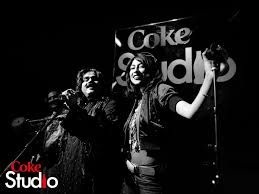 Pakistani music television series Coke Studio 8th season commenced in 16th August 2015 and was ended on 4th October 2015.This show telecasted weekly on every sunday across the Pakistan.The season was given a tagline of The Sound of Nation.This season is produced by Pakistani band String .
In this season a rumours was made that Rohail Hayat will be back as producer,but he denied .Musician served as house band are Omran Shafique on guitars, Kamran Zafar on bass guitars, Zeeshan Parwez on keyboards and turntables, Louis 'Gumby' Pinto on drums,some other member of this house band are Saba Shabbir, Athar Sani and Selina Rashid on backing vocals along with Babar Khanna, Zulfiq 'Shazee' Ahmed Khan and The Abdul Latif Band on percussions except Khalid Khan who left the show due to health problem.