Previously, I had posted a blog about my husband and I's first wedding anniversary celebration which was sponsored by bitLanders. On that blog, I had stated our plans and our trip itinerary in a paragraph form. Both of us were excited to make the plan realized.
Baguio - A house surrounded by Pine Trees while on our way to Burnham Park.
Cebu to Manila
At around six in the evening on Tuesday, that was the 23rd of the month of hearts when we officially started our anniversary vacation. We went straight to Mactan International Airport for our scheduled flight at nine in the evening. There's a heavy traffic along Mandaue City going to Mactan because of the roads and the old bridge connecting Cebu and Mactan was under construction. So that travel time which was supposed to be only a twenty minute drive took us more than an hour. We reached the Mactan International Airport at seven thirty in the evening. That was still early but better early than late right?
We were both thankful that there were no delays with the flight going to Manila. Our airline tickets were purchased a year ago and that's our secret to our travels - buying tickets in advance. Most airlines give out discounts in their tickets when bought earlier. We only paid Php 1600+ good for two persons and that's already a round trip airfare.
We reached NAIA Terminal 4 at around 10:30 in the evening.
Manila to Baguio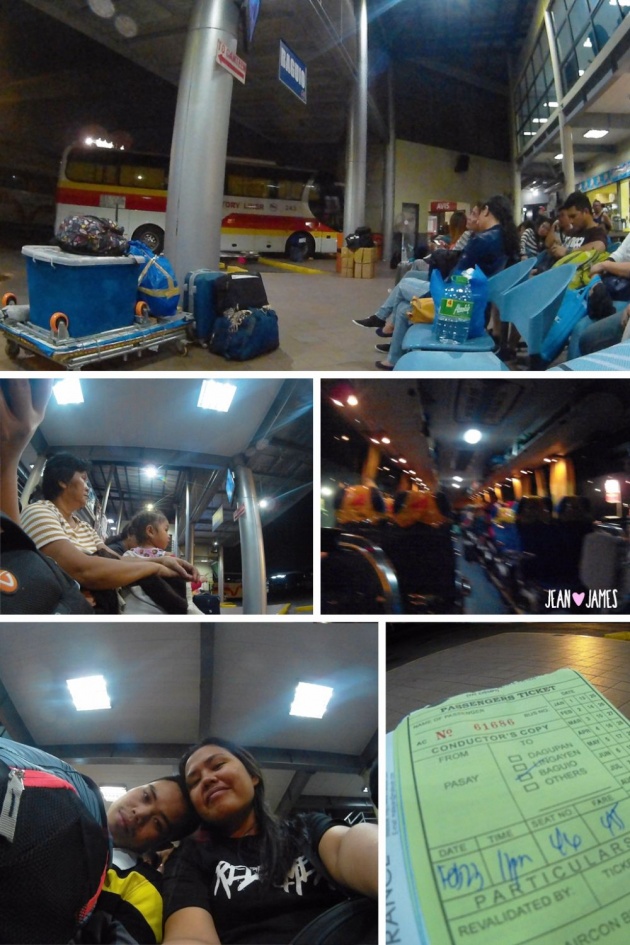 My husband and I are both not fans of Manila. There's just something in Manila that both of us don't like. Maybe it's the traffic, maybe it's the dangerous people over there, we don't know but to think that we are traveling in Manila is a bit frightening. But then, we have to pass by Manila to get to our destination.
Gladly, airport taxis are available to take us to the Bus terminal which will then take us to Baguio. The nearest is Pasay so we hopped into a yellow cab and for only less than fifteen minutes, we reached Pasay Victory Liner Bus Terminal.
We reached there five minutes before eleven and it was actually the best timing since the next bus going to Baguio was scheduled at eleven in the evening. The fare was worth Php 455 for their regular air conditioned bus. We then bought the ticket and was able to get the seats at the back.
It was a long six hour trip yet both my husband and I were really sleepy and didn't notice that we had reached the destination already!
When in Baguio
Before reaching Baguio, I had received some feedback that Baguio isn't that cold anymore and so I believed that. Because I had believed in that phrase, we didn't bring thick clothes though. But by the time my husband and I hopped out of the bus, we were crazily freezing. It was five in the morning when we reached Baguio and so the sun was still in another part of the earth.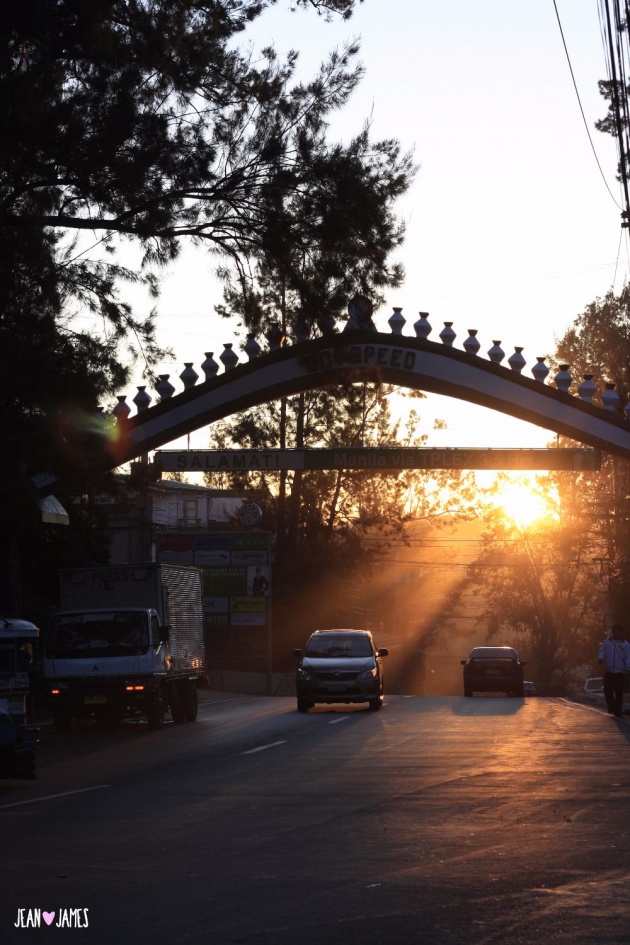 Both my husband and I looked for somewhere to keep us warm. Good thing there was a 7 Eleven store nearby and so we bought coffee. It amazes us that this shop was just stayed opened without a security guard. But then, our focus was for us to get a bit warm. The shop's doors were kept opened the whole time and there were no seats inside. So we brought the coffee out and hold onto it so we can feel the heat of the cup. I had to bring out another jacket.
The Failed Plan
We originally planned that once we reached Baguio, we will have to travel to Banaue. However, after informing my husband that Banaue will take another six hours of land travel, he backed out. We have then decided to just stay in Baguio and have a chill and relaxed vacation.
Here were the places which we had visited and the activities we had done while in Baguio.
Visited Mines View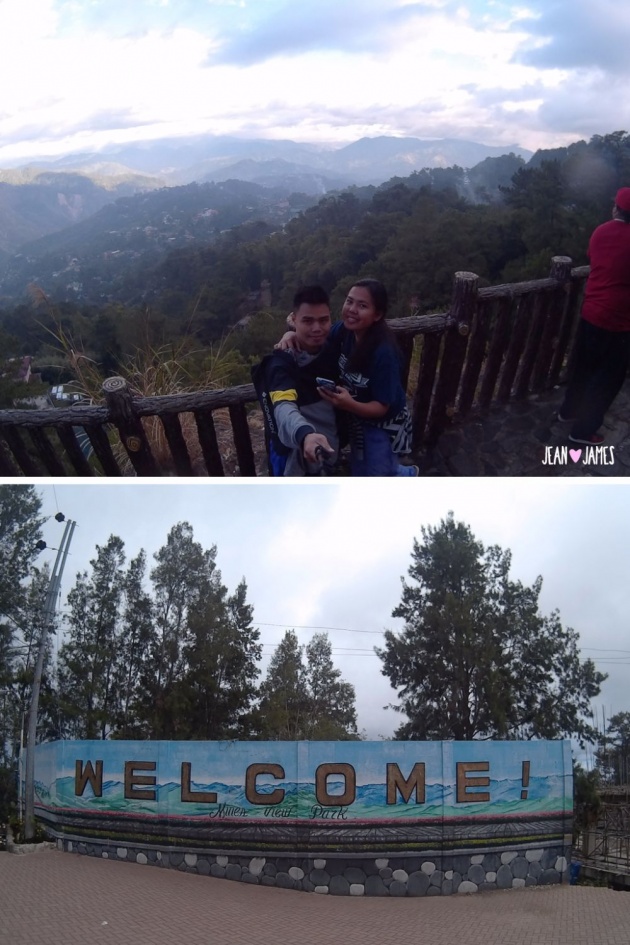 The photo here shows me and my husband at the Mines View. We took a cab going there since we were not sure which jeepney or public vehicle to take. It is a place where one can see the mines which were already been isolated and are not anymore functioning thus it is called Mines view.
The great view was amazing and it was cold in that place. Since it was a bit rainy, we were having a hard time taking photos because the skies were dark and that our cameras can't take good lightened pictures.
However, we were able to finally managed even if the photos were not that really great. There were few tourists which were mostly Koreans in the area. Some Filipino visitors were also there to check out what Mines View is all about.
A lot of stuffs can be done here. There's a spot where you can buy flowers and plants. By the way, Baguio's plants and flowers are really blooming. Everywhere we go, plants and flowers are just amazingly beautiful specially the flowers.
Aside from that, one can also try to ride on a horse colored pink! I don't like riding it as it looks like still a young one but they are allowing these visitors to do so for 50 pesos, three shots of pictures. I don't think it was a good idea. I had rode a horse in Palawan but I am sure that it was an adult horse.
Then there's a spot where you can take photos of a huge St. Bernard dog named Bernie. That my husband and I did but the guys asked for a hundred bucks instead of only 50 so we were fooled by those guys.
The last thing we did was wore authentic dresses of locals. We supported it since it cost us only twenty pesos and it's unlimited shots. The proceeds also goes to the Senior citizens who did the dressed us up.
Visited Burnham Park
Photographing the Flowers in Burnham
Here's one of the videos which I had taken while in Burnham park. Flowers were everywhere! I never thought that these flowers were really just next to a sidewalk.
Checking out the Festival Displays along Harrison Road
Wore Baguio Traditional Dresses for Php 20 only
Photographed Bernie the St. Bernard Dog
Visited Lion's Head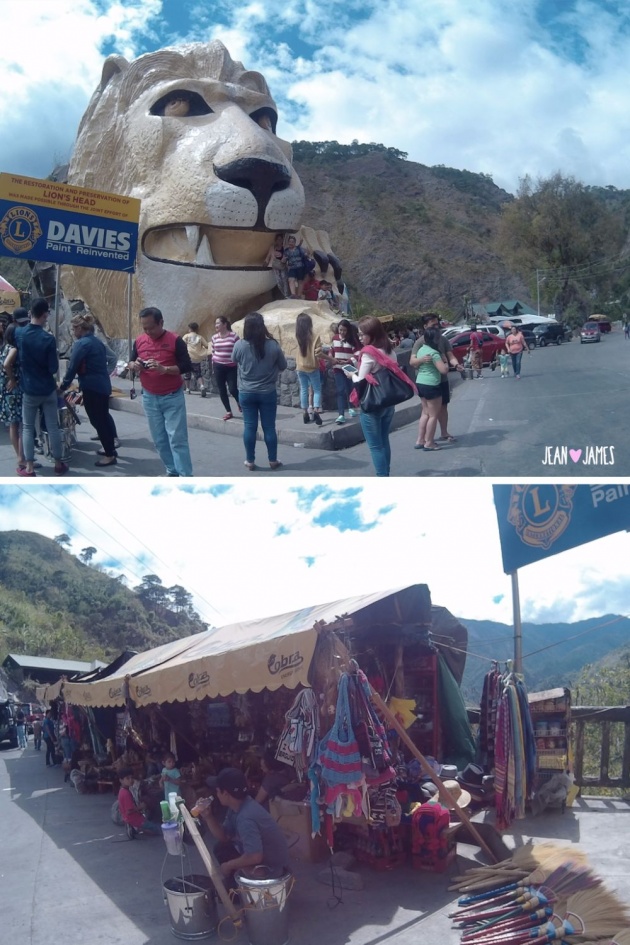 The Lion's head is located twenty minutes away from the main Baguio City so we had to take a jeepney to get there. We were not really in a hurry so we had to wait for the jeepney to pass by our place but then all the jeepneys that goes that way was full so we decided to go to La Trinidad first before going there.
After visiting La Trinidad, we then looked for the main terminal where all the jeepneys going to Kenon Road waits for passengers.
We were on our way to the Lion's head when we noticed the nice view of the mountains. Unfortunately, the roads were really steep and that it needs another time for us to visit the Kenon Road Viewpoint which we did the next day.
In the Lion's head, there were lots of visitors which gave us a hard time taking photos of it. The visitors were moving from here to there so we decided to just move away from it and just take a selfie. That was it and we were done there.
Gladly, we got another jeepney going back to the city so we took it and enjoyed the ride going back to Baguio City. There were also souvenir shops in the Lion's head area. Strawberry Taho was a hit!
Visited Wright Park
Visited The Mansion
Took photos of the Ethnic People in Botanical Garden
Went to La Trinidad Strawberry Farm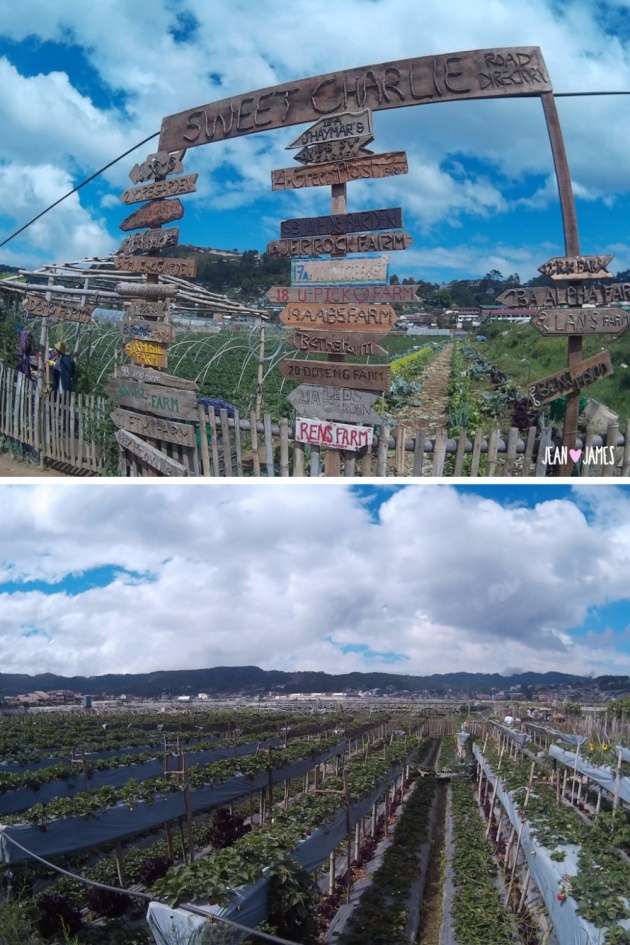 Strawberry Taho, strawberry icecream, strawberry jam! Everything's made of strawberry so we had to visit this farm so we can experience how strawberry plants look like. Well we both know how it looked like but we want to see thousands of strawberry plants personally.
Checking the place is just free but if you want to pick strawberries yourself, that would cost Php 450 so we opt to just check the place since we can buy strawberries for Php 150 outside.
We found those farmers taking care of the strawberries. Some were watering them, some were harvesting and there were others who were entertaining the visitors.
Aside from strawberries there were also other fruits and vegetables around the area. We had tried the best vegetable lumpia there and it was really good!
Tasted Strawberry Taho and Strawberry Icecream
Felt a bit warmer at SM Baguio - the one and only mall without Air condition in the Philippines.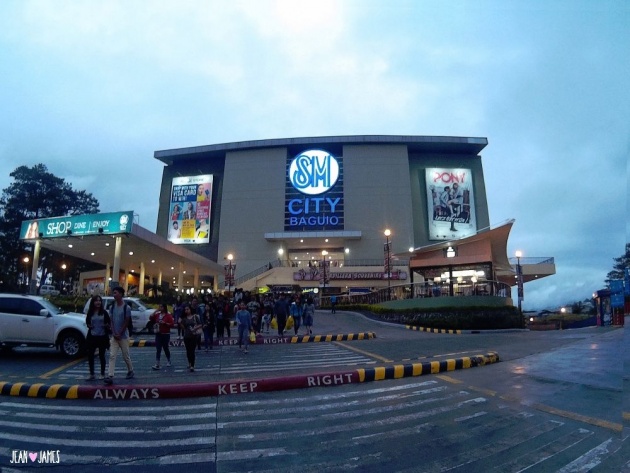 There's no other mall in the Philippines which doesn't need of airconditioning than SM Baguio City. Well all establishments here in Baguio don't require it because the temperature there is cold all year round. When we went there, we looked for the best spot which wasn't really that cold and we found it from Shakeys Pizza restaurant.
We ate dinner there but then we have to go out and feel the cold breeze again. It was really funny that in Cebu, we would be going to the mall to feel a bit cooler but then there in Baguio, we have to go to the mall to feel a bit warmer.
Ate Organic Oranges in Wright Park
Picture Taking at The Kenon Road Viewpoint
Bought cool items at the Ukay ukay in Harrison Road
This road is where the heart of Baguio is and that also means the best spot to move around, check jeepneys, look for souvenir items and all.
The Rizal monument is also located here and since it isn't really that famous, it is not mentioned in most blogs we have read, we decided to take a photo of it too.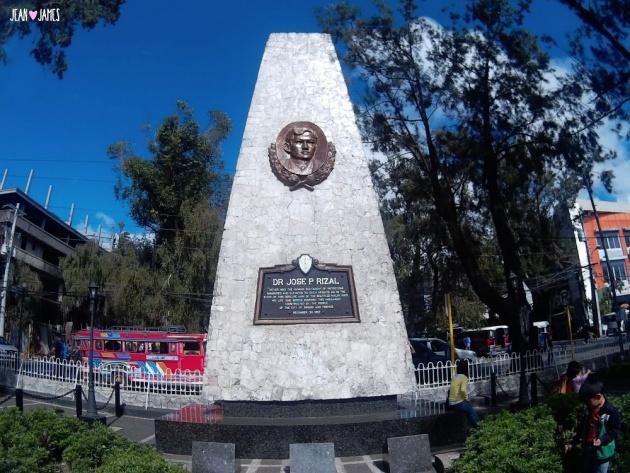 Bought souvenirs and pasalubong at Burnham Park
These things which we had done will be blogged accordingly soon. For now, I am just giving out an overview of what made up our vacation.
Since it was really cold during the evening and early morning in Baguio, we had a hard time waking up early. Each day, we have to wake up late and enjoy our time in the room.
Where We Stayed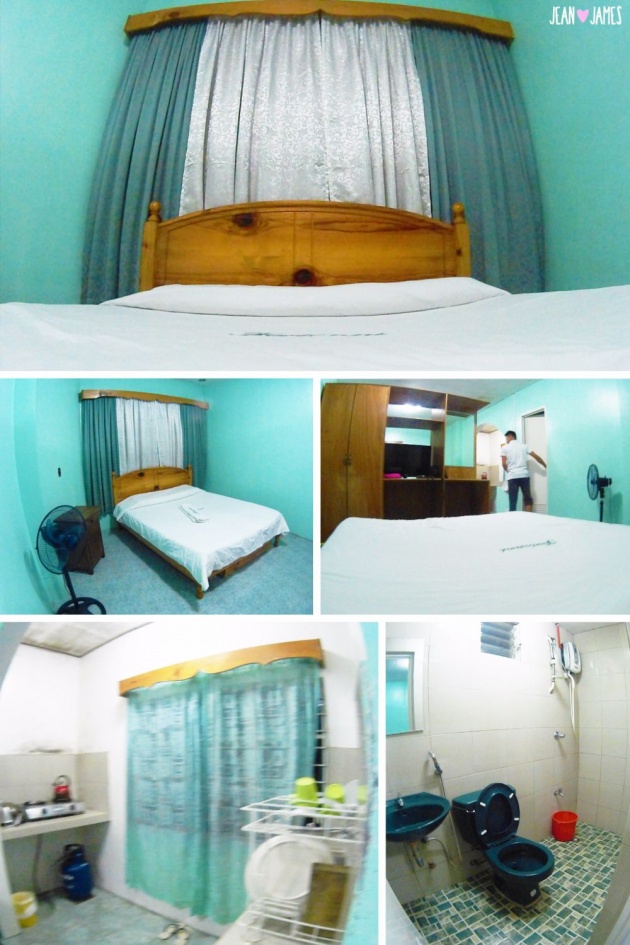 Originally, our plan was to stay at Baguio Village Inn along Magsaysay Road and we will just wait until two in the afternoon for us to be able to check in. However, due to the fact that it was totally cold when we reached by Baguio, we had no choice but to find a place to stay ASAP!
We then thought we can just move out and get to Baguio Village Inn the next day.
Gladly, we found some locals who were legit enough to find us some place to stay for that day. We then found ourselves in Ferrioni 2 Apartelle. It is just walking area to Burnham Park which is good.
We took the room available which was the one with kitchen. It's really spacious and that it was too big for the two of us but since the offer was good enough, we just give in and placed our bags inside. However, it was still cold so we had to cover up under the thick bedsheets.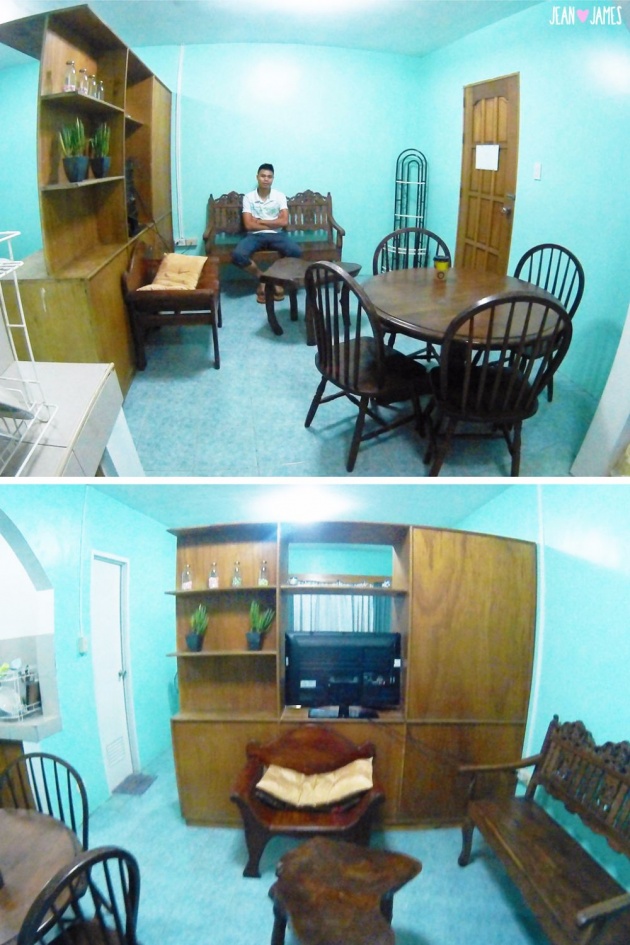 The next day, we had to just extend our stay since we realized Magsaysay Road is a bit far from the main city so we just decided to stay but since we don't really use the kitchen except for heating up water for our coffee, we decided to move to another room, cheaper but the space was almost the same as the previous room.
Best thing about their rooms is that they are spacious and there's hot water for shower! My husband had never appreciated hot shower until that time.
Images and contents by Jean Beltran-Figues
All rights reserved.