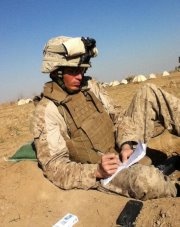 The more my mentor's of Filmannex (G.I.V.E.) me the tools I need for online moneymaking ways, the more motivated I become to provide a solid online video platform for any veteran to follow in my footsteps and succeed. My speed bumps into the fast pace world of business and making money from the internet and most of all how to write a blog and get paid can be the future means of the mentoring and education of veterans into America's workforce.
As most of America's warriors would agree veterans carry a different sense of pride along with them after the battlefield. The methods of mentorship I am now aquiring will (G.I.V.E.) a better veteran support organization as well as build a bigger bond of trust, which will indefinetly enhance veteran business opportunities.
Many combat veterans have dreams and aspirations they can turn into realities with their own motivation and initiative as well as mentor with the patience and trust to teach them. I also can (G.I.V.E.) them the respect, and empathy as I have experieced myself two combat deployments and understand fully the drive and perserverence most veterans have that can contribute to the fast pace entrepreneurial world. They are in my opinion the best jobs or military veterans.
Make sure to check out more veteran blogs by my fellow Marines.